If He Didn't Exist: Calvin Johnson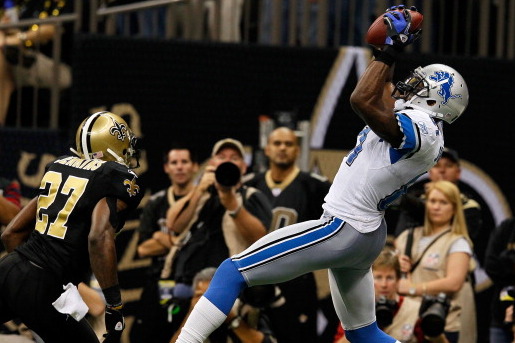 Kevin C. Cox/Getty Images

If you were to ask 100 people who the best receiver in the NFL is, you would get 99 people saying "Calvin Johnson" and one person who thinks his team's receiver is just way under-rated ("No really, if you give Percy Harvin a good quarterback he makes Calvin look like a joke"). I know this because I have gone out and done the research.
Okay, I haven't really gone out and polled people, but it's pretty obvious to anybody who actually watches the game that Calvin is far and away the best receiver in the NFL.
His rare combination of size, speed, athleticism, instincts and hands has allowed him to become the most feared wide receiver in the NFL.
But what if he didn't exist?
What if he just never decided to play football and instead decided that a career in poetry was really the way to go (I'm sure he has a soft spot)?
How would the Lions do? Who would step up and take his place? Obviously I can't answer these questions with 100 percent certainty, but what I can do is take Calvin's catches and redistribute them throughout the rest of the team based on averages and adjust the player's stats based on that.
This isn't a perfect method, these players are putting up these stats in a very specific environment, and I doubt Nate Burleson, Titus Young and Brandon Pettigrew are going to be putting up the same type of per-play production as they were when every eye on the defense is trained on one person.
I ask that you take these predictions with a grain of salt because of the logical flaws, and merely look at this as a statistical analysis of the Lions minus Calvin Johnson.
Begin Slideshow

»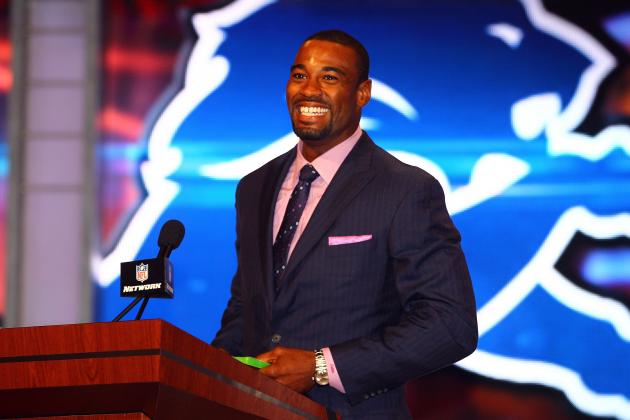 Al Bello/Getty Images

As I have already mentioned, Calvin is the best receiver in the NFL. He's gone to the Pro Bowl and made the All-Pro team each of the last two seasons.
Last year, 158 of the Lions' 666 pass attempts (as a Bears fan, I feel like that is a very suiting number) went to Calvin, and he caught 96 of them. His 17.5 yards per catch not only led the Lions (Tony Scheffler was 2nd on the team with 13.3 YPC), but also put him 10th in the NFL.
His 1,681 yards, however, were first in the NFL (Wes Welker was second with 1,569) and his 16 touchdown receptions were first amongst wide receivers.
Of the passes thrown to Johnson, 10.1 percent resulted in touchdowns, more than double the rest of the team's touchdown percentage of 4.9 percent.
If you take away Johnson's 17.5 YPC, you also find that the rest of the team averages just over half that at 10.3 YPC.
Johnson was also able to break 200 yards in three of his last four games (including the playoffs), so what happens when we take all that away?
Jonathan Daniel/Getty Images

On a purely superficial standpoint, you could remove Calvin, subtract his stats, take a gander, and go home. We are going to start by doing that, but then go a little bit further.
Without the 158 passes headed to Calvin, the Lions completed 327 of 508 passes for 3,390 yards and 25 TDs. Not too shabby. Stafford would still be 16th in the NFL in attempts under that scenario, but he still dropped back those 158 times and I'm pretty sure that he wouldn't just lay back in the fetal position of Johnson wasn't there.
So what happens on those passes? Well, the completion percentage for the Lions on passes going to Johnson was actually lower than the rest of the team average (61 percent vs. 64 percent). That results in 101 of those passes that would have gone to Calvin being completed, rather than the 96 that he caught.
So that's an extra 5 completions—so far so good for the Lions.
The problem is that when Johnson catches the ball, he does big things with it. He had four more yards per catch than any other player on the team, it's going to hurt to lose that production, and it shows in the stats.
Rather than pull in the 1,681 yards that Johnson had, the Lions combined receivers would only total 1,047 yards despite an extra five balls being caught, that's a drop off of 634 yards, putting the Lions at 4,437 yards, rather than the 5,071 yards that they had.
This would likely drop Stafford from third in yards this season to sixth. Still good, but no longer past that impressive 5,000 yard mark. This may not seem like much, but it removes Stafford from the elite company of Drew Brees and Tom Brady and instead puts him close to what Jon Kitna did during his two-year stint with a Lions team that ran a similar, pass-first philosophy.
The biggest problem that the Lions would face without Johnson, however, is his efficiency at scoring touchdowns. Rather than the 16 touchdowns that Johnson had, the Lions combined effort would only make up half of his scoring output, taking Stafford's mightily impressive 41 TDs and dropping it down to 33.
While still amongst the best in the NFL, Stafford is now much closer to the common player, and having the second most pass attempts in the NFL means that the amount of passes per touchdown are much farther down the charts than with Johnson.
The biggest issue, however, is how the Stafford's yards per attempt fall without Johnson there to go up and grab the deep ball over the defenders. In the 2011 season Stafford ranked 13th in yards per attempt at 7.6. That's pretty good, but taking Johnson out of the equation drops roughly 10 places, putting him somewhere between Tavaris Jackson and Andy Dalton.
Overall, the Lions passing game will still be considered high powered due to pure numbers, but rather than having good averages and amazing pure numbers, the passing game is now near the bottom in averages and instead has to rely on volume to create points without a consistent rushing attack.
Chris Graythen/Getty Images

That beautiful mug up there is none other than Detroit Lions No. 2 wide receiver Nate Burleson, A.K.A. The Go-To Man in a World Without Calvin Johnson (it's a working title).
Burleson has spent the past 10 years looking for exactly this opportunity, and he gets it as the No. 1 receiver with the Detroit Lions.
Without Johnson, Burleson is targeted on 21.7 percent of the pass plays, meaning that rather than the 110 targets he had previously, he is now looking at 145 targets, with the extra 35 passes headed his way, he pulls in 96 catches, the exact same amount as Johnson had last season.
As the new No. 1 receiver, he's looking to hit a mark he hasn't hit since his second year in the league—1,000 yards. Unfortunately for Burleson, he comes painfully close before falling short, totaling 998 yards and four touchdowns. This marks his best season since 2006 when he had 694 yards and nine touchdowns.
Despite being the No. 1 receiver, however, Burleson is not the most targeted player. That goes to Brandon Pettigrew, who finds himself becoming a safety blanket for Stafford with the lack of a large receiver to draw coverage. Pettigrew is targeted 165 times, catching 109 passes for 1,025 yards and seven touchdowns.
Titus Young came out of nowhere this season to be a pivotal part of the Lions passing game despite never catching a regular season pass before this year. On a team without the best receiver in the game, Young accounts for 16.5 percent of the passes thrown, being targeted 109 time, catching 62 passes for 781 yards and eight touchdowns.
The Lions are able to get good production out of these three players, but lack the depth to run a wide open offense and put a lot of receivers on the field, because of this the Lions run a lot of two tight end sets, meaning that Tony Scheffler now sees more playing time than most back ups.
He is able to put up big numbers considering his situation and he pulls in 34 passes for 452 yards and eight touchdowns.
Without Calvin Johnson, the Lions have to rely on a No. 1-by-committee approach that, while effective in the running game, is very difficult to run effectively in the passing game, and due to this the total yards and scores suffer.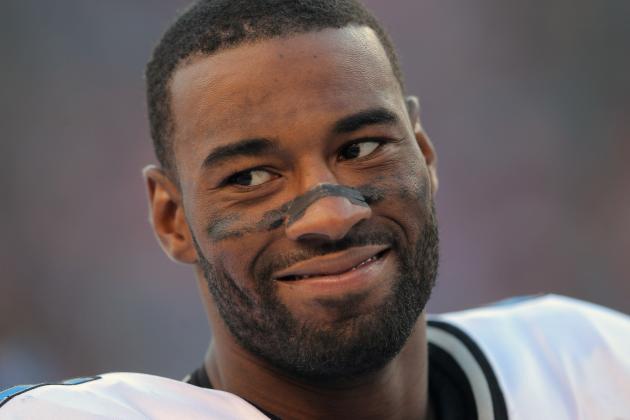 Doug Pensinger/Getty Images

Calvin Johnson is important to the Lions, but how important is he purely on a win-loss basis? We've already seen that without him the Lions passing game suffers by roughly 600 yards and eight touchdowns, how many games exactly are those yards and points worth?
Kind of a lot when you realize just how many games Johnson dominated that the Lions were able to barely squeak by and win.
Wk. 1 @ Tampa Bay - 88 yards and two touchdowns, Lions win by seven
Wk. 3 @ Minnesota - 108 yards and two touchdowns, Lions win by three in overtime
Wk. 4 @ Dallas - 96 yards and two touchdowns, Lions win by four
Wk. 14 vs. Minnesota - 29 yards and one touchdown, Lions win by six
Wk. 15 @ Oakland - 214 yards and two touchdowns, Lions win by one
Half of the games that the Lions won this past season were one-score games where Johnson scored at least one touchdown, generally two.
If you remove one touchdown from each of those games, you now have the Lions 0-4 from during those games with one left to be decided in overtime while another overtime game never even get's there.
If Calvin Johnson isn't on the team, the Lions could very easily slip down to 6-10 and find themselves in the Top 10 of the NFL Draft, falling even farther down if they lost to Tampa Bay in overtime.
I would like to take this time at the end of the article to call to attention that it is impossible for a situation like this to happen as Calvin Johnson not only does exist, but he's continuing to do a pretty good job as a receiver.
Then again, one injury to Johnson could take the Lions from a fringe playoff team and put them back near the top of the draft, the place where they spent so many years looking to escape.
I'm Joe W.