Nebraska Football 2012: 7 Things That Will Be Different from Last Year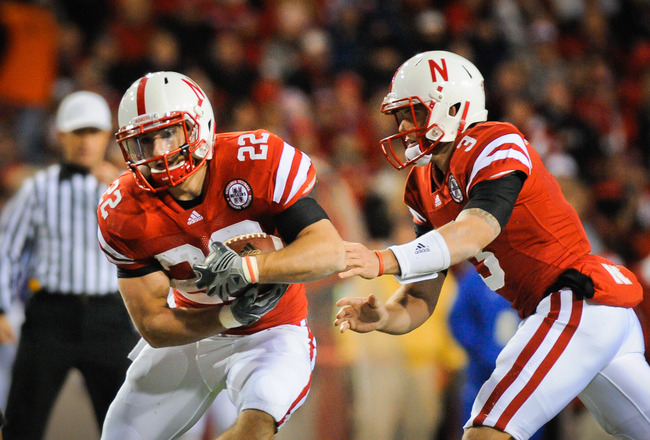 Can the backfield tandem of Rex Burkhead and Taylor Martinez lead Nebraska to a Big Ten title?
Eric Francis/Getty Images
Nebraska's first season in the Big Ten was a campaign marked by a lot of ups and downs.
Although the Cornhuskers finished with a very respectable record of 9-4, blowout losses to Wisconsin, Michigan and South Carolina and an upset loss at home to Northwestern made the year feel a lot more mediocre than it actually was.
Still, with 14 starters returning to the mix for 2012, including the talented backfield combination of quarterback Taylor Martinez and running back Rex Burkhead, this is clearly a team that will have a goal to win a Big Ten championship this year.
In order to win the Legends division and take home a conference crown, though, the Cornhuskers will have to make some necessary changes for the upcoming season.
This year's team needs to step it up in key areas such as the passing game and on defense in order to compete with the likes of Michigan, Michigan State and Wisconsin.
The 2012 season will likely be a much different affair than last year's campaign, and here are a few of the key differences to expect.
1. Taylor Martinez Will Be a True Dual-Threat Quarterback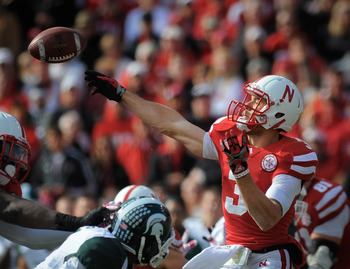 Taylor Martinez
Eric Francis/Getty Images
Taylor Martinez was one of the most productive rushing quarterbacks in the country last season, as Martinez racked up 874 yards on the ground and scored nine rushing touchdowns in 2011.
The problem was, Martinez failed to take the next step as a passer in his second year as a starter, completing just 56 percent of his throws for 2,089 yards.
With another offseason to improve his passing game, though, Martinez should be able to finally develop into a truly dynamic dual-threat quarterback in 2012.
The athletic 6'1'', 200-pound junior will probably never be as good of a passer as he is a runner, but Martinez should really surprise defenses with his arm this season.
2. The Defense Will Impress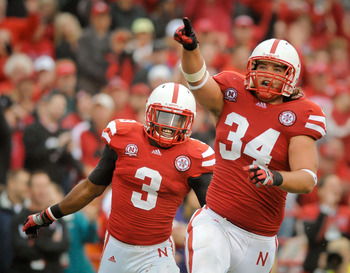 Cameron Meredith
Eric Francis/Getty Images
Many college football fans, including myself, expected Nebraska's defense to be one of the strongest units in college football in 2011. However, the Cornhuskers didn't come close to living up to expectations, as they ended up ranking seventh in the Big Ten in both total defense and scoring defense, allowing an average of 23 points and 350 yards per game last year.
Even though the team lost some important defenders such as LB Lavonte David, who was a second-round pick in this year's NFL draft, DT Jared Crick, who was a fourth-round pick, and CB Alfonzo Dennard, who was a seventh-round selection, there's still plenty of talent coming back for 2012.
Nebraska returns seven starting defenders from last year, including five of the unit's top seven tacklers.
DE Cameron Meredith, DT Baker Steinkuhler, LB Will Compton, CB Andrew Green and S Daimion Stafford should compete for All-Big Ten honors this season, and if they all play up to their potential, the Blackshirts will have one of the most stout defenses in the Big Ten in 2012.
3. Kenny Bell Will Be a Star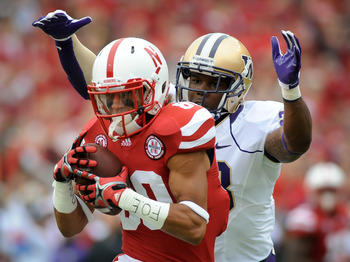 Kenny Bell
Eric Francis/Getty Images
Nebraska's passing game certainly wasn't the most potent or powerful attack in the Big Ten last season, but that could change in 2012 if QB Taylor Martinez steps his game up, and if the Cornhuskers' top overall receiving threat Kenny Bell takes the next step towards stardom.
Bell led the team with 32 catches for 461 yards and three touchdowns in 2011, but he could be ready to put up much more eye-catching numbers this year.
The 6'1'', 180-pound sophomore has the type of size, speed and hands to emerge as one of the Big Ten's premier pass-catchers.
If Martinez looks his way enough this season, Bell could really make a name for himself on the national college football scene in 2012.
4. Jeremiah Sirles Will Play Up to His Potential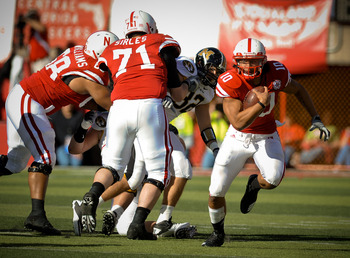 Jeremiah Sirles
Eric Francis/Getty Images
After starting 14 games as a redshirt freshman back in 2010, offensive tackle Jeremiah Sirles looked like he was on his way to becoming a future star lineman in Lincoln.
Unfortunately, Sirles regressed and lost his starting job last season.
Sirles will now move back into the starting lineup at right tackle in 2012.
You have to expect that the monstrous 6'6'', 320-pound junior will be hungry to prove himself this season.
Although fellow tackle Tyler Moore may be the more talented of the two, Sirles can flat out maul defenders when he's playing at his best.
With the size, strength and power to dominate as a run-blocker, Sirles could become one of RB Rex Burkhead's favorite lineman to run behind in 2012.
5. Will Compton Will Be the New Leader of the Linebacker Corps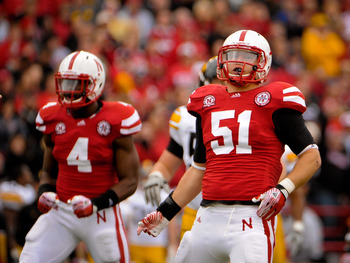 Will Compton
Eric Francis/Getty Images
Lavonte David racked up a ridiculous amount of tackles during his two seasons in Nebraska—285 total stops to be exact.
No linebacker on Nebraska's current roster will be able to replicate that type of production and consistent playmaking ability, but the linebacker corps will still be in good hands with middle man Will Compton leading the way.
Compton is the team's leading returning tackler after finishing the 2011 season with 82 tackles, including 6.5 tackles for loss.
The 6'2'', 230-pound senior diagnoses plays and finds the football extremely well, and he's the type of reliable and dependable leader that should really help make up for the loss of David in 2012.
6. The Tight Ends Will Be a Bigger Part of the Passing Game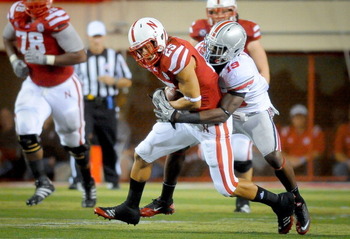 Kyler Reed
Eric Francis/Getty Images
Nebraska's offense will again feature one of the best pairs of tight ends in the country with the return of seniors Ben Cotton and Kyler Reed.
Last year, Cotton and Reed combined to catch 29 passes for 446 yards, but this season, they should be an even more integral part of the Cornhuskers' passing game.
The two tight ends complement each other very well, as Cotton is the better overall run-blocker while Reed is the more athletic receiving tight end.
Both players are capable of making a big impact in the passing game, and QB Taylor Martinez will likely use both of them as safety valves often in 2012.
7. Rex Burkhead Will Finally Receive National Recognition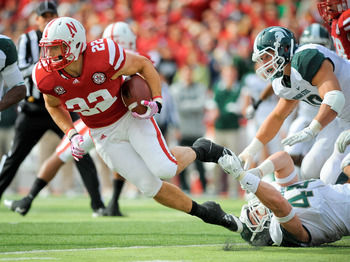 Rex Burkhead
Eric Francis/Getty Images
Rex Burkhead finished 16th in the country with 1,357 rushing yards last season, but Burkhead's name was rarely mentioned by many prominent national sports news outlets in 2011.
No matter what the reason was, you have to believe that if Burkhead puts together a similar performance in 2012, then a lot of people around the country are going to take notice.
Keep Reading

Nebraska Huskers Football: Like this team?