Arizona Cardinals: 5 Reasons Kevin Kolb Will Prove to Be Worth His Price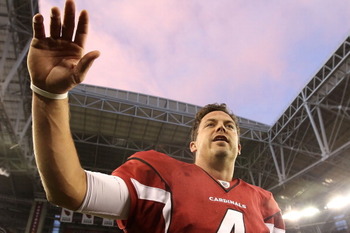 Christian Petersen/Getty Images
The Kevin Kolb era got off to a rough start for the Arizona Cardinals. Kolb was often injured, and he was ineffective when he was healthy.
He struggled enough to have fans clamoring for backup John Skelton, who proved to be clutch and a solid team leader.
These fans forget, though, that Kolb was in his first year as a true starting quarterback, as well as his first year in Arizona's system.
Adding to his difficulties was the lockout, which kept him from learning the playbook and developing chemistry with his teammates.
Skelton, on the other hand, was familiar with his teammates and the system, so naturally he looked more comfortable in the offense.
Despite Skelton's strong performance, Kolb once again heads into training camp as the starter, and this time, he won't disappoint.
Here are five reasons why Kolb will prove to be the Cardinals' franchise quarterback.
A Full Offseason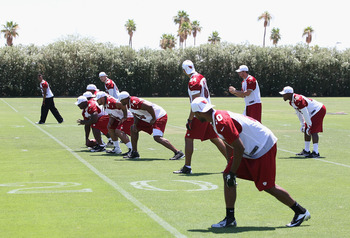 Christian Petersen/Getty Images
This comes by default, but Kolb will have a full offseason with his teammates for the first time this year.
Rhythm and continuity are more important for quarterbacks than any other position, so an offseason of developing timing with his receivers should help Kolb in a major way.
Just as important, his teammates will get a better feel for who Kolb is as a quarterback and as a leader.
This should help Kolb feel more comfortable as both a passer and a teammate.
Kolb rarely looked comfortable last year, but if he develops within the Cardinals' offense, he should be much improved this year.
Improved Weapons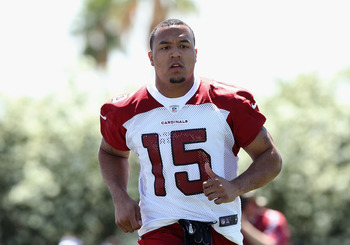 Christian Petersen/Getty Images
Last year, the Cardinals featured Larry Fitzgerald and not much else in the receiving corps. While Early Doucet and Andre Roberts had their moments, they rarely struck fear into opposing defenses.
Michael Floyd, the Cardinals' first-round pick in this year's draft, should change that in a big way.
Floyd has an ideal combination of size, speed and overall football ability. His route-running is incredible for a rookie, he has strong hands and he is an excellent jump-ball target.
The Notre Dame product will give Kolb another safety blanket and will keep pressure off of Fitzgerald.
Meanwhile, Doucet and Roberts will be excellent out of the slot, as both are solid after the catch.
At tight end, Rob Housler should be improved and will have a chance to make more plays this season. A healthy Todd Heap should also play a major role.
All in all, the Cardinals have one of the more exciting receiving corps in the NFL, and if everything comes together as it should, Kolb will have a bevy of targets that should help him improve this season.
Health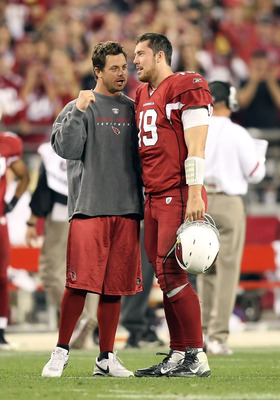 Christian Petersen/Getty Images
Kolb was beset by a host of injuries last season, including concussions and turf toe.
While he has developed a reputation for being somewhat fragile, he can't have worse luck than he had last year.
The big concern with Kolb has to be concussions, as he has a long history of head injuries that needs to be monitored.
Improved offensive line play would be a major help in that regard, and the Cardinals added rookies Bobby Massie and Nate Potter.
Massie could play immediately, and Potter has the potential to be the left tackle of the future if he adds strength.
With another year to gel, the offensive line will improve, and with it, Kolb's health. Simply being healthy for most of the season would help Kolb grow as a quarterback and would enable him to continue to prove his worth.
An Improved Running Game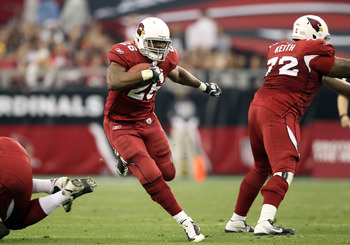 Christian Petersen/Getty Images
Beanie Wells had his best season as a pro last year, but his inconsistency was maddening. One week he would rush for 100 yards and a touchdown, and the next he would average less than two yards per carry.
This year, the hit-or-miss Wells will have to hit more often than miss if he wants to hold off second-year pro Ryan Williams, who is returning from a major knee injury.
Williams is a smooth, faster runner who will complement Wells' powerful style well. The two should combine to make a formidable duo.
An improved running game would do two things for Kolb.
First, it would open up a play-action game that was lacking last year. Without a proven running game, the Cardinals simply couldn't fool anyone with play-action in 2011. This year should be different, allowing receivers to get more open on play-action passes.
Second, it would help put the offense in more favorable situations.
If the running game can set up 3rd-and-short situations, Kolb will have more options, forcing the defense to account for more possibilities.
Third-and-long is one of the most daunting situations in football, so preventing those would greatly benefit Kolb and the Cardinals' offense.
An improved running game should go a long way in helping Kolb in 2012.
Kolb Is a Good Quarterback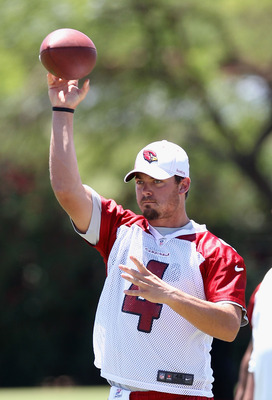 Christian Petersen/Getty Images
The ultimate thing saving Kolb is his overall talent, which is superior to backup-turned-fan-favorite John Skelton in almost every way.
Kolb has all the physical tools to succeed, including arm strength, mobility and size. He also has the moxie to push the ball downfield, as evidenced by his 7.73 yards per attempt.
Kolb's main issue is probably pocket presence, but with more confidence in his offensive line and receivers, this should improve.
All in all, Kolb should take the next step this season and prove that he was worth the Cardinals' investment. He is surrounded by better talent and will be further developed, and that should lead to big things for the young passer.
Keep Reading

Arizona Cardinals: Like this team?