Ohio State Football 2012: 7 Things That Will Be Different from Last Year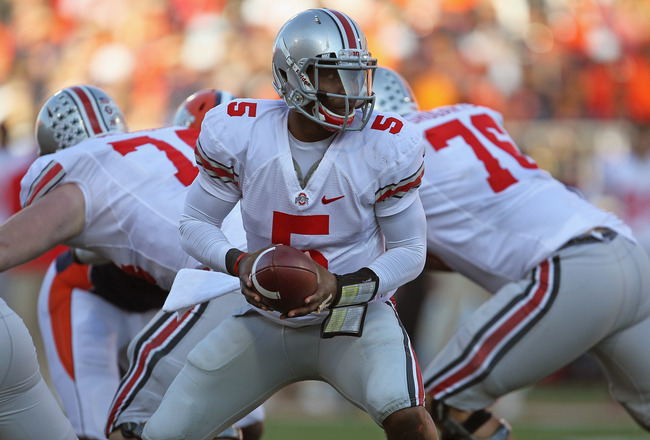 Can new Ohio State coach Urban Meyer turn Braxton Miller into a star?
Jonathan Daniel/Getty Images
The Urban Meyer era at Ohio State will officially kick off in a little less than two months, and you can tell that the excitement around Columbus is really starting to build.
After last year's disastrous six-win campaign, the Buckeyes are a team that needs a change and needs a shot of energy, and Meyer seems like the perfect coach to provide it.
With 15 starters returning from 2011, including potential star quarterback Braxton Miller, there's a lot of reason for hope and optimism around the Ohio State program right now.
Yes, admittedly, there's still the lingering bad aftertaste of the mess that Terrelle Pryor, Jim Tressel and others left in the form of an NCAA-mandated probation, a loss of scholarships and a one-year postseason ban. However, it's OK for Buckeyes fans to get excited again, as the dawn of a new era will soon commence.
Meyer and his staff will certainly bring a new flavor to the team and there are sure to be plenty of noticeable differences to watch out for. So with that in mind, here's a look at how Ohio State's 2012 season will be different from last year.
1. The Urban Restoration Project Commences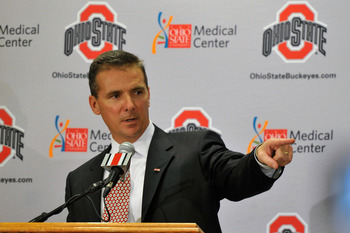 Urban Meyer
Jamie Sabau/Getty Images
Luke Fickell's one season as head coach was a largely forgettable one, as the Buckeyes could only muster a 6-7 record last year under Fickell's watch.
You could blame the struggles on inexperience at key positions, or a hangover effect after the departure of coach Jim Tressel, but it really doesn't matter at this point, since a new era is about to begin in Columbus.
For the past decade, Urban Meyer has been one of the most successful coaches in college football, as he's managed to turn around programs like Bowling Green, Utah and most notably Florida.
Now, Meyer will be asked to bring the Buckeyes back to the national stage and transform the program back into the powerhouse it was under Tressel just a short time ago.
The two-time national championship-winning coach has already flexed his muscles on the recruiting trail, and this fall, will get to see just what he can do with a roster that is oozing with top-tier talent and future high NFL draft picks.
2. No Postseason Plans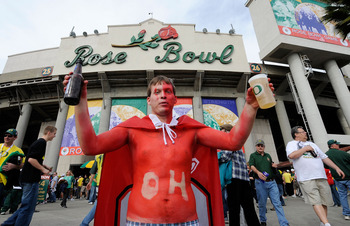 Ohio State fans
Kevork Djansezian/Getty Images
Ohio State has made it to a bowl game in each of the last 12 seasons. It's a streak that includes eight BCS bowls and 11 January bowl games.
That streak will come to an end in 2012, however, as the Buckeyes will be banned from postseason play this season as part of the NCAA's penalties following the scandal that took place under former coach Jim Tressel's watch.
3. Ohio State's Offense Will Be More Explosive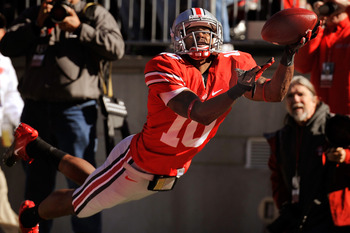 Corey Brown
Jamie Sabau/Getty Images
Ohio State's offense ranked 102nd in the nation last season with just 141 total plays of 10 yards or more. When you compare that to the 214 plays of 10 yards or more that the Buckeyes had in 2010, you can see the real lack of explosion that the offense endured last year.
The Buckeyes offense seemed to be stuck in neutral far too often in 2011, as the team averaged just 24 points and 318 yards per game.
Now that new coach Urban Meyer has installed his spread system, though, that is sure to change in 2012.
QB Braxton Miller is one of the most athletic quarterbacks in the country and he seems to be a perfect fit for Meyer's scheme.
Surrounding Miller will be a host of dangerous skill position players such as running backs Carlos Hyde and Jordan Hall, receivers Corey Brown, Devin Smith and Verlon Reed, and tight end Jake Stoneburner.
If Miller develops as expected, and if enough playmakers emerge, the Ohio State offense has a chance to be one of the most explosive attacks in the Big Ten this season.
4. The Buckeyes Will Actually Have a Passing Game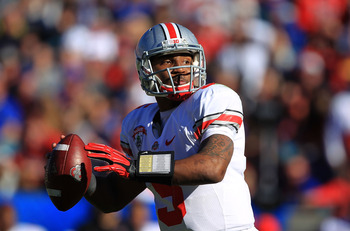 Braxton Miller
Scott Halleran/Getty Images
One of the problems with the Ohio State offense last season was the lack of a consistent passing game. Last year, the Buckeyes ranked 115th in the country in passing offense, averaging just 127 yards through the air per game.
First-year quarterback Braxton Miller was kept on a tight leash all season long, as he only completed 10 or more passes in just two games.
The new coaching staff will let Miller air it out more often in 2012, and with receivers like Devin Smith, Corey Brown, Verlon Reed and Jake Stoneburner, he'll have all the weapons he needs to really light up secondaries this year.
5. Ryan Shazier Will Lead the Team in Tackles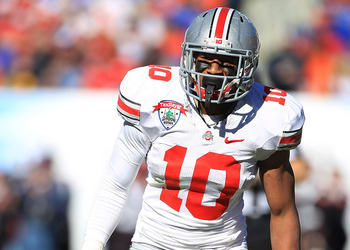 Ryan Shazier
Scott Halleran/Getty Images
John Simon may be the veteran leader of the Ohio State defense, but the biggest breakout star in 2012 will likely be LB Ryan Shazier.
Shazier may only be just a true sophomore, but he's already shown plenty of flashes of his intriguing potential.
Last year, the 6'2'', 226-pound former 4-star recruit racked up 57 tackles and three sacks in his first year of action.
With a terrific combination of speed, instincts and strength, Shazier has the chance to develop into one of the Big Ten's biggest defensive stars in 2012, and he has to be one of the favorites to lead the team in tackles this season.
6. Mike Brewster Will No Longer Be the Offensive Line's Linchpin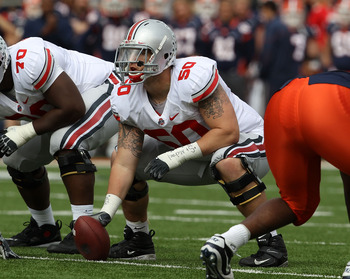 Mike Brewster
Jonathan Daniel/Getty Images
The Ohio State offensive line lost three starters from last year's group, but none of them were as important as center Mike Brewster.
Brewster was a four-year starter in Columbus, and he was a steady presence and a reliable leader for the Ohio State offensive line.
Junior Cory Linsley will now be asked to fill in for Brewster this season, and it should be interesting to see how Linsley fares.
Ohio State's offensive line may feature some unproven players this year, but with returning starters Jack Mewhort and Andrew Norwell leading the way, the Buckeyes should still be strong enough in the trenches in 2012.
7. The Defense Has Plenty of Experience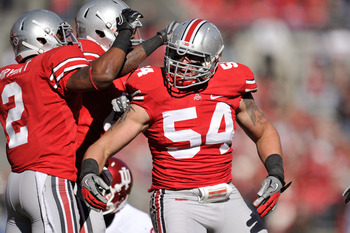 John Simon
Jamie Sabau/Getty Images
Ohio State's defense returned just four starters last season, but that won't be the case this year, as the Buckeyes will bring back nine returning starters, including seven out of the unit's top eight tacklers from 2011.
The unit will feature five players—DT Johnathan Hankins, DE John Simon, LB Ryan Shazier, CB Bradley Roby and S C.J. Barnett, who have All-American potential—and it should be one of the strongest defenses in college football this season.
The Buckeyes defense had some growing up to do last year, but the group fared surprisingly well, and that year of experience should now pay huge dividends in 2012.
Keep Reading

Ohio State Football: Like this team?