Deron Williams Re-Signs with Nets: Analysis, Grade and Twitter Reaction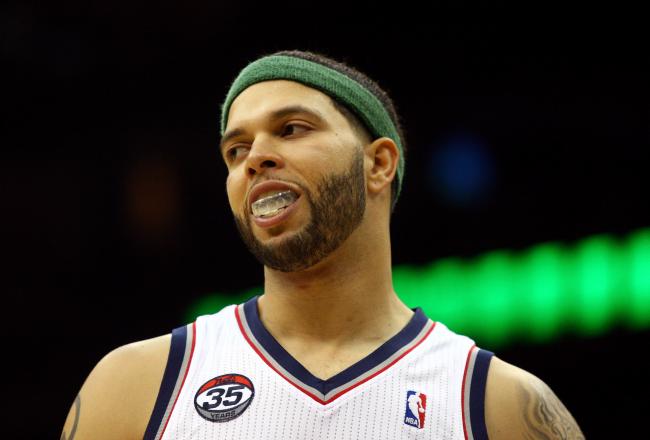 Chris Chambers/Getty Images
After months of uncertainty, the Deron Williams saga has finally come to a close. The All-Star point guard has made the decision to sign with the Brooklyn Nets, according to CBS' Ken Berger:
Deron Williams has announced on Twitter than he has chosen to sign with the Brooklyn Nets.

— Ken Berger (@KBergCBS) July 3, 2012
What a way to start off a new era of Nets basketball in Brooklyn. After bringing in Joe Johnson, the Nets found a way to re-sign the face of the franchise just a day later. As expected, Williams didn't come cheap:
League source confirms Deron Williams and Nets have agreed on a five-year deal. Estimated value is $98.75 million.

— Ken Berger (@KBergCBS) July 3, 2012
Analysis
This is the best thing the Nets could have done short of bringing in Dwight Howard. Thanks to the acquisition of Johnson, re-signing Williams gives the Nets one of the best backcourts in the league.
Since breaking into the league out of Illinois in 2005, Williams has averaged 17.6 points and 9.2 assists per game with the Nets and Utah Jazz. Johnson has seen his scoring average dip over the last couple seasons but is still more than capable of putting up around 20 points a night.
There was so much uncertainty surrounding this situation, but the Nets found a way to work it out.
Now, they have solidified a bright future for the next half-decade and can focus on adding ancillary players to complement Williams and Johnson.
Locking up Williams was critical to the Nets' first few seasons in Brooklyn. Without him, they would have had a hard time competing for the fans' interest with the presiding New York Knicks.
Now that they have their court general and his shooting-guard companion, all Billy King and Mikhail Prokhorov need to focus on is bringing in some big men to do the dirty work for the stars.
Grade: A
It's impossible to give the Nets anything short of an "A" mark. Who knows what course the franchise would have been sent on if Williams bolted to Dallas?
After being showered in criticism for his supposed inability to retain Williams, GM Billy King changed the public's perception with this move.
Williams is one of the most well-known point guards in the NBA, and now the Nets get to slap his face on a massive billboard next to Johnson on the facade of the Barclays Center.
Job well done by the Nets front office.
Twitter Reaction
From the man himself:
Made a very tough decision today.... lockerz.com/s/222071318

— Deron Williams (@DeronWilliams) July 3, 2012
Too soon, Frank Isola. Too soon:
Russian 1, Cuban 0

— Frank Isola (@FisolaNYDN) July 3, 2012
Colin Cowherd knows how many dangerous teams there are in the Eastern Conference, although his information on Howard sounds iffy:
Deron Williams staying w Nets. D Howard coming soon.Here we go people. Heat/Celts/Nets/Bulls/Knicks...East is a beast

— Colin Cowherd (@ESPN_Colin) July 3, 2012
NFL.com's Greg Rosenthal on the situation and how money transcends all professional sports:
Drew Brees wishes he could get Deron Williams money

— gregg rosenthal (@greggrosenthal) July 3, 2012
Billy King and Bobby Marks deserve an award for their efforts:
After trading for D-Will to play in an empty arena on a bad team, Billy King and assistant GM Bobby Marks did a superb job of selling him.

— Adrian Wojnarowski (@WojYahooNBA) July 3, 2012
The fake Bill Walton account cracks yet another joke:
Deron Williams announced he'll be a Net in 2013 via Twitter. So will Dwight Howard, if only he could decide on Twitter, Facebook or Myspace.

— Not Bill Walton (@NotBillWalton) July 3, 2012
More praise for Billy King:
Billy King took a huge gamble when he traded for Deron Williams. Huge kudos to King and Nets for keeping him.

— Chad Ford (@chadfordinsider) July 3, 2012
King saved his job today:
How much relief does Nets GM Billy King feel right now? He went all-in to get Deron Williams 17 months ago in a deal w/ Utah, & it pays off.

— Sam Amick (@sam_amick) July 3, 2012
There's no doubt that Williams made a good decision today:
Can't blame Deron Williams. New city. New owners. New stadium. Team records to be set in the next 5 years. $$$$ all a player needs.

— Dale (@UnexpectedfarT) July 3, 2012
While the Williams fiasco is over, there are plenty of other situations unfolding in one of the craziest free-agency periods the NBA has ever seen.
As always, stay tuned to Bleacher Report for the latest information.
This article is
What is the duplicate article?
Why is this article offensive?
Where is this article plagiarized from?
Why is this article poorly edited?