At nine games under .500 and 11 games back from the N.L. East-leading Washington Nationals, to say that the Philadelphia Phillies have been a disappointment is an underwhelming statement.
The fact is, many of us were called "doomsdayers" when we forecasted a seismic shift in the winning percentage for the Phillies in 2012.
Sure, the same, tired arguments are sufficient in making excuses for the excessive failures of the Phillies in 2012. Ryan Howard is injured, Chase Utley missed 70-plus games, Lee and Halladay have been nicked up and the bullpen misses the 2011 forms of Antonio Bastardo and the still-injured Michael Stutes.
Injuries aside, another tired narrative focuses on where the Phillies went wrong. Unfortunately, the finger is usually wagged in the wrong direction.
While all of the following deserve some blame, they are not the primary culprits of the Phillies lost season of 2012.
Manager Charlie Manuel has made some questionable moves from the dugout.
Shane Victorino is having a down year.
Jimmy Rollins couldn't hit a beach ball until his child was born.
With the exception of Jonathan Papelbon, the bullpen looks like it belongs in Double-A.
Hunter Pence has struggled mightily in situational hitting.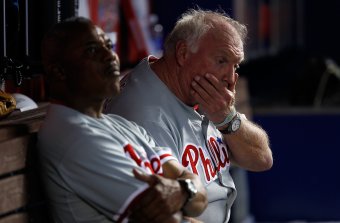 Sarah Glenn/Getty Images
John Mayberry has been a bust.
Juan Pierre's defense is worse than Raul Ibanez (mostly attributed to his Chad Pennington-like arm).
Cliff Lee has yet to earn a win.
No, the aforementioned are not the primary culprits to this season's woes.
The primary culprit is general manager Ruben Amaro Jr.
Upon former GM Pat Gillick's retirement after the Phillies' 2008 World Series victory, Amaro Jr. proceeded to shed the Phillies farm system of its talent.
This is the part where it hurts.
Jonathan Singleton, a first base prospect who was sent to the Houston Astros last year has been raking in the minors. Similar to Ryan Howard but only 20 years old, the Phillies received Hunter Pence in return for Singleton.
Never mind the fact that Hunter Pence is making more than $10 million this season and will be entering into arbitration with the Phillies for 2013.
Needless to say, Pence's future is cloudy in Philadelphia albeit the fact that the Phillies traded away one of the top prospects in baseball for the lanky outfielder.
Should Ruben Amaro Jr. be fired?
22-year-old Jarrod Cosart was also packaged to Houston in the Pence deal. While his numbers thus far do not scream "stud," his peripherals are of that of a very good prospect with the upside of a No. 2 or No. 3 pitcher in the Big Show.
Outfielder Anthony Gose, part of the deal where the Phillies landed Roy Oswalt from the Astros, is likely to be promoted to the majors shortly. When he does, a lot of regard will be traveling with him.
After all, Gose is one of the top outfielder prospects in Triple-A. With Shane Victorino on his way out of Philadelphia and Juan Pierre signed only in 2012, Gose would have been a more than formidable starter in the future. He was much more regarded within Phillies' circles than John Mayberry.
Despite recently tearing his PCL, Toronto prospect catcher Travis d'Arnaud is widely regarded as the top catching prospect in all of baseball. Acquired from the Phillies in 2010 as part of the Roy Halladay trade, d'Arnaud is likely to end up making the Phillies regret trading him.
Sure, there are no regrets in getting Halladay but, with Halladay likely reaching the apex of his career last season—and with Carlos Ruiz possibly gone after 2013—the Phillies are going to be stuck in neutral with some lackluster catching prospects in their farm system.
There have been numerous other prospects who have emerged as decent MLB players that the Phillies have traded away in order to bolster their win-now approach.
Either way, Ruben Amaro Jr. turned the Phillies into a house built out of papier-mache.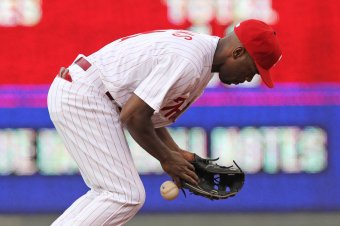 Hunter Martin/Getty Images
One could easily say that the prospects traded away might never materialize on the Major League level—much like Domonic Brown. On the flip side, most would rather like to find out instead of overpaying on the like's of Jimmy Rollins, Jonathan Papelbon, Chad Qualls and Ty Wigginton.
Speaking of Jimmy Rollins, the former NL MVP and fan favorite in Philadelphia, is making $11 million annually until 2016. When he plays out the length of his current contract, Rollins will be 36 years old. Sure, his recent splurge has given him an uptick in his statistics but, overall, Rollins' numbers have been on a steep decline since he won the NL MVP Award in 2007.
By overpaying on Rollins, Amaro Jr. was faced with the prospect of having to go cheap on key positions that matter to the Phillies lineup.
Prior to his injury, Laynce Nix was not producing at the level he was expected to when platooning with the equally nonproductive John Mayberry.
Juan Pierre is hitting for a good average and stealing bases, but he struggles with extra base hits and continues to demonstrate his vulnerabilities defensively.
Ty Wigginton is a Triple-A player with a $4 million salary.
Mainstays such as Placido Polanco, Brian Schneider and Shane Victorino have been terribly awful too.
Needless to say, it is Amaro Jr.'s job to have a keen ability to manage the finances of the Phillies in order to win with a sharp eye on tomorrow. He has failed in both respects.
He overpaid for closer Jonathan Papelbon.
He overpaid for Jimmy Rollins to return.
He overpaid Cliff Lee (as ungrateful as that may sound, many of us thought that when the deal went down, despite Lee taking less to sign with the Phillies instead of the New York Yankees).
The sweetheart deal struck with Ryan Howard is more bittersweet than ever.
Here are a couple reminders.
The Phillies brought back the aging and injury-vulnerable Placido Polanco instead of pursuing then fellow free agent third baseman Adrian Beltre.
Instead of locking up the most dynamic pitcher in the rotation—when age is a factor—in Cole Hamels, Amaro Jr. overpaid for Rollins, Papelbon and Wigginton.
Admittedly, it is as if Amaro Jr. has done everything in his power so the Phillies can win now. When I say now, I mean from 2009-2011.
Without the foresight to acknowledge that the window has closed on the Phillies, the organization is going down the tubes. Reports continue to linger that the Phillies are still in the race.
Theoretically, they are.
Realistically, last weekend's sweep to the Miami Marlins was the funeral for the 2012 Phillies.
Sorry folks, Amaro Jr. has exported our young talent for a win-now approach that is now tired. The reckless moves he has made has forced the boat to leave the harbor.
Presumably, Cole Hamels is on that boat and will likely never be seen in a Phillies uniform again.
The run was great but Ruben Amaro Jr.'s actions have turned the lights out at Citizen's Bank Park.