US Olympic Men's Track & Field Team 2012: Updated News, Roster and Analysis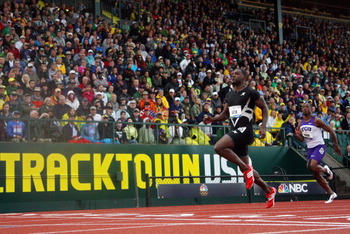 Christian Petersen/Getty Images
Despite winning the most medals in track and field at the 2008 Olympic Games, Beijing was not kind to the U.S. team. They fell off in many events they had once dominated as the world seemed to be catching up to the Americans.
Can the men rebound from relatively poor medal showings? Click forward to find out who made it to London, who is key to Team USA's success, and which events are most important.
Individual Qualifiers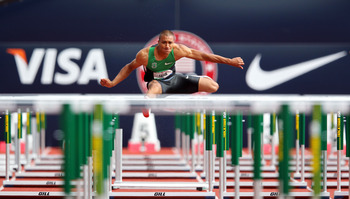 Andy Lyons/Getty Images
Sprint
100-meter dash: Justin Gatlin, Tyson Gay, Ryan Bailey
200-meter dash: Wallace Spearman Jr., Maurice Mitchell, Isaiah Young
400-meter dash: Lashawn Merritt, Tony McQuay, Bryshon Mellum
110-meter hurdles: Aries Merritt, Jason Richardson, Jeffrey Porter
400-meter hurdles: Michael Tinsley, Angelo Taylor, Kerron Clement
Distance
800-meter run: Nicholas Symmonds, Khadevis Robinson, Duane Solomon Jr.
1500-meter run: Leo Manzano, Matthew Centrowitz, Andrew Wheating
3000-meter steeplechase: Evan Jager, Donald Cabral, Kyle Acorn
5000-meter run: Galen Rupp, Bernard Lagat, Lopez Lomong
10000-meter run: Galen Rupp, Matt Tegenkamp, Dathan Ritzenhein
20000-meter race-walk: Trevor Barron
Jumps
High Jump: Jamie Nieto, Erik Kynard Jr., Jesse Williams
Long Jump: Marquise Goodwin, William Clay, George Kitchens Jr.
Pole Vault: Brad Walker, Jeremy Scott, Derek Miles
Triple Jump: Christian Taylor, William Claye
Throws
Shot Put: Reese Hoffa, Ryan Whiting, Christian Cantwell
Discus Throw: Lance Brooks, Jarred Rome, Jason Young
Hammer Throw: Kibwe Johnson, A.G. Kruger
Javelin Throw: Craig Kinsley, Sean Furey, Cyrus Hostetler
Mixed Events
Decathlon: Ashton Eaton, Trey Hardee
*All results courtesy of USA Track & Field
Key Athletes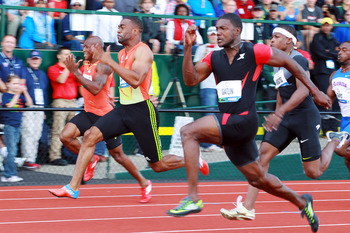 Andy Lyons/Getty Images
Tyson Gay
The second-fastest man in history will be a key figure in restoring American dominance in the and wresting gold away from the Jamaicans in the 100-meter sprint. Walter Dix barely medaled in Beijing four years ago, a bitter disappointment for a U.S. national team accustomed to winning this event every four years.
Gay could be the man to bring gold back to the States.
Justin Gatlin
Gay will have serious competition from Gatlin. The 2004 gold medalist is seeking a return to glory after a four-year suspension for doping. Gatlin seems to be up to the task.
He won the gold medal in the 60-meter dash at the 2012 indoor world championships, and he beat Gay at the U.S. Olympic trials to book his ticket to London. Gatlin has traversed the road to redemption with the prize in sight.
Ashton Eaton
All Eaton did was break the decathlon world record at the trials, painting a bullseye on his back in the process.
He has broken the world record in the heptathlon three times in a row, including at the 2012 championships earlier this year. The man is a machine, and he should be fun to watch in London.
Christian Taylor and William Claye
This triple-jumping duo are hopping across the pond to duke it out for gold in London. Taylor is the reigning outdoor world champion, but Claye beat him at the 2012 indoor championships. The pair caught a bit of a break when French competitor Teddy Tamgho injured his ankle, forcing him out of this summer's Games.
Just over three inches separated the two at the trials, and we can expect more of the same in London. You do not want to skip this competition.
Jesse Williams
The reigning world champion high jumper came out of nowhere to claim his title in 2011, the first American to win the world championship in 20 years. Can he do it again in London?
It will be tough for Williams, who tied with Jamie Nieto and Erik Kynard Jr. by clearing 2.28 meters at the trials. That figure would not have been nearly good enough to even place at the world championships or the 2008 Games.
He will need to get up to 2.35—the mark he won with in 2011—or higher to stand a real chance of winning the first gold medal in the high jump for the United States since Charles Austin did it in 1996.
Key Events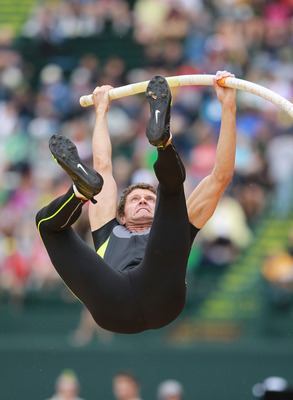 Andy Lyons/Getty Images
400-meter Dash
This is Team USA's strongest event on paper, an event that saw veteran favorite Jeremy Wariner finish sixth at the trials. LaShawn Merritt lost to Kirani James of Grenada at the 2011 world championships, but he owns the fastest time of 2012 and looks to recapture Olympic gold.
Tony McQuay is the reigning NCAA champion in the 400 meters, and his time of 44.49 seconds was actually faster than James's winning time at the '11 world championships. Bryshon Nellum edged out Josh Mance for the final qualifying spot. His is one of the more compelling story of the Summer Games as he has come all the way back from being shot multiple times in the legs, which almost ended his career.
Of course, the more compelling story in this event belongs to Oscar Pistorius of South Africa. The double-amputee will be making a historic run in London as the first person with prosthetics to compete in the Olympics.
After posting just one medals sweep in 2008 in the 400-meter hurdles, this might be the U.S. national team's best shot at sweeping an event in track and field on the men's side.
4x100-meter Relay
The 100-meter dash is not the only race in which the United States is looking to reclaim its gold medal. The Americans have lost out in the past two Olympics, failing to even qualify for the final in Beijing four years after narrowly losing to Great Britain in 2004.
Justin Gatlin and Tyson Gay will lead the second-ranked 4x100 relay team in London. Can they get past the Jamaicans? It will be a tall task, but it will certainly be fun to watch.
Pole Vault
The U.S. men failed to medal in the pole vault in yet another disappointing finish at the 2008 Games. Derek Miles came close, placing fourth overall, but Brad Walker failed to clear any attempted heights in Beijing. Both are back on the U.S. Olympic squad, seeking to redeem themselves and Team USA.
Jeremy Scott rounds out the trio headed to London, having placed second at the trials. They will have to deal with strong competition from Pole Pawel Wojciechowski, Cuban Lázaro Borges and Frenchman Renaud Lavillenie. None of the U.S. qualifiers got close to the winning vault heights from 2008 or the 2011 championships, so they will their work cut out for them.
Decathlon
Any time there is a world record at stake going into an event is a good time to tune in. Ashton Eaton shattered the world record at the U.S. trials, so he may be hard-pressed to repeat that feat in London. The best athlete in the world may as well be from another one considering how dominant he has been.
Of course, anything could happen. His running mate in London is reigning outdoor world champion Trey Hardee, who is no slouch despite getting destroyed at the trials. The duo should push for a gold-silver finish in London.
110-meter Hurdles
For the U.S. team, Jason Richardson may be the reigning world champion, but he was beat out by Aries Merritt at the trials. Jeffrey Porter had a strong time as well.
The trio is fast, but they will face some stiff competition. Liu Xiang beat them all at the Prefontaine Classic, winning with a blistering time of 12.87 seconds in windy conditions. They will also have to contend with Cuban Dayron Robles, who would be the world champion were it not for a controversial disqualification, and Briton David Oliver. Those three are the only ones to ever break the 12.9-second mark.
All three could be racing together in a major event for the first time in what promises to be be an electrifying race. Merritt or Richardson could surprise with a medal or two, though. Tune in to find out what happens.
Main Challengers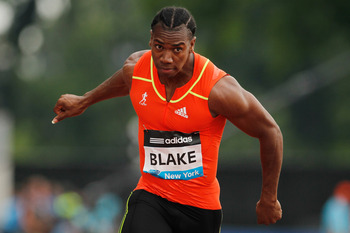 Mike Stobe/Getty Images
Jamaica
In case it is not already apparent, the Jamaicans are fast.
We all know what Usain Bolt can do, but he is making headlines for the wrong reasons. Aside from losing to fellow countryman Yohan Blake at the Jamaican Olympic trials, Bolt has been involved in several traffic accidents. He is also dealing with an apparent injury sustained at the Jamaican Olympic trials, which has forced him out of an event in Monaco.
Even so, the Jamaican team is going to be a force in sprinting events. Bolt will be back and motivated to beat his training partner and retain his title as the fastest man in the world, both in the 100- and 200-meter races as well as the 4x100 relay. Asafa Powell is back to his fast-running ways as well.
Gatlin, Gay, Mitchell and Spearman Jr. and the relay teams will have their hands full with the Jamaicans in short distances.
Russia
America's closest competitor at the 2008 Games in track and field was Russia, at least according to medal count. The Russians collected 18 total medals, just five behind the Americans' haul.
If anything, Russia will keep pace with Team USA because they are excellent walkers—Russians took gold and silver in both the men's 20k and 50k race-walks at the 2011 world championships.
Kenya
You might think of Kenyan runners as long-distance specialists, and you would not be wrong. The Kenyans have been breaking throw in shorter distances in recent years, however.
Kenya won gold medals in the 800- and 1500-meter runs at the 2011 world championships after a strong showing in Beijing in 2008. In fact, excluding relay races, Kenya actually won more track medals than the United States at the championships, winning seven to America's six.
Predictions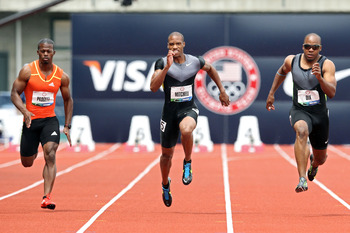 Christian Petersen/Getty Images
The theme for the 2012 Games is redemption for Team USA. Will they bounce back from a relatively poor performance in Beijing and, more recently, the 2011 world championships?
Indeed, they will, though returning to utter dominance is not in the cards this year. The field is simply too good as athletes from around the world continue to catch up.
That does not mean the United States has not fielded a strong track and field team, however. It might prove difficult to win many gold medals in track—the Jamaicans and Kenyans will be forces in their respective strengths—but the U.S. squad features some favorites in the field events. Ashton Eaton, Christian Taylor, Marquise Goodwin, William Claye, Jesse Williams and Jamie Nieto are all serious gold medal contenders in their events.
Here is my medal forecast for the men, including a bold prediction or two:
Gold: LaShawn Merritt (400), Angelo Taylor (400 hurdles), Ashton Eaton (decathlon), Christian Taylor (triple jump), Marquise Goodwin (long jump), 4x400 relay team
Silver: Justin Gatlin (100), Maurice Mitchell (200), William Claye (triple jump), Michael Centrowitz (1500), Bernard Lagat (5k), Reese Hoffa (shot put), 4x100 relay team
Bronze: Tony McQuay (400), Jesse Williams (high jump), Nicholas Symmonds (800), Aries Merritt (110 hurdles), William Claye (long jump), Trey Hardee (decathlon)
The men will be in contention for the most medals on their side—a haul close to the above predictions would be huge—helping propel the United States to the biggest medal haul in track and field at the Olympics.
Keep Reading