LA Lakers Rumors: How Much Improvement Is Dwight Howard over Andrew Bynum?
Ronald Martinez/Getty Images
In the ever-changing saga that is Dwight Howard's desire to play for anyone but the Orlando Magic at this point, the Magic have heard the offer from the Brooklyn Nets, sniffed it, scrunched their noses up and have moved on to trying to pry Andrew Bynum away from the Los Angeles Lakers once again.
Now, there are a lot of concerns over this deal. Nobody really knows how bad Dwight Howard's back is, the Lakers won't be psyched about the thought of taking Hedo Turkoglu or Jason Richardson back in the deal and they might not really want to swap Bynum for Howard.
However, one thing that is for sure, in the short-term, Howard is an improvement over Bynum. Bynum could end up being better in the next few years, but Howard still has the leg up on him at this point.
They would improve at center for the time being, but just how much better would they get? That is, how much better is Dwight Howard than Andrew Bynum?
Offensively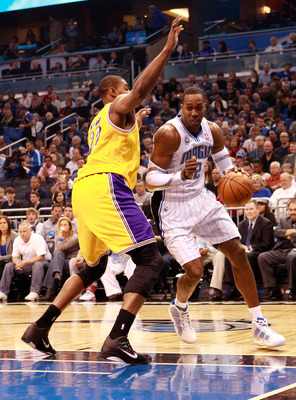 Sam Greenwood/Getty Images
There's no doubt that these are the two most offensively gifted centers in the NBA, albeit for completely different reasons.
Dwight Howard averaged just over 20 points per game last season, mostly due to his size and power compared to other centers in the league. Bynum, however, averaged 19 points per game thanks to his prowess of controlling himself and getting around, through or over his opponent in the post. Bynum has a more refined offensive game and is a much better jump shooter, but Howard is still able to score easily because of his size.
So long as he stays strong and athletic, Howard will be at least as good as Bynum on offense, although he seems to be just a bit better at getting the ball in the basket at this point—regardless of whether he does it with post moves or his size.
Defense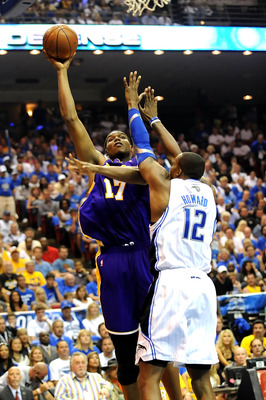 Ronald Martinez/Getty Images
On the defensive end is where Howard really creates space between himself and Bynum.
They're both pretty similar in terms of blocking shots at this point, each averaging two per game this year, but Howard takes the cake in defensive intimidation. The number of shots he alters compared to Bynum is pretty huge. While Bynum is a good defender, he's not as good as Howard at creating a bubble in the lane in which he will come out and get a hand in the way of any shot, making the shooter go higher than or around him.
Elsewhere, Howard is better at getting a hand on an errant pass or a loose ball compared to Bynum, although I would have to say they're pretty even when it comes to hustling out to play some help defense.
Where Howard really separates himself, however, is in terms of playing a complete game. Teams can target Bynum's weakness, which at times is pick-and-roll defense, whereas there isn't really a weakness that Howard has on defense that can be specifically exploited.
Rebounding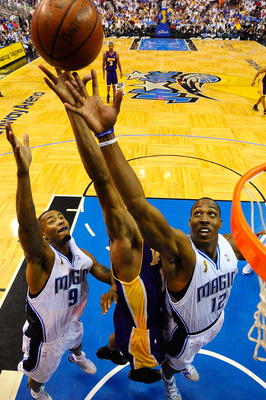 Pool/Getty Images
Andrew Bynum and Dwight Howard are both incredible rebounders, but that more or less comes with size. Just don't tell that to Brook Lopez or Andrea Bargnani.
While Bynum is an above-average rebounder compared to the rest of the league, Dwight Howard is the only guy in the league not named Kevin Love who can be disappointed if he doesn't average well over 10 boards a game.
Howard has led the league in rebounding for four of the past five seasons and has been a top five offensive rebounder in the NBA seven times in his eight-year career.
Howard has also grabbed 21 percent of every possible rebound during his career, good for the highest rate of any active NBA player by nearly two percent. Bynum sits at a respectable, yet extremely distant 17.1 percent.
Maturity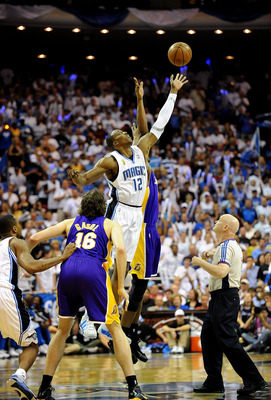 Ronald Martinez/Getty Images
Let's see, one guy physically body-slammed a guy who is more than a foot shorter and 100 pounds lighter than him and the other guy has spent the last four months stomping his feet, getting his coach fired, sulking, reluctantly extending his contract by a year in a panic, calling himself loyal and then deciding to request a trade once more just a few months later.
Let's call this one a wash at best.
Ability to Be a Franchise Centerpiece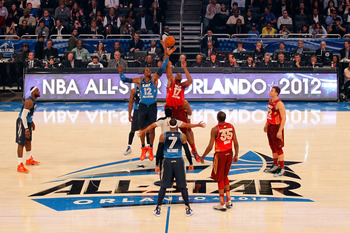 Mike Ehrmann/Getty Images
For the past eight seasons, Dwight Howard has been the man in the middle in Orlando, becoming the legitimate anchor of the franchise by the 2007 season.
The Magic built their franchise around Howard, pairing him with shooters and guys who can stretch the floor, eventually making the NBA Finals in 2009. They haven't gotten back to that level since then, but there's no way to doubt the fact that they have been one of the NBA's best franchises in the past five years.
Meanwhile, Andrew Bynum has been a complimentary piece to Kobe Bryant since he burst onto the scene in his third year in the NBA. From there, injuries hampered his growth and he slowly became a better player.
He has never been the anchor of a lineup, so at this point it's hard to say whether or not he could be the guy to be the centerpiece of a franchise.
If you are one of those twitterers, you can follow me @JDorsey33.
Keep Reading

Los Angeles Lakers: Like this team?