NBA Trade Rumors: Lakers Should Stay Away from Dwight Howard Drama
July 3, 2012

Sam Greenwood/Getty Images
The Los Angeles Lakers finally got a chance to see how dominant Andrew Bynum can be when healthy. Trading him for Dwight Howard, who has become a constant distraction for the Orlando Magic over the past year, is a risk that's simply not worth taking.
Yet, Adrian Wojnarowski of Yahoo! Sports reports that's exactly the basis for a trade the Magic are trying to push for as they look to deal the talented but polarizing center. He states talks are still in the preliminary stages as the Magic continue to explore options.
First and foremost, making any trade for Howard without a guaranteed contract extension would be a disaster. At this point, even a verbal agreement isn't good enough because his decisions seem to change depending on which side of the bed he wakes up on.
While Mitch Kupchak has been through enough trade negotiations to understand how to protect himself, Howard is a rare breed. The one thing executives and fans alike have learned during the entire ordeal is that he's unpredictable.
So making a trade for him would be unlike any other deal Kupchak has tried to pull off in the past. Although adding Howard to the Lakers would rejuvenate a roster that has become stagnant in recent seasons, the risks involved are enormous.
If the relentless backlash Howard has received since first looking for an escape route from Orlando last season hasn't caused him to change his ways, it's hard to believe he would suddenly become a model citizen upon arriving in Los Angeles.
And, at this point in his career, Kobe Bryant isn't ready to put up with those type of antics. He's all about business nowadays, and having to answer daily questions about Howard isn't something the longtime Lakers leader would enjoy.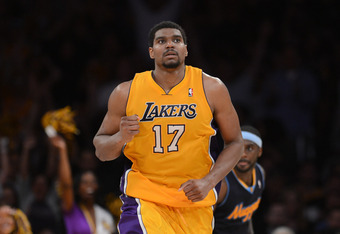 Harry How/Getty Images
It's not like Los Angeles would be getting a massive upgrade, either. Howard averaged 21 points, 15 rebounds and two blocks last season. Bynum checked in at 19 points, 12 rebounds and two blocks while playing alongside a more accomplished frontcourt player in Pau Gasol.
If Bynum moved to Orlando, where he would be a much larger part of the offense, his numbers would probably reach Howard's level, if not higher.
For a team to take a chance on Howard, they should be receiving a basically irresistible offer since they would be assuming all of the risk. A Bynum-for-Howard base certainly doesn't fall into that category after Bynum's breakout season.
The Lakers are best off avoiding the drama altogether and looking for different ways to upgrade their roster before next season.
Howard just isn't worth it after seeing what he has done to the Magic.