London 2012: Top American Olympians to Watch This Summer
July 3, 2012

Ezra Shaw/Getty Images
With the opening ceremony rapidly approaching (July 27), it's time to fully engulf yourself in the 2012 London Olympics.
As usual, the U.S. Olympic team will be bringing plenty of world-class athletes to the Games, with at least one potential medal winner in nearly every event. Team USA is loaded with talent across the board, from seasoned veterans with rooms full of medals to promising newcomers looking to make a strong first impression on the world's biggest stage.
Although every American is worth watching this summer, you'll definitely want to keep your eyes on the following athletes.
Ryan Lochte, Swimming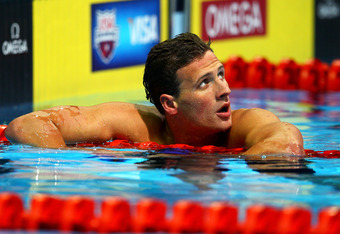 Al Bello/Getty Images
Michael Phelps is greatest swimmer in Olympic history, but the 27-year-old Lochte could be the new face of Team USA this summer.
He already has six Olympic medals to his name (three gold, two silver, one bronze), and he's the current world record holder in both the 200 and 400-meter individual medley. Add that to his supermodel looks and unique personality, and Lochte is perhaps the most intriguing athlete in the entire Games.
He and Phelps put on a few thrilling duels (h/t ESPN) at the recent U.S Olympic Trials in Omaha, with Phelps winning twice and Lochte once. Regardless of who wins, whenever these two step into the pool, it is must-see TV.
Gabby Douglas, Gymnastics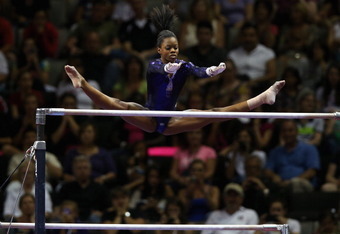 Ezra Shaw/Getty Images
A 16-year-old with a beaming smile and breathtaking aerial acrobatics, Douglas is sure to capture the hearts of viewers in London.
She took first place at the U.S. Olympic Trials last weekend, edging out defending World Champion Jordyn Wieber thanks to a gorgeous floor exercise. Douglas needed a score of 15.25 to surpass Wieber, and after unleashing several gravity-defying moves with stunning precision, she was awarded a score of 15.3.
Although reigning Olympic champion Nastia Liukin will not be competing, the American women will be favored to take home the gold thanks to the duo of Douglas and Wieber.
Allyson Felix, Track and Field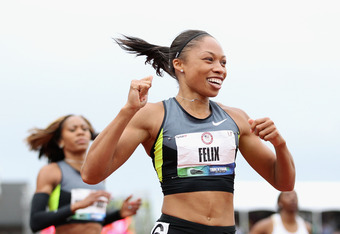 Christian Petersen/Getty Images
After Jeneba Tarmoh conceded her spot in the 100-meter dash (h/t Helene Elliott, Tribune Newspapers), everyone will be interested in the performance of the 26-year-old Felix.
The two women raced to a dead heat at the U.S. Olympic Trials and were scheduled to compete in a runoff to decide Team USA's final spot in the race. Tarmoh decided she did not want to carry through with the race, and now, all the pressure rests on Felix.
She is a three-time Olympic medal winner, claiming the silver in the 200-meter dash in both 2004 and 2008, as well as the gold in the 4x400-meter relay in 2008.
Although the 200 is her specialty, her performance in the 100 will be heavily dissected, as she may or may not have earned her spot. Regardless of how she does, Felix is certainly one of the top athletes to keep an eye on this summer.