Power Ranking the Best Midfielders at Euro 2012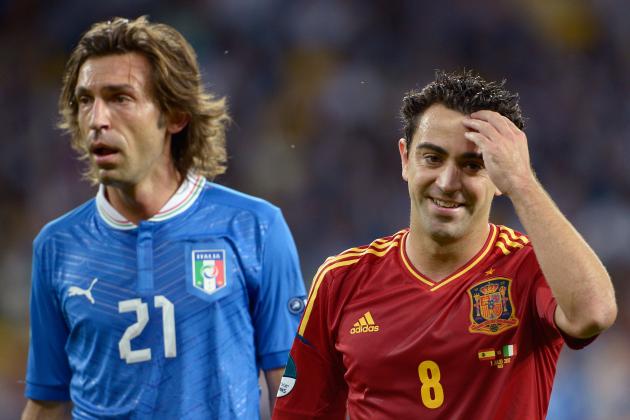 Claudio Villa/Getty Images

Let's be honest: Euro 2012 was all about midfielders. If you had good midfielders, you got far in the tournament. If you had bad midfielders, chances are you weren't too successful.
Spain won Euro 2012 utilizing a formation without a striker, Italy powered their way to the final largely thanks to the efforts of two key midfielders and even the tournament's semifinalists had some majorly impressive midfielders who got their teams far in the tournament.
Ahead, we power rank the tournament's top midfielders. Please note that wingers and strikers have all been left off this list as the significant majority of them played as forwards at Euro 2012.
So please do not call for Cristiano Ronaldo or Ribery's inclusion...they will likely be included in a later list of the "Best Forwards of Euro 2012."
Begin Slideshow

»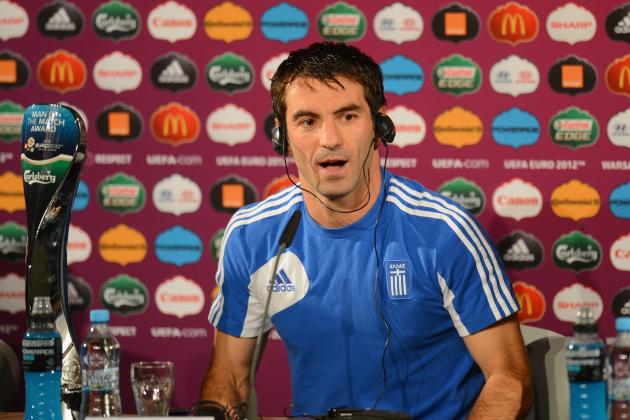 Handout/Getty Images

Sergio Busquets—Defensive Midfielder, Spain
He may not have shone quite as brightly as his fellow midfielders or received as many plaudits, but Busquets quietly went about his business as a permanent starter and defensive force in Spain's midfield.
He distributed the ball excellently and made a number of key tackles and interceptions. His major role in Spain's build-up play allowed him to accumulate a high number of key passes as well.
Bastian Schweinsteiger—Central Midfielder, Germany
No one knows for sure if it was fatigue, a lack of match fitness or both, but Schweinsteiger struggled in Germany's last two matches of the tournament.
Nevertheless, he provided both assists to Mario Gomez in the win over the Netherlands, controlled that match and was solid in two others. If only he'd stayed consistent for Germany's entire Euro 2012 campaign.
Giorgos Karagounis—Central Midfielder, Greece
For a while there, Karagounis had us believing that he could single-handedly bring back Euro 2004. He may have missed a penalty in Greece's opening match, but he masterfully pushed his team to victory in the crucial winner-take-all match against Russia, capitalizing on a defensive error by the Russians and almost winning a penalty to put the game out of reach.
Unfortunately, bad refereeing ruled Karagounis out of the quarterfinals, to the captain's tremendous dismay, and Greece were badly beaten by Germany. One wonders if things might've gone differently with Karagounis not suspended...
Wesley Sneijder—Attacking Midfielder, Netherlands
The Netherlands as a whole may have endured a miserable campaign, but all of their positive play came through their attacking midfielder, Wesley Sneijder.
The Dutchman recorded one of the Dutch's only two assists in the tournament, 6.3 key passes per game, 3.3 accurate crosses per game and 2.3 accurate through balls per game.
Luka Modric—Central Midfielder, Croatia
Croatia's Euro 2012 campaign has gone largely unappreciated by most Euro 2012 analysts, but people are quick to forget that Croatia truly pushed Spain to the brink in the final Group C match and would've beaten them if a couple of calls had gone their way.
Modric was a big part of that. He wasn't amazing or world-class necessarily, but he controlled possession for Croatia, lead the team in interceptions and held his own against both Spain and Italy. Not bad.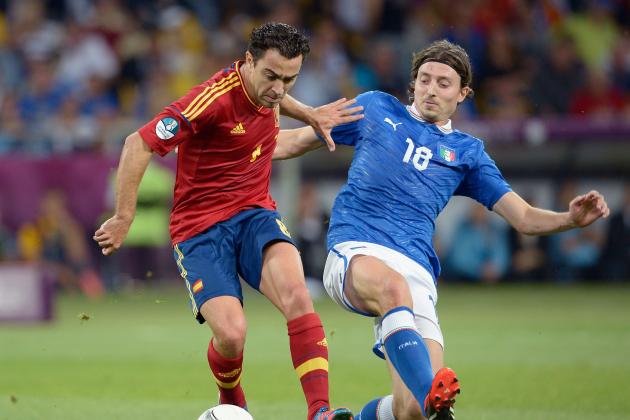 Claudio Villa/Getty Images

Before Euro 2012, I always thought Riccardo Montolivo to be this overhyped, overrated Italian midfielder struggling to produce quality football at Fiorentina.
But Montolivo entered Euro 2012 as, literally, a changed man.
Since both he and Andrea Pirlo regularly occupy the deep-lying playmaker role for their respective clubs, one of them had to be moved further ahead of the other for Italy, and Cesare Prandelli chose the younger, fitter Montolivo. The gamble paid off excellently.
Montolivo didn't look particularly great against Spain (in group stage play), but he excelled in his remaining matches in the tournament. He showed a rather impressive physical side of his game, averaging 2.3 tackles and 3.5 interceptions per game, and he contributed offensively as well, averaging 1.8 shots and 1.3 key passes per game.
Particularly against England, Montolivo's attacking prowess shown as he peppered Joe Hart's goal with long distance passes and shots, and his beautiful long-ball caught Germany's defense off guard and allowed Mario Balotelli to put the game out of reach.
A top-quality tournament for the midfielder who will now attempt to build on his success at one of Italy's most storied clubs, AC Milan.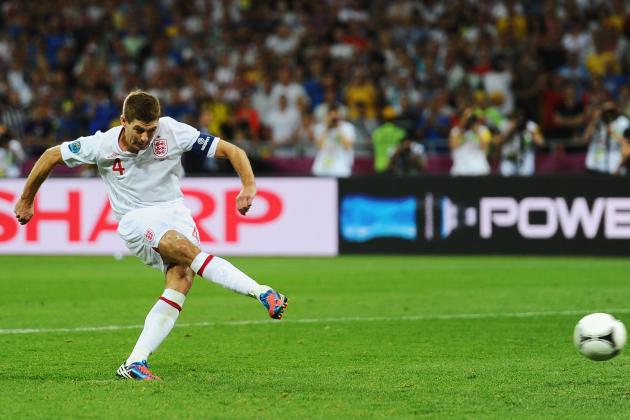 Laurence Griffiths/Getty Images

He may have endured another poor season with Liverpool in 2011-12, but Steven Gerrard was able to put that behind him to perform very well for England at Euro 2012. WhoScored rated him as the third-best player of Euro 2012 after Andrei Arshavin and Alan Dzagoev of Russia.
We're not quite nearly that fond of Gerrard, but there's no disputing his impact on the stat sheet. 2 assists, 4.5 tackles per game, 2.3 interceptions per game, 2.3 clearances per game, 2 key passes per game and 4.5 accurate long balls per game—Gerrard did everything expected of him, and then some.
Some might've liked to have seen a couple of goals from the Liverpool legend, or at least more shots, but Gerrard's lack of success offensively can be put down much more to Roy Hodgson's tactics and the shortcomings of England as a team rather than a lack of effort or drive from the England captain.
Will Gerrard's performance at Euro 2012 allow him to continue to be a regular with the team until the 2014 World Cup? We'll see.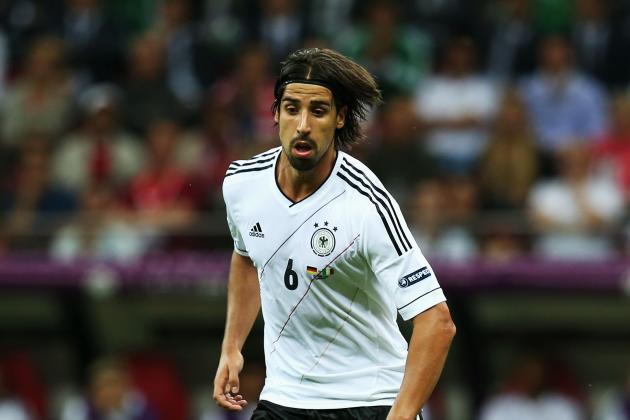 Alex Grimm/Getty Images

Sami Khedira is another midfielder who really surprised me at Euro 2012. For at least two years now, I've become accustomed to referring to him as the weak-link at Real Madrid.
Towards the end of the 2011-12 season, some superb performances from Khedira forced me to drop that tag, but I was highly skeptical of his ability to translate his improvement with Real Madrid to an improvement with Germany.
Guess I was wrong.
Khedira's "Kodak Moment" of Euro 2012 was his tie-breaking goal against Greece in the Euro 2012 quarterfinals, but he was solid throughout. He had two shots on target per game, 62 passes per game and 3.2 long balls per game.
However, it should be noted that Khedira's defense suffered a bit at the expense of his offense, and that might help explain why Germany were so easily exploited by Italy in their semifinal.
Still, he was not directly at fault for either of Italy's goals, and if he can learn to balance his defensive game a bit more with his offensive one, or simply do more on defense, he can prove to be a real asset for Germany in 2014.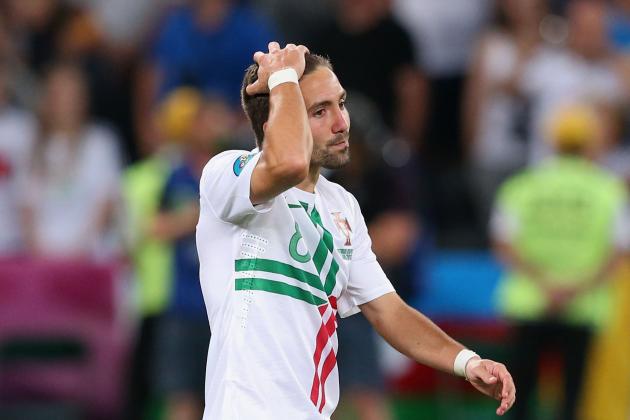 Alex Livesey/Getty Images

One of Euro 2012's break-out stars without a doubt, Joao Moutinho was often the only source of support for Cristiano Ronaldo in this tournament's Portugal side.
Like most attackers, he is remembered for his offensive contributions, but it'd be foolish to forget about his 1.8 tackles and 3 interceptions per game. Moutinho was the complete package at Euro 2012, a real box-to-box midfielder.
I'll honestly be amazed if he's still with Porto at the start of the next season. He's clearly demonstrated himself to be a world-class player, and he'd be an asset to just about any team in the world right now.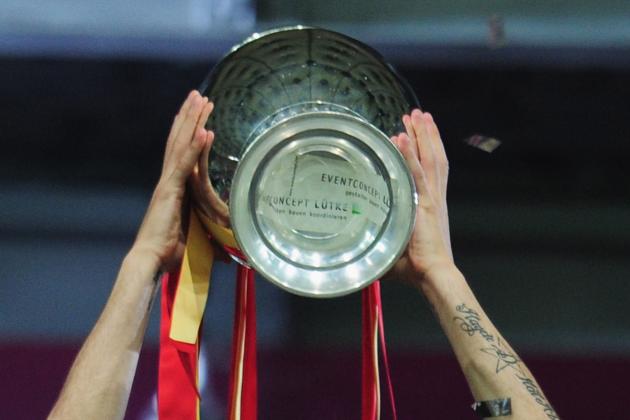 Shaun Botterill/Getty Images

Cesc Fabregas comes in at eighth, a testament to the high quality of midfielders at Euro 2012.
But let me explain my ranking of Fabregas a little further.
Let me be quite honest: While Spain's no-striker system ultimately proved itself to be successful, I was not a huge fan of Fabregas' performances. Do I still hold the opinion that a Spain with Fernando Torres starting up front instead of Fabregas would be more successful? Yes, I do indeed.
Fabregas may have scored the equalizing goal against Italy in Spain's first game and assisted Silva's opening goal against Italy in the final, but he went missing for long stretches of Spain's games throughout the tournament and wasn't remarkable himself.
Of course he did his part in maintaining possession, a skill which he is much better at than Torres, and he boosted the offense with his 1.5 shots on goal per game and 1.5 key passes per game; but overall, he wasn't a shining star.
WhoScored agrees, ranking him 11th out of the 18 Spain players at Euro 2012. A little harsh, but a statement to how unimpressive his individual stats were.
We'll likely never know whether Spain with Torres is better than Spain with Fabregas, but in the latter's case, the success of the team is down to the efficiency of the system and skill of its members much, much more than it is down to the skill of Fabregas alone.
Still, Fabregas deserves his ranking of eighth and would've certainly been ranked higher if it weren't for the talent of those ahead of him.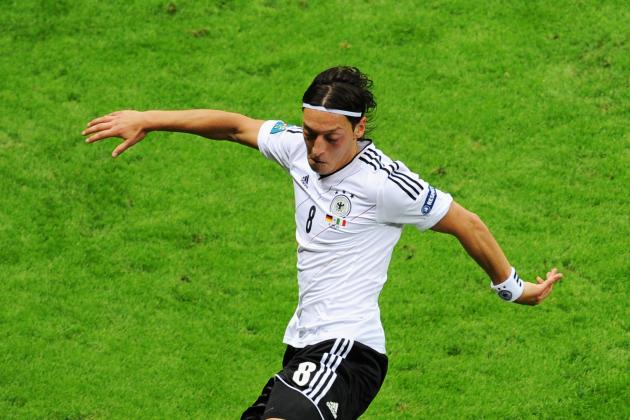 Michael Regan/Getty Images

Germany's player of the tournament? It's hard to argue otherwise.
Besides his already highly impressive goal and three assists, Ozil's 4.4 key passes demonstrate just how much he was the heartbeat of this German team. Before Italy brought Germany's Euro 2012 campaign to an abysmal end, it looked like Ozil and Germany could do no wrong.
Had Germany carried on to the final against Spain and maybe even won there, there's no doubt in my mind that Ozil would've been player of the tournament. His time at Real Madrid has matured him, and he's one of the few players who can confidently say that he now rivals the likes of Xavi and Iniesta.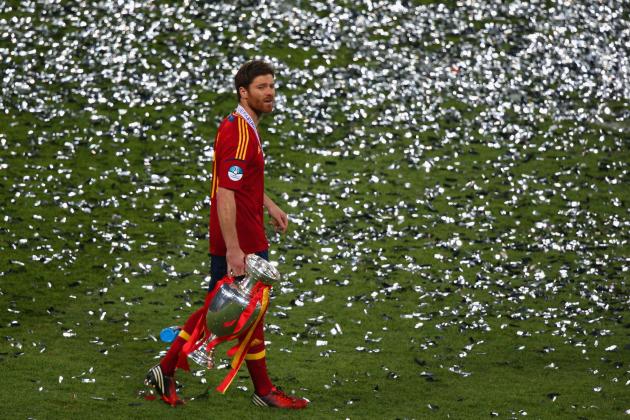 Michael Steele/Getty Images

Xabi Alonso will likely remember the quarterfinal against France as one of the best games he's ever played. As a Real Madrid fan, so will I; in all the games he's played for Real, he's never looked as good as he did against France.
And yes, his two goals are a big part of what made his performance so impressive.
Nevertheless, Alonso was not solid in just that one, single game. Throughout the tournament, he only averaged 1.7 passes less than Spain's orchestrator, Xavi, and like many of his teammates, his pass accuracy was quite incredible.
His 2.7 tackles and 1.2 interceptions (both per game) were key to Spain's defensive integrity, and highlight the difference between him and Sami Khedira, who played well but did little defensively at Euro 2012.
Another good tournament for one of history's most consistent holding midfielders.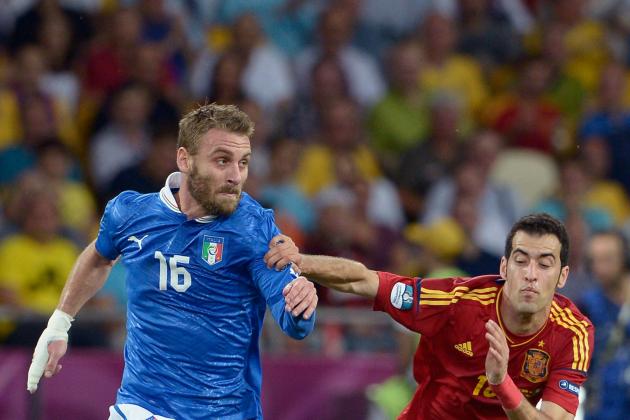 Claudio Villa/Getty Images

Years of withering away at Roma have removed Danielle De Rossi from many "top player" lists, but De Rossi emphatically put his name back on those lists with a superb Euro 2012.
Most importantly, he justified my continuous calls for Real Madrid to splash the cash for his signature (okay, that isn't very important, nor will it happen, but hey...I'm the writer here).
De Rossi showed his mastery of the beautiful game in its entirety in Poland and Ukraine. His work at centre-back was positively breathtaking—I myself was left wondering why he hadn't played at centre-back his entire career!
But against Ireland and Croatia, and later against England and Germany, I was reminded. De Rossi prevented his opponents from getting any rhythm going in midfield; he completed a team-high 3.7 interceptions per game and chipped in with 2.2 tackles per game for good measure.
He even showed some impressive offensive abilities, taking 1.5 shots per game and adding 1.2 key passes per game in a system that largely allowed its offense to flow through Andrea Pirlo.
Unfortunately for us, he'll likely return to Serie A mediocrity with Roma who have yet to return to the glory days when Francesco Totti was in his prime. Oh well; at least he'll be making bags of money doing it.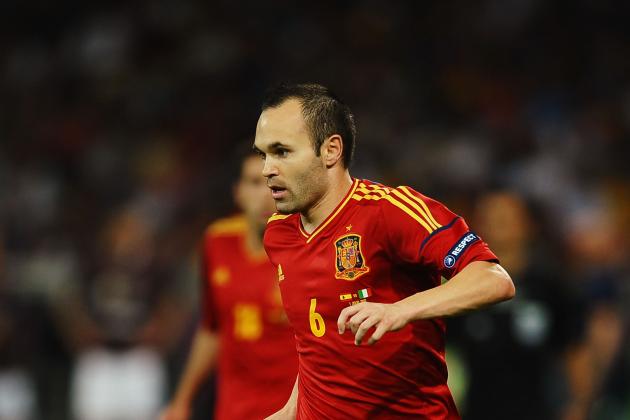 Laurence Griffiths/Getty Images

Iniesta may have been selected as the best player of the tournament by UEFA, but for me, he was only the fourth best midfielder of the tournament.
To me, Iniesta looked below his incredibly high level at Euro 2012. He struggled against Italy in the first group game and was substituted after another subdued performance in Spain's rout of Ireland.
Against Croatia, he produced the crucial assist, but in truth, that goal was created by Fabregas' perfectly timed ball which left Iniesta in acres of space and with the simple task of squaring the ball to Jesus Navas.
He upped his level in the knockout rounds, but again, he was not a key factor in any of Spain's goals (at least not the first two) and not really involved in the build-up either.
Given the performances of his teammates, I'm inclined to believe that he won the best player award on reputation more than anything else. At least two Spaniards outperformed him at Euro 2012.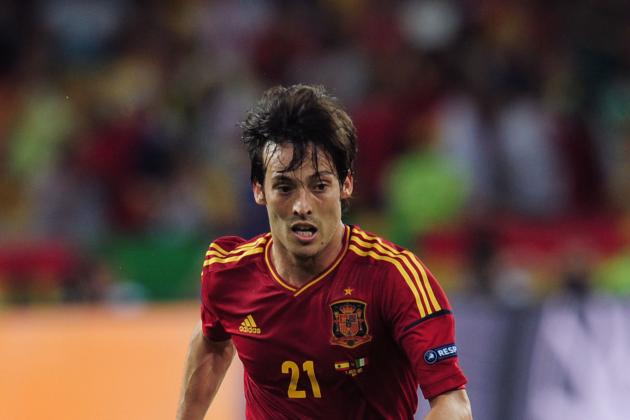 Shaun Botterill/Getty Images

The first one is David Silva. He may not have received as much praise as Barca's players in the aftermath of Euro 2012, but there's no way you can say one goal—in the final no less—and three assists aren't impressive.
For me, this was the first international competition in which I truly liked what I saw from Silva. No more shot after shot taken from outside the box and missing the target—Silva was more patient this time around and made the right pass at the right moment.
People often like to compare Spain's so-called dynasty to other legendary teams, but the thing about Spain is that the country's overload of talent means that it is always among the best countries, talent-wise, in the world.
A guy like Silva, who played just 66 minutes at World Cup 2010, can come into the side and give it another boost of talent, and if he ever drops his level, there are three or four other top-quality midfielders waiting to take his spot.
That, ultimately, is what makes Spain so terrifying.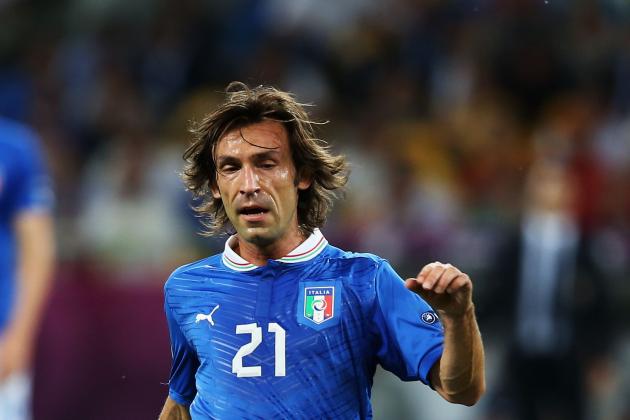 Alex Grimm/Getty Images

Back in 2006, when I was just getting into the game of football and didn't really appreciate all the tactics, skills and training that went into it, my dad would rave and rave about Pirlo. He always referred to him as a magical player at the level of Zinedine Zidane; the kind that only comes around once every 20-30 years.
Now I can comfortably say that I completely understand what he was talking about. As good as Montolivo was at Euro 2012, he'll never be Andrea Pirlo, and I can't truly see any other Italian right now or in the near future stepping up to take his mantle.
He's just that good.
Especially against England, when he completed a record 23/30 long balls, his mastery and vision were on full display. Honestly, there are things that Pirlo does that even Xavi isn't capable of doing.
It's been said 100 times, but I'll say it again: AC Milan were stupid to let him leave, and Juventus were geniuses to pick him up. At this rate, he almost surely has two more years left in the tank and will likely say his goodbye to football in Brazil in 2014.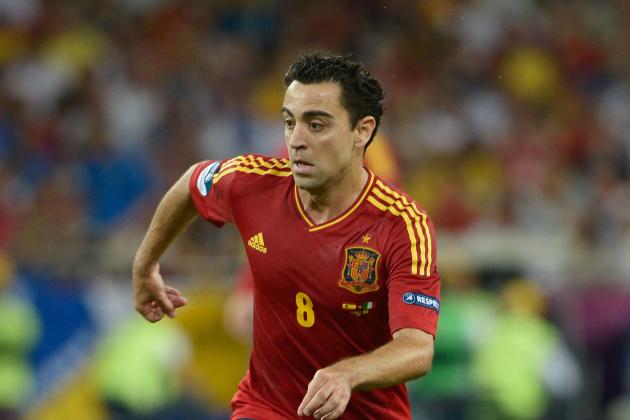 Claudio Villa/Getty Images

Honestly, who else could it have been?
Just as he is the heart of Barcelona's possession game, Xavi is also the heart of Spain's possession game. He leads his team in passes, pass success percentage, key passes, accurate long balls per game and accurate crosses.
Like Iniesta, Xavi wasn't always at his best. In the group stages, he too struggled to do much for Spain in the way of goals and assists.
Yet, on the biggest stage, Xavi, the littlest man on the pitch, gave the biggest performance. He threaded a perfect pass through Italy's defense for Jordi Alba's goal, which effectively ended the game and topped it off with another assist for the then newly-introduced Fernando Torres.
Legend. We often say that Spain are loaded enough to never really miss a single player, but they'll really feel it when Xavi retires from international football. Here's hoping he's got enough in the tank for at least one final run at glory in 2014.