AJ Lee: Diagnosing the Wrestler Part 1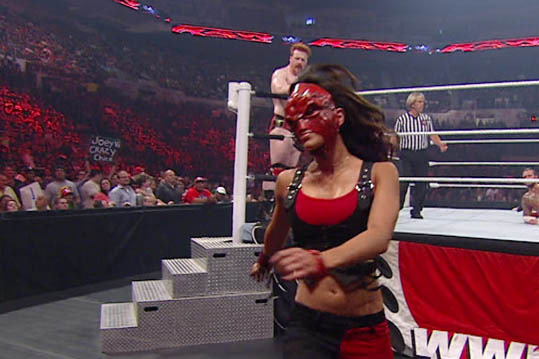 Picture from WWE.Com
Diagnosing the Wrestler is a new series of mine. What I plan on doing is going into the minds of the characters we see in pro wrestling. I will use my medical experience and education to try to explain to all of you just what makes them tick.

What causes a cute, innocent and adorable person to have a psychotic break? The answer to this question has many possibilities, but in regard to AJ, rejection has turned her into a person that has many psychological disorders. In this article, I will go into the different psychological problems our favorite diva has, and I will do my best at explaining what they mean.
Begin Slideshow

»

Picture from tumblr.com
We all know the story by now. At WM 28, Daniel Bryan lost the World Heavyweight Championship in 18 seconds. Those were the last 18 seconds of normalcy for AJ. A simple kiss on the cheek, a show of her love for her man, was enough of a distraction for Bryan to lose.

Bryan lost it, and would place the blame on AJ, sending her down a psychotic spiral. AJ would try and try to get her first love back, and each time she would fail.

This is known as romantic stalking. Romantic stalking is actually the most common form of stalking. When a person is rejected, it is natural to feel hurt and depressed. Typically, a healthy individual can overcome this and carry on with a normal life. The stalker, however, cannot. They try anything and everything to get back the person they love. They will justify every action they take to accomplish this, and the more they fail to get their love back, the more dangerous they become.

AJ has no longer been stalking Bryan alone, however. She has also stalked Kane and CM Punk.
As I said earlier, when a relationship comes to an end, the person being rejected goes into a state of depression. They immediately think they are not good enough, and they try to prove that they can attract another mate.

Even the most beautiful people can find themselves having low self-esteem after being rejected. A person will sometimes act in such a way that is not normal for them. We have seen AJ exhibit very forward tendencies in respect to finding another boyfriend. She has sought the affection of both CM Punk and Kane.

She has tried so hard to become the girlfriend of either of these two men, and when they did not give her the attention and love she was after, she began to revert back to stalker tendencies.
A person with HPD shows the characteristics of excessive attention seeking. They desperately desire a need for approval, and they will use seduction to get it. In society, this disorder will affect four times as many women than men. In my opinion, this is the main disorder that we see with AJ.

For weeks, we have seen her use her body to distract the objects of her affection. Her behavior has cost these men numerous victories in the ring.
A person with self-destructive behavior will put themselves in harm's way in the hopes of seeking out the attention they crave.

A person will most commonly do this by threatening to do dangerous acts. These people generally are not suicidal, though. They will take certain precautions, such as taking their time when they are threatening to do destructive acts to themselves.

We saw this dimension of AJ last night at the end of Raw.

She wanted to see if either Punk or Bryan would stop her from harming herself. She methodically set up a table, slowly climbed the ropes and once on top, she paused. Had she really wanted to do harm to herself, she would not have taken such a long time.

She got her wish. Bryan stopped wrestling and pleaded with her not to jump. CM Punk got between her and the table and also pleaded with her not to jump.

In a turn of events, AJ pushed Punk off the ring into Bryan, and both men crashed through the table. For AJ, this was a transference of her physiological pain into their physical pain.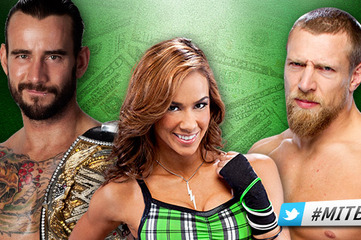 Picture from gamespot.com
AJ now holds all the cards due to her being the special referee in the WWE Championship match between Bryan and Punk at Money in the Bank 2012, and when a psychologically unstable person feels they have power over the one that created them, they become more dangerous than ever. She can ultimately decide who walks out of Money in the Bank as champion.

Bryan realizes this, and he's begun to show compassion toward AJ once again. Punk has not. As fragile as AJ's mind is, she is not stupid. She realizes that Bryan is only being nice to her because he wants to win. It is still unclear what AJ wants, but if I had to guess, she wants to put Bryan through as much pain as she herself feels she has experienced.

Bryan is unwittingly positioning himself as a pawn in a dangerous game. CM Punk appears to not yet be aware that he, too, is on the board playing the same game (just like Bryan), and there's only one who really knows what the end game will be. That's a woman who is sinking further and further down the rabbit hole of reality.
For more articles with opinions, and exclusive interviews, check out WrestleEnigma.com
Louie Babcock has over six years experience working in emergency medicine, and is studying biology and health science at the University of Minnesota.
Follow me on twitter@Louie_TheSource.