NBA Free Agents 2012 Predictions: Forecasting Where Underrated Players Will Land
July 3, 2012

Brett Deering/Getty Images
Most of the focus early in the free-agent period has been on superstars like Deron Williams and Steve Nash. While those two point guards would help a lot of teams, there are also some underrated players who will provide plenty of value.
Here's a look at three of the market's most overlooked players so far, along with a prediction for where they will suit up next season. Once the big chips fall into place, the interest in these second-tier players should really heat up.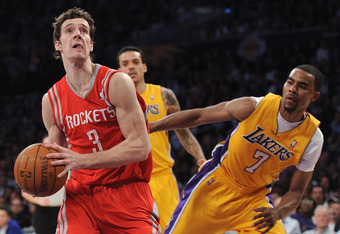 Harry How/Getty Images
Goran Dragic
The amount of point guards available has really diluted the market, which should make for some good value signings once Williams and Nash decide. Dragic immediately stands out as a player on the rise who's ready to excel as a full-time starter.
He averaged 12 points and five assists while shooting 46 percent from the field for the Houston Rockets last season. He did all of that even though he was playing less than 27 minutes per game, meaning there's plenty of room for those numbers to skyrocket with starter's minutes.
Since it doesn't look like the Phoenix Suns are near the top of Nash's list right now, the team has started to look forward at the position by drafting Kendall Marshall. Adding Dragic would allow Marshall to get involved slowly and give Dragic a chance to shine.
Prediction: Phoenix Suns
The longtime member of the Dallas Mavericks has established himself as an extremely valuable role player. He can play both guard spots and provides instant offense off the bench, something just about every team is looking for.
Another thing that makes him a perfect target is his consistency. So many contracts handed out during free agency turn into bad deals because players don't live up to the hype. Whichever team lands Terry will know exactly what he will provide.
He'll score at least 15 points per game and chip in a handful of assists. At this point in his career, he will fit best on a team with championship aspirations. With the Ray Allen situation murky, the Celtics would be a good match.
Prediction: Boston Celtics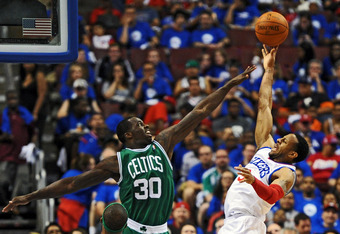 Drew Hallowell/Getty Images
Brandon Bass
After a lackluster start to his career, Bass has really stepped up his game over the past two seasons. He was particularly important to the Celtics last season since the team lacked depth up front, and he proved capable of filling the void.
He would still provide maximum value coming off the bench, where his energy and efficiency would have a chance to show. And since there is such a limited number of reliable post players in the league, he should have no trouble finding a team.
One playoff contender that really needs a player like him is the Indiana Pacers. They need a more physical presence in the paint and that's exactly what he provides, while also fitting into the franchise's team-first philosophy. It will be a close race to sign him, though.
Prediction: Indiana Pacers