Wimbledon 2012 Results: Winners and Highlights from Top Matches
July 3, 2012

Clive Brunskill/Getty Images
Wimbledon has been full of surprises, but action on Tuesday went mostly as expected.
It was a rough day for the American men, Serena Williams and Petra Kvitova met in a premier match of powerful, top-ranked ladies and a battle of German doubles partners went down to the wire.
Wimbledon may have already lost elite players like Rafael Nadal and Maria Sharapova, but this tournament still has plenty of compelling matchups left. Let's review the ones that went down on Tuesday.
Serena Williams Prevails Against Petra Kvitova in the Quarters

| | | |
| --- | --- | --- |
| Serena Williams (6) | 6 | 7 |
| Petra Kvitova (4) | 3 | 5 |
Serena Williams did not always manage to get her first serve in—in fact, she only put it in play 59 percent of the time—but when she did, she had great success. She finished the match with 13 aces and won 31 of the 36 points after keeping her first serve in play.
Kvitova—the defending Wimbledon champion—certainly didn't play poorly on this day. She had a break and set point up 5-4 in the second, but Williams recovered to win the set before breaking Kvitova and eventually finishing her off.
Williams was in control of this match throughout, and she looks poised to her fifth Wimbledon title.
No Luck for the American Men in the Fourth Round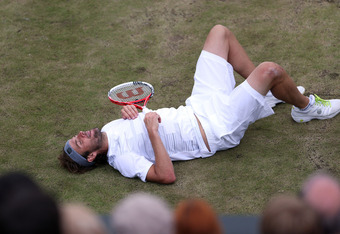 Julian Finney/Getty Images
| | | | |
| --- | --- | --- | --- |
| Brian Baker | 1 | 6(4) | 3 |
| Philipp Kohlschreiber (27) | 6 | 7(7) | 6 |
Well, the return of Mardy Fish and the wonderful run by Brian Baker has come to an end at Wimbledon. Fish won the first set and had a chance to go up two, but Tsonga stole the tiebreaker and never looked back, winning the oft rain-delayed match.
Meanwhile, Baker departed without a bang against Kohlschreiber. Baker's run to the fourth round became one of the tournament's biggest stories, as he only returned to tennis last May after six years away from the game.
Not too shabby a showing just a year back into your comeback, Mr. Baker. Not too shabby at all.
Other Scores of Note
| | | | |
| --- | --- | --- | --- |
| Sabine Lisicki (15) | 3 | 7(9) | 5 |
| Angelique Kerber (8) | 6 | 6(7) | 7 |
David Ferrer was in control throughout, as Del Potro never really turned on the intensity for this one. Murray advanced without too much difficulty as well, perhaps seeing the clearest path to a final he's been presented in years after Rafael Nadal was knocked out of the tournament.
But the most intriguing match of this bunch was the clash between German doubles partners Lisicki and Kerber.
Kerber seemed in control early and looked like she would make quick work of Lisicki, who of course knocked Maria Sharapova out of the tournament. But Lisicki refused to go away, fought back to force a second-set tiebreaker and looked to steal the momentum after Kerber appeared visibly shaken before the third set.
Kerber was able to regain her composure, however, eventually winning a tough final set to move on in the tournament.
Hit me up on Twitter—my tweets want Dwight Howard to just get traded already, too.