NBA Draft 2012 Grades: Evaluating Teams That Put Faith in Projects
July 4, 2012
Chris Graythen/Getty Images
For some NBA prospects, what you see is what you get.
Others, on the other hand, are either raw, inconsistent or have character concerns. These are what we like to call "projects."
There are always a handful or these projects in every NBA draft, and the 2012 NBA draft was no different. 
Some projects will be built into powerhouses, some projects will crumble before our very eyes in the big and bad NBA.
Here's a look at some teams that drafted projects in the first round of the 2012 NBA draft, and how they grade.
9. Detroit Pistons: Andre Drummond, C, Connecticut
Grade: A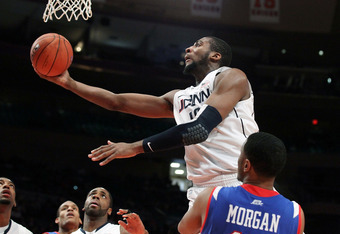 Jim McIsaac/Getty Images
There may be questions about Andre Drummond's desire and consistency, but with Dwight Howard-like athleticism, there is no question he's one of the most explosive players in the draft.
He was exactly the player the Pistons needed to complement center Greg Monroe. If Drummond can stay focused, he has the potential to be an elite shot-blocker as well as an offensive force around the hoop.
10. New Orleans Hornets: Austin Rivers, SG, Duke
Grade: C-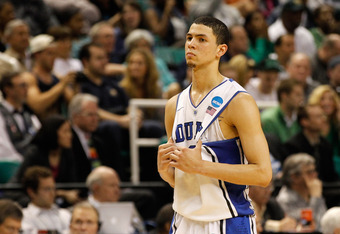 Streeter Lecka/Getty Images
I have several issues with this pick.
First, given Eric Gordon may stay in New Orleans, it's almost as if the Hornets are asking Austin Rivers to play point guard.
I'm a firm believer he's not a point guard. He showed bad decision-making at times at Duke and had trouble playing within the game.
Sure, he has room to grow, but I like him better as a scoring shooting guard than a point guard. The Hornets could have drafted someone like Illinois center Meyers Leonard here to pair up with Anthony Davis.
11. Portland Trail Blazers: Meyers Leonard, C, Illinois
Grade: B+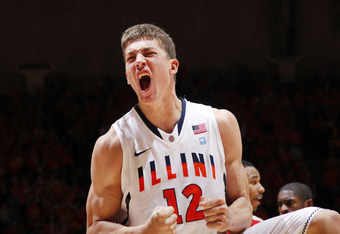 Joe Robbins/Getty Images
The Trail Blazers have been looking for their center of the future ever since they realized Greg Oden would never live up to his potential.
I'm a big believer in Meyers Leonard. He's raw offensively, but he has all the tools—including elite athleticism at the center position—to be a high-impact, complete player in the NBA.
Unlike Drummond, there are no questions whatsoever about his desire.
20. Denver Nuggets: Evan Fournier, SG, France
Grade: D+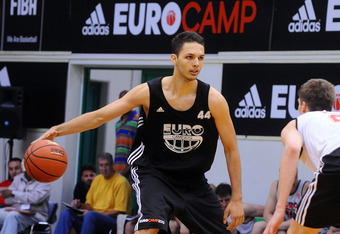 Roberto Serra/Iguana Press/Getty Images
I wasn't a big fan of this move.
It's not that Evan Fournier doesn't have potential—he does. Having said that, there were so many impact players at this spot who could have helped the Nuggets immediately, who will also likely become better NBA players than Fournier.
Seemed like unnecessary risk to take.
28. Oklahoma City Thunder: Perry Jones III, F, Baylor
Grade: A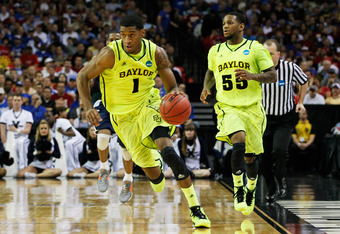 Kevin C. Cox/Getty Images
Yes, there are questions about Perry Jones' desire and consistency. However, like Drummond, he's an explosive athlete who could become a monster in the NBA if he ever puts it together.
At No. 28 overall, this may go down as the steal of the draft. If Jones becomes a bust, it's not like the Thunder used a high draft pick on him. 
Follow me on Twitter. We can talk about the NBA together.