NFL Rookie Wide Receiver Production for Every Rookie Since 2000
July 3, 2012

Brian Kersey/Getty Images
Trying to predict what Alshon Jeffery will produce as a rookie wide receiver for the Chicago Bears is not easy.  There's a lot of variables that go into the equation, which will come up in the debate section of this article.  Those variables include, but are not limited to, height, speed, team drafted by and who the quarterback was that was throwing to that wide receiver. 
For me, I simply broke down the production by every receiver drafted in the first two rounds since 2000.  From Peter Warrick in 2000, to Randall Cobb, in 2011, I utilized Wikipedia, to see where they were drafted at and Pro Football Reference to compile their rookie year statistics. 
Around two hours later and I had compiled a simple main statistical list, that includes receptions, yards and touchdowns from a total of 97 rookie wide receivers. 
Plugging all the information into an excel spread sheet I came up with the following: 
Rookie wide receiver production in the NFL has been pathetic. 
Rookie receivers drafted in rounds one or two, in the NFL have averaged a  pedestrian 32 receptions (rounding up), 432 yards, and three touchdowns. 
Possibly the only bright side to that lethargic number is that last year, rookie receivers put forth their most productive year to date.  Rookies in 2011 averaged, 46 receptions, 686 yards, and five touchdowns (rounding up from 4.5). 
The 2011 class however, was considered, one of the top classes of rookie talents in quite some time.  The class featured, two elite rookie talents in A.J. Green and Julio Jones. Seven rookies, were drafted between rounds one and two, during the 2011 NFL draft.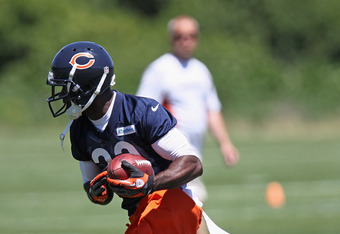 Jonathan Daniel/Getty Images
There is not one rookie in this class, that projects to be the total package of receivers that these two receivers were.  As a result, it's not really fair to expect Bears rookie Alshon Jeffery, to produce at that level or at any level near of those two players. 
Perhaps hampering Jeffery's potential development, is the Bears' insistence that Devin Hester is slated to be the Z receiver in the Bears' offense.  Also, Jeffery has been slowed down by at least two, lower leg injures that kept him out of rookie minicamp, OTAs and veteran minicamp. 
Those practices, are when the implementation of the playbook occurs and players are expected to be full go by the start of training camp. 
Will the time Jeffery has missed during this crucial time, hurt his development? 
Another big question is, knowing that rookie receiver production is typically on par for what Devin Hester's career averages are for production, should the Bears start a rookie over an experienced veteran? 
At face value, the answer is an obvious answer of yes, they should in fact start Jeffery based on his size and athleticism. 
My counter to this line of thought is, NFL offenses work best when they have a balance of talent in the game.  That balance, consists of a number one, a slot receiver and a receiver who can stretch the field.  The Bears, have the big possession target, the slot receiver, now they need the player who can stretch the field. 
The player best suited to stretch the field, in Johnny Knox's absence, is Hester.  Like it or not, this is Hester's best attribute, and it will be a crucial part, in opening up things underneath for the tight ends, and the bigger receivers. 
So let the debate begin, with solid numbers in place from a strong sampling of 12 years worth of rookie wide receiver production in the NFL.