NBA Free Agency 2012: Deron Williams Will Stay in Brooklyn Without Dwight Howard
July 3, 2012

Chris Chambers/Getty Images
The Deron Williams drama is not over quite yet.
Out of nowhere, the Nets and Orlando Magic started up trade talks again Tuesday morning, refueling the idea that Dwight Howard could go to Brooklyn. According to league sources, the trade would send Howard to the Nets for Kris Humphries, MarShon Brooks, Brook Lopez and the Net's first-round picks in 2013, 2015 and 2017.
Considering Williams hasn't made up his mind yet about whether he will stay with the Nets or go to the Dallas Mavericks, the extra incentive of Howard could be his tipping point. However, Williams most likely made up his mind last night to stay with the Nets, and the decision had nothing to do with Howard.
Joe Johnson is Enough
Although the Nets gave up a big part of their roster, including Anthony Morrow, Jordan Farmar, DeShawn Stevenson, Johan Petro, Jordan Williams, for just one player, it was worth it.
Johnson is a solid, consistent player averaging 18.8 points, 3.9 assists and 3.7 rebounds per game. Although they may not be record-breaking numbers, they ensure that the Nets will have reliable scorer.
Johnson is also a big enough name that will keep Williams happy with the Nets. Not only will Johnson keep him company, but there is a great possibility that the two will play very nicely off each other, boosting the Nets out of the trenches of mediocrity.
Williams is like a little boy; he was bored with the old players, but now that he has a shiny, new toy, he will be happy for a while.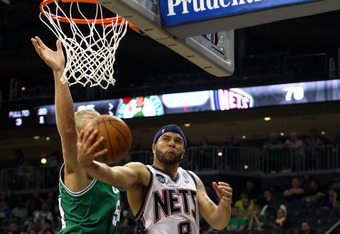 Chris Chambers/Getty Images
Money, Money, Money
$75 million: the four-year contract that the Mavs are offering Williams.
$100 million: the five-year contract that the Nets are offering Williams.
It's really simple math; the Nets are offering Williams more money to stay with the team that he knows (and with their new star Johnson) and in this day and age, money is king. 
Mavericks' Recruiting Not Enough
The Mavericks definitely gave the good ol' college try when recruiting Williams, but their efforts just didn't make the cut.
The Mavs started off strong, with owner Mark Cuban calling Williams with their recruiting pitch at 12:01 a.m. on Sunday—the opening day of NBA free agency—but Cuban's real error was not meeting with the point guard in person. On Tuesday, Cuban taped his reality show "Shark Tank" instead of meeting with Williams in person to recruit him one last time for the Mavericks. Although Cuban was under contract to shoot the show, there were definitely options that could have allowed him to meet his future point guard star in person.
Williams reportedly has a friendship with Dirk Nowitzki and spent last week playing golf in the Hamptons with the Mavs' Jason Kidd. However Williams just did not fit into the franchise's culture and with a very headstrong and unique owner like Cuban, there are many factors that could change in Dallas.
Bottom line: The familiar team—with a bit of an upgrade—is a better fit for Williams.