Atlanta Falcons: The Biggest Media Misconceptions about the Falcons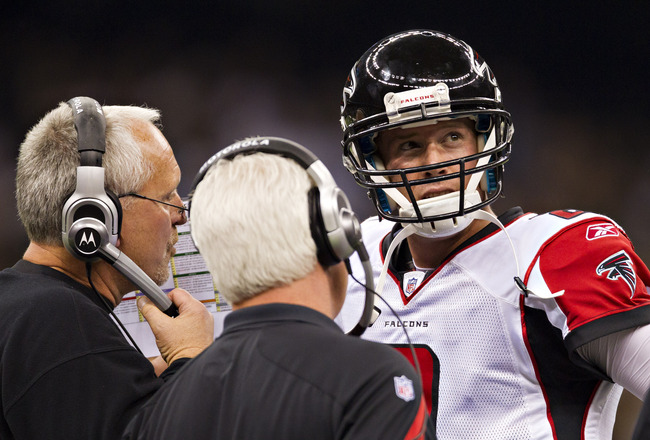 Wesley Hitt/Getty Images
When general manager Thomas Dimitroff, head coach Mike Smith and quarterback Matt Ryan landed in Atlanta in 2008, the Falcons slowly began their rise back to relevancy and, in the process, popularity.
Along the way, however, they have equally been the subject of numerous misconceptions by the national media.
This has had the undesired result of clouding some NFL fans' perceptions of the Falcons, and even of some Falcons fans themselves.
In an attempt to correct those false beliefs, let's highlight a few of the many misconceptions about the Atlanta Falcons.
They're a Boring Team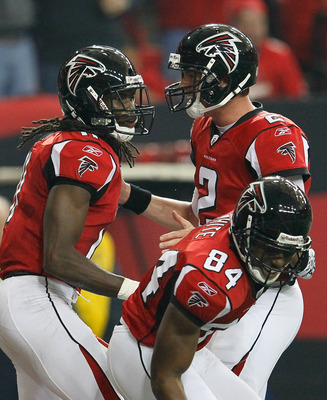 Kevin C. Cox/Getty Images
When news broke that the Falcons were atop the list of teams HBO wanted to star on its hit TV show "Hard Knocks," NFL fans and media alike were left scratching their heads.
The Falcons? Who would want to watch them? "Hard Knocks" is all about entertainment and personalities, and the Falcons lost that when they got rid of their human highlight reel Michael Vick.
I'd say quite the opposite.
A cast composed of a fiery leader in Matt Ryan, two loudmouths in Roddy White and Sean Weatherspoon, a quiet hard worker in Julio Jones and arguably the best tight end of all time in Tony Gonzalez would provide all the excitement needed to tune in week in and week out.
Not to mention getting an inside look at playoff contenders trying to make the jump to the next level and join the league's elite.
And with the more recent changes—including an upgrade in the swagger department on the behalf of Asante Samuel and position battles at middle linebacker, and along the offensive and defensive lines—things are sure to heat up when training camp starts in August.
The Falcons appear boring only because not much is known about them. That's what happens to teams left out of the national spotlight.
Matt Ryan Is Just an Average Quarterback Who Can't Win When It Counts Most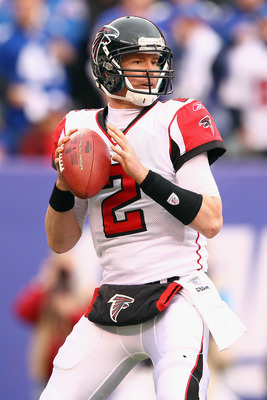 Al Bello/Getty Images
Matt Ryan is often labelled as having a weak arm, relying too heavily on Michael Turner and the running game and being nothing more than an average quarterback.
All of that despite having just having broken the franchise record for passing yards in a single season with 4,177. Ryan also has 11 fourth quarter comeback wins, 16 game-winning drives and a 43-19 record as a starter.
He's well on his way to being elite, but holding him back of course is his 0-3 playoff record, which some see as a sign he'll never be able to lead the Falcons to the Promised Land.
After all, Tom Brady won his first Super Bowl in just his second year; why can't Ryan find postseason success with such a great supporting cast?
But Brady is the exception, not the rule. Some of the league's best quarterbacks weren't so fortunate: Eli Manning didn't win his first Super Bowl until his fourth season; Brett Favre had to wait until his fifth (as a starter); Peyton Manning and Drew Brees took all of nine seasons; John Elway waited until his penultimate year with the Broncos; Dan Marino, well, never.
Winning the Super Bowl is a team effort requiring a perfect mix of skill, time and luck.
Ryan has the skill and is doing his part. With just a bit more time and some better fortunes, he'll one day have the opportunity to bring the Lombardi Trophy home.
Their Window of Opportunity Is Closing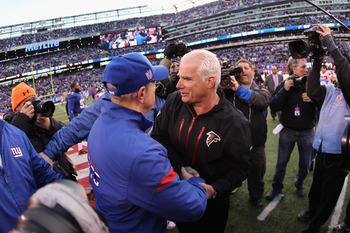 Nick Laham/Getty Images
In late June, NFL.com let us know which of the 2011 playoff teams it believes are most likely to fall short in 2012.
Of its four writers' opinions, three named the Falcons among their selections.
Maybe it's their failure to meet lofty expectations in 2011. Maybe it's the buzz surrounding the Carolina Panthers and the Tampa Bay Buccaneers. Maybe it's their 0-3 playoff record under Mike Smith.
Whatever the reason may be, the idea that 2012 is the beginning of the end for the Falcons is picking up steam as of late.
But really, they've only just begun.
Matt Ryan is only entering his fifth season in the league. Key cogs of the future like Julio Jones, Sean Weatherspoon and Peter Konz look poised to equal or even surpass their predecessors.
After four consecutive winning seasons and back-to-back playoff appearances in 2010 and 2011, the Falcons are clearly on the doorstep to the Super Bowl.
Major changes to the team (via new coordinators on both sides of the ball) are sure to have the Falcons knocking on the door next season, and with Ryan at the helm, they'll have plenty of chances to break through to the other side in the coming years.


Keep Reading

Atlanta Falcons: Like this team?