Jason Terry to Boston Celtics: Analysis, Grade and Twitter Reaction
July 3, 2012
Tom Pennington/Getty Images
Mark J. Spears of Yahoo! Sports reported on Tuesday that the Boston Celtics and Jason Terry have agreed on a three-year deal worth over $15 million. On July 11th, he'll officially be wearing green. Here's an analysis, grade and how Twitter reacted to the breaking news.
Twitter Reaction
Die-hard Celtics fan Bill Simmons of ESPN reacted to the original report with enthusiasm.
Whoa! I love this move. MT @SpearsNBAYahoo: Celtics in final discussions on terms of multi-year deal with Jason Terry, sources tells Yahoo

— Bill Simmons (@sportsguy33) July 3, 2012
Apparently Terry wasn't their first choice, though, according to Alex Kennedy of Hoopsworld.
Boston was zeroing in on O.J. Mayo, but he wanted more than the mid-level exception. Celtics couldn't afford Mayo so Jason Terry was Plan B.

— Alex Kennedy (@AlexKennedyNBA) July 3, 2012
Adrian Wojnarowski of Yahoo! Sports stressed that Terry's signing doesn't signal an end to the Ray Allen-era in Boston.
As @SpearsNBAYahoo reports, Celtics finalizing deal with Jason Terry. Boston is still determined to keep Ray Allen too, sources say.

— Adrian Wojnarowski (@WojYahooNBA) July 3, 2012
Analysis
Boston is once again a legitimate championship contender. Terry is one of the most prolific second-unit offensive sparks in the entire league. He averaged 15.1 points per game last season and will be a huge boost for a Celtics bench that was downright pathetic last season.
Danny Ainge received criticism for selecting Jared Sullinger and Fab Melo in the 2012 NBA Draft, but look at him now. Boston will potentially enter next season with a bench featuring Terry, Sullinger, Melo, Avery Bradley and Jeff Green. Sure, their starting lineup is one of the oldest in the league, but their bench is so potent that Paul Pierce, Kevin Garnett and Allen won't be forced to play more minutes than they're comfortable with like they were last year.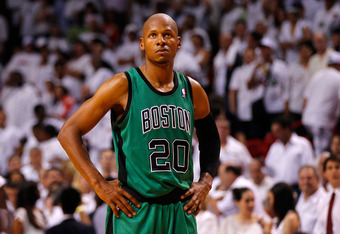 Mike Ehrmann/Getty Images
And speaking of Allen, like Wojnarowski said, Terry isn't his replacement. In fact, the signing actually increases the odds that Allen re-signs in Boston. Terry is more than comfortable coming off the bench and Allen should maintain his starting spot given his chemistry with the Celtics' core.
Grade: A
Boston had to improve. They nearly knocked out the NBA Champions in the Eastern Conference Finals, but with Pierce, Garnett and Allen each getting a year older, the Celtics couldn't just assume Bradley's return would give them enough of an edge on the Miami Heat to return to the Finals. All eyes were on Ainge, fans expected the first year of a rebuilding process, but what they got is another year of the Big Three and friends.
Every season begins with fans saying that the Celtics have, "just one more championship run left in the tank." Because of Terry's signing, 2013 will be another one of those years.
David Daniels is a featured columnist at Bleacher Report and a syndicated writer.