The Lakers Should Not Trade Andrew Bynum for Dwight Howard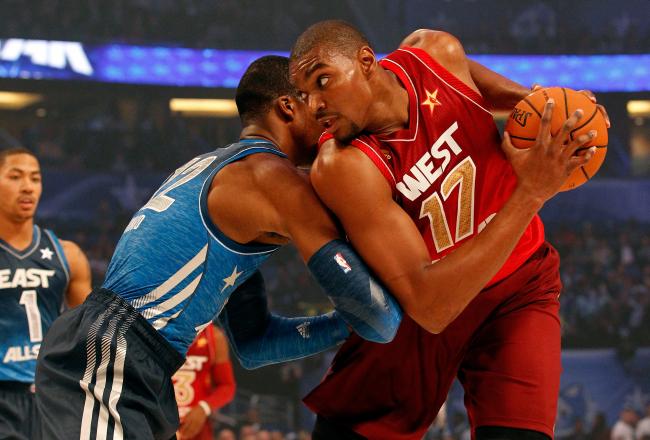 Ronald Martinez/Getty Images
The drumbeat thuds louder with each passing day. Adrian Wojnarowski recently reported that Orlando is pursuing the long-discussed Dwight-for-Bynum option. It's a path that many Lakers fans pine for. But I'm not so sure it's the right play for L.A.
First, let us be clear about one thing: Dwight Howard has been better than Andrew Bynum. While Bynum's offensive game is more refined than Dwight's, Howard is just as (if not more) effective on that end.
And on defense, it's not even close.
While Bynum's length is a defensive asset, his lack of mobility can be problematic against certain teams. This was most apparent in the Denver series last playoffs. Bynum had fine offensive performances, but his sluggishness in transition led to easy baskets for the speedy, fast-breaking Nuggets. In part due to this, the Lakers nearly coughed up a 3-1 series lead.
Dwight Howard does not have this particular flaw. The Magic big man is mobile enough to cover any part of the floor and get back in transition with haste. If the Lakers make this deal, they're banking on Dwight's defense as a difference-maker.
So, why am I against it? I just don't know what compels Los Angeles to take the risk.
Howard might waffle throughout the entire season as to whether or not he'll re-sign. He's also two years older than Bynum. For all Bynum's knee ailments (Lakers trainer Gary Vitti appears to have corrected some of this), Dwight is coming off the same back injury that felled Tracy McGrady's career.
There is another factor in Andrew Bynum's favor: Dwight Howard is shorter and nearly wholly dependent on athleticism. Though people always argue against me on this (because Howard has an exaggerated "in shoes" height listing on NBA.com), Dwight's actual "in socks" height is 6'9".
Height isn't everything, but it should matter that Bynum is roughly two to three inches taller and similarly long. As Howard's hops fade, his dominance will too. Bynum was never dependent on his athleticism, just his size and touch. Those qualities should stay for the broad scope of his career.
I could certainly see a Dwight-for-Drew deal working out for the Lakers. I just don't see what should compel them to roll the dice on it. The two best big men share each others' flaws (injury, personality), but Bynum is younger and should probably age better on account of his size and multi-faceted skill set. Gambling on Dwight just might be shortsighted.
This article is
What is the duplicate article?
Why is this article offensive?
Where is this article plagiarized from?
Why is this article poorly edited?