Liverpool Transfer Rumors: Why the Reds Should Pass on Demba Ba
July 3, 2012

Stu Forster/Getty Images
Newcastle striker Demba Ba is now available at a discounted price of £7 million. According to Mirror Football, Liverpool manager Brendan Rodgers is interested.
The Senegalese player has a clause in his contract that knocks him down to this discounted price until July 31, when clubs would have to pay the full market value for the striker.
With a steal like that, the Reds aren't the only club interested in Ba. In fact, Chelsea and Tottenham, who is unwilling to pay £10 million for Emmanuel Adebayor, have both expressed interest in the hitman.
Ba scored 15 goals last season, but he seemed to shrink a little at the end, creating concern that he might have lost his touch.
It seems like a great deal getting the 27-year-old for such a low price, but although his price tag looks alluring, Liverpool should pass.
The truth is, there are other, better players that the Reds can snag for about the same price. 
Gylfi Sigurdsson
According to his father, the Hoffenheim midfielder will make a decision in the next few days about his future with either Liverpool or Tottenham. Sigurdsson has been valued between £6.8 million to £8 million—about the same price as Ba.
However, the Icelandic native has much more to offer than Ba.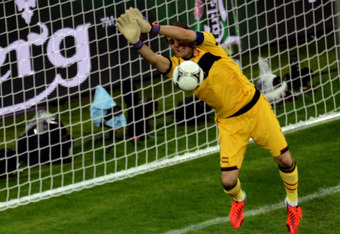 Jasper Juinen/Getty Images
Most importantly, Sigurdsson is much younger—he's only 22—which means not only would he most likely be with the Reds for the long haul, but he would also add vitality to the team.
Sigurdsson seemed to appear out of nowhere after he made a name for himself during a six-month loan with Swansea where he built a good relationship with Rodgers. Hopefully, that past experience will help secure Sigurdsson as a Red.
Ivan Rakitić
While playing for Croatia, Rakitić impressed Euro 2012 fans with his incredible speed and ability to beat players down the flank. Not only does the midfielder have great movement, but he is also a very versatile player in general.
While playing with Schalke, he was known as the playmaker and used his ball-handling skills to keep possession until he finalized his attack. He has also been known to contribute to defense, although on the international level he has been used in a more forward position.
Rakitić has been valued at about £8 million, which is a better deal considering his youth (he's only 24) and his versatility.
Conclusion
Let Tottenham have him. Although Rodgers is working on a budget this summer, there are better players than Ba for even better deals.