Team USA Basketball: Grading the 12 Men Selected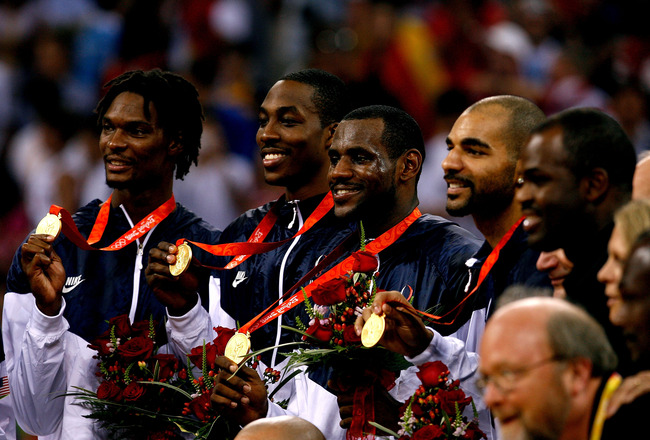 Harry How/Getty Images
Earlier today, Team USA announced the 12 men who will be playing in London later this month.
Some, like Kobe Bryant, were locks. Others, like Blake Griffin and James Harden, were surprises, making the team due to a myriad of injuries to top-level players.
Here are the grades for each member of the squad.
Carmelo Anthony: A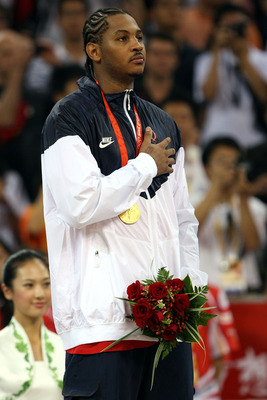 Jed Jacobsohn/Getty Images
'Melo rebounded from a slow start to this season to finish with an All-NBA third team appearance.
A veteran of a World Championship and two Olympics, Anthony is a solid option at the small forward position. He has finished in the top 10 in scoring each of the last seven years, and was fourth in that stat on the 2008 Olympic team.
Kobe Bryant: A+
Jed Jacobsohn/Getty Images
Bryant is unquestionably one of the 10 or 15 best players in the history of the game. He's one of five returning from 2008, and the only one of the five who has five rings or 29,000 points.
He is also one of the better clutch players still in the game, which is one of a myriad of reasons he has nailed down the starting shooting guard position.
Tyson Chandler: B+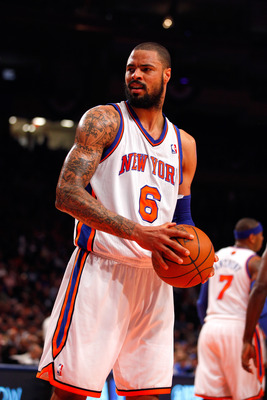 Jeff Zelevansky/Getty Images
With injuries to Dwight Howard and Andrew Bynum, the mantle of big man falls to 2012 All-NBA third team selection and NBA Defensive Player of the Year Tyson Chandler.
Chandler has international experience at the 2010 Worlds, and is one of the better rebounders, shot-blockers and defenders in the league. However, despite being a high-percentage shooter, he doesn't get a lot of looks and has a propensity to get into foul trouble.
Kevin Durant: A+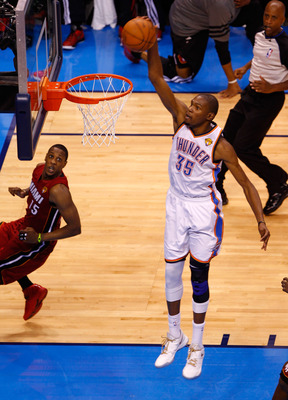 Mike Ehrmann/Getty Images
2010 Worlds MVP Kevin Durant is now largely unquestioned as the second-best player in the NBA right now.
Besides having international experience, the Thunder cornerstone has won the last three scoring titles, made the NBA first team three years running, and took his team to the 2012 NBA Finals.
Blake Griffin: B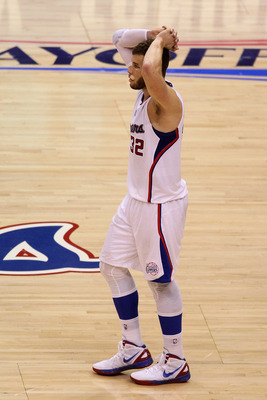 Jeff Gross/Getty Images
B for Blake. Blake Griffin made the team despite not having a modicum of international experience and being just 23 years of age.
People have been trashing Griffin and his chances for the team all season, with the two biggest complaints being that he can't perform well without a decent point guard, and "all he does is dunk."
Griffin will have decent point guards in Chris Paul and Deron Williams to facilitate for him, and frankly, I see no problem at all with him averaging 20 points on north of .500 from the field.
Don't forget that Griffin was All-NBA second team last year, and along with Kevin Love, is one of only two legitimate 20-10 threats on the team.
James Harden: C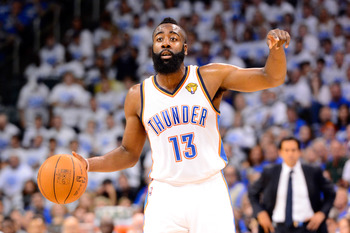 Ronald Martinez/Getty Images
2012 Sixth Man of the Year James Harden made the team as a backup shooting guard despite not having any international experience, not starting for his own team, and being only 22 years of age.
As if those three reasons weren't enough for a fairly low grade, he's never had a 20 point season and his selection means the omission of a bigger, stronger player like Anthony Davis in favor of six (well, five-and-a-half) guards.
Andre Iguodala: B-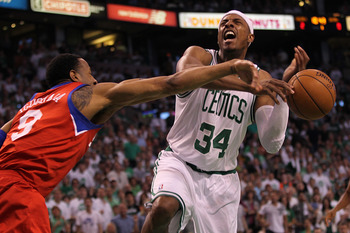 Jim Rogash/Getty Images
The 6'6" swingman Andre Iguodala, a veteran of the 2010 Worlds, snagged the slot that would have gone to either Dwyane Wade or Chris Bosh.
Obviously, selecting Iguodala means you're giving up scoring. But you make up for it in getting one of the best lockdown perimeter defenders in the league. He is also a legitimate steal threat and can get five or more rebounds from the shooting guard slot.
LeBron James: A+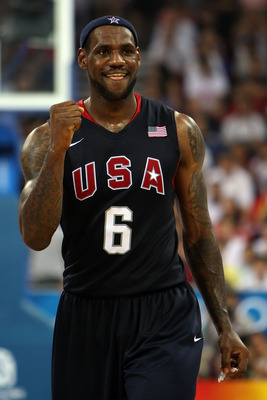 Jed Jacobsohn/Getty Images
Heat cornerstone LeBron James provided leadership on the 2008 Olympic team, then came back to the NBA and won three MVPs and a title. He's led the league in player efficiency rating in each of the last five seasons.
'Nuff said.
Kevin Love: A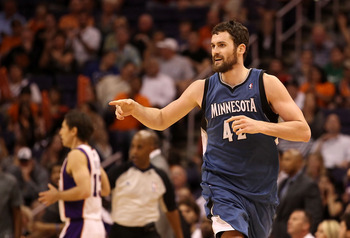 Christian Petersen/Getty Images
People seem to forget that we have Kevin Love, which is unfortunate, because he is the best power forward in the world right now. He made last year's All-NBA second team and has been in the top two in rebounding each of the last two seasons.
Another thing people seem to forget is that Kevin Love is the type of player who can thrive in an international setting. He was an impact player in limited minutes at the 2010 Worlds. He's a little undersized in the NBA, but just right internationally. He also can make shots from anywhere on the floor.
Chris Paul: A-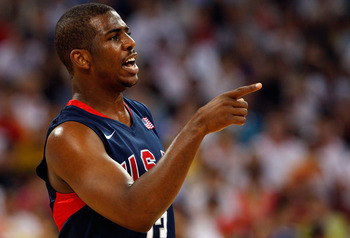 Streeter Lecka/Getty Images
Third in MVP voting last season, 2008 gold medalist Chris Paul looks poised to be the starting point guard on this year's Olympic team.
Paul is the active leader in assists per game, win shares per 48 minutes and has led the league in steals per game in four of the last five seasons.
I had him at a solid A going into camp, but have downgraded him to an A- due his injury.
Russell Westbrook: B+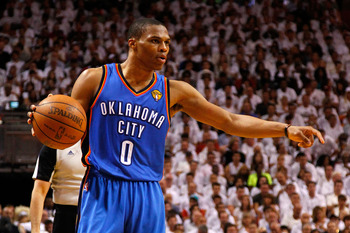 Mike Ehrmann/Getty Images
Russell Westbrook is certainly a good player (he made two All-NBA second teams and was fifth in points per game last season), but I'm not totally convinced that he's a top-caliber point guard.
He has too much of the shoot-first mentality, and also has finished in the top four in turnovers every single season he's played.
Also, unlike the other two point guards on the list, Westbrook has no Olympic experience and is only 23 years of age.
Deron Williams: A-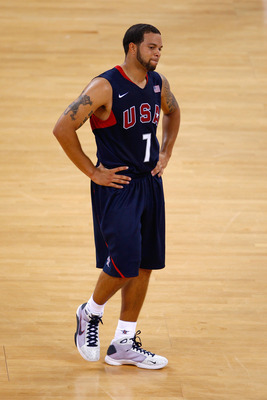 Jamie Squire/Getty Images
Deron Williams is playing in his second straight Olympics. He has finished in the top five in assists per game in six straight seasons and is second among active players in assists per game. He also played internationally in Turkey during the lockout.
Drawbacks to Williams include a high rate of turnovers and a career PER below 20.
Keep Reading