Every NL East Team's Biggest Weakness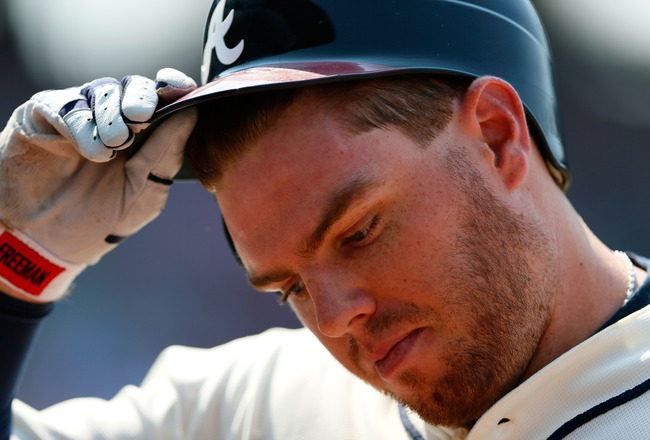 Kevin C. Cox/Getty Images
With the MLB All-Star Game a week away, it's time to take a look at the National League East as it starts to thin out.
The Washington Nationals currently sit atop the division, 3.5 games ahead of the New York Mets. The Atlanta Braves are five games back, while the Miami Marlins are behind by eight games and the Philadelphia Phillies are behind by 11 games.
As it stands right now, the Nationals would be the only team making it to the playoffs from the division, as the Los Angeles Dodgers and Pittsburgh Pirates currently sit atop the wild card standings.
But, alas, there's still half a season to go and I think at least one more NL East team will make the playoffs.
However, each team has a weakness.
Here's a look at the biggest weakness from each NL East team.
Atlanta Braves: Starting Pitching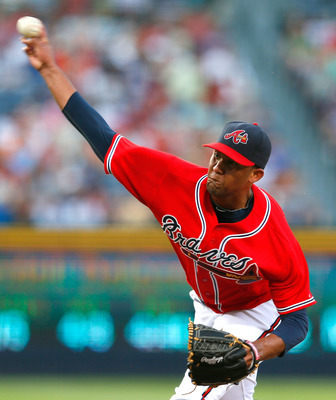 Kevin C. Cox/Getty Images
Who would've thought at the beginning of the season that the Braves' biggest weakness would be their starters?
But, it is.
Especially after the season-ending injury to Brandon Beachy, who was arguably their best starter.
With Tommy Hanson and Tim Hudson firmly in the rotation and doing well, there are two spots where the Braves have struggled—Randall Delgado and Mike Minor.
Delgado is 4-8 with a 4.52 ERA, while Minor is 4-6 with a 6.20 ERA.
Of course, now you have Jair Jurrjens back in the mix, but he was demoted earlier in the season due to his struggles and I'm not sure he's going to succeed.
So, the Braves are in a conundrum in that they feel confident in their future with Minor, Delgado and Julio Teheran, but this year may not be the year for them.
That's why they went out and signed Ben Sheets to a minor-league contract and have interest in Milwaukee starter Zack Greinke.
So, we'll see what happens there.
But, any way you look at it, changes have to be made in the starting rotation.
Whether it's trading for Greinke, tossing Sheets into the rotation, or giving Teheran or Kris Medlen an opportunity to see what they can do, the Braves have to get more from the No. 4 and 5 spots in the rotation.
If not, they'll be at home during the playoffs.
Miami Marlins: Bullpen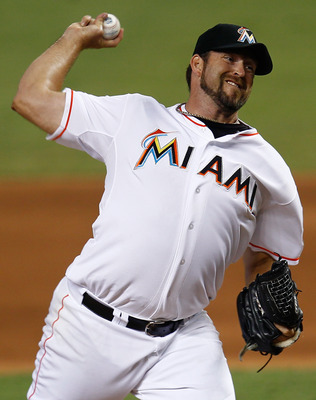 Sarah Glenn/Getty Images
This was actually hard for me to pick because the Marlins have struggles in many areas, but I decided to go with relief pitching for many reasons.
As I scanned through the numbers, the Marlins have blown 11 saves in 32 save opportunities and have let 42 of 125 inherited runners score.
Now, those aren't good numbers.
While you can expect the bullpen to give up runs every now and then, it shouldn't be at the rate the Marlins are giving them up.
Plus, not to mention, closer Heath Bell has a 5.93 ERA, which ranks dead last out of all closers in baseball.
Seeing those numbers helps me better understand why the Marlins are where they are in the standings.
Changes have to be made in the bullpen and I'm not even talking about for a run at the playoffs.
Most of those guys aren't getting the job done. And, what do you do when someone is not getting the job done that they were hired to do?
New York Mets: Batting Average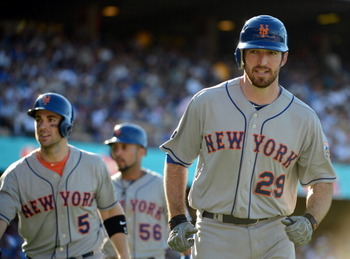 Harry How/Getty Images
The Mets are one of the biggest surprises in all of baseball this year, but their one weakness is hitting for average.
Outside of David Wright's .354 average and Ruben Tejada's .317 average, no Mets' starter is hitting above .280.
In fact, first baseman Ike Davis is hitting .203 (although he does have 11 home runs and 45 RBI), while outfielders Scott Hairston and Lucas Duda are hitting .255 each.
Now, I'll admit, the team has driven in a lot of runs, which could understandably render this point invalid, but what happens when your guys aren't getting on base to drive them in?
At some point, the Mets' fortunes are going to run out and they're going to have to get on base more.
Philadelphia Phillies: Leadership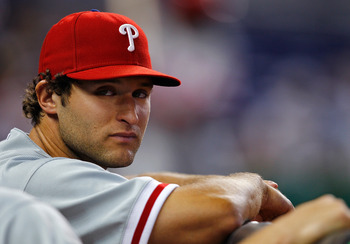 Sarah Glenn/Getty Images
The Phillies are a head-scratcher for me.
They have the pitching and seemingly the hitting, but what they're lacking is the leadership.
You don't know whose team it is.
With the Braves, you know it's Chipper Jones, while the Nats have Stephen Strasburg, the Mets have David Wright and the Marlins have Jose Reyes and Hanley Ramirez.
But, who is the leader on the Phillies?
Not Cliff Lee or Roy Halladay. Not Jimmy Rollins, Shane Victorino or Ryan Howard (although he's been injured this year).
When there's a closed-door, players-only meeting needed (which there needs to be), who is going to call that meeting and speak up as the team leader?
Until that happens, I don't see the Phillies going anywhere, especially with the age of their team.
Washington Nationals: Half of the Offense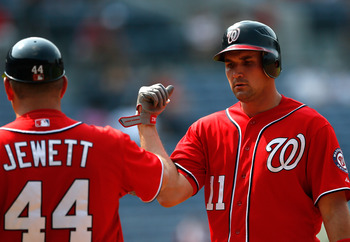 Kevin C. Cox/Getty Images
How the Nationals got to the top of the East I don't know.
But, they somehow continue to find ways to win.
Their offense pretty much consists of Adam LaRoche (15 home runs, 50 RBI), Ian Desmond (13 home runs, 43 RBI), Ryan Zimmerman (six home runs, 35 RBI) and Bryce Harper (eight home runs, 22 RBI).
Outside of that, there's not much there.
But, somehow and some way, the Nationals find ways to win.
I don't know if they'll keep it up through the second half of the season, but so far things are good.
Which brings me to my next question: If the Nats do make the playoffs, does Stephen Strasburg pitch in the playoffs with an innings cap having been on during the regular season?
Keep Reading

Atlanta Braves: Like this team?