NL Home Run Derby Team 2012: Breaking Down Each Player's Chances to Win Contest
July 3, 2012
Christian Petersen/Getty Images
The Home Run Derby is often the best part of All-Star weekend, and the National League will trot out some heavy hitters in the contest.
Matt Kemp will captain the team, and he has chosen Giancarlo Stanton, Carlos Beltran and Carlos Gonzalez to join him in representing the NL. 
Kemp has been injured since the end of May but said, via Paul Casella of MLB.com, "I'm going to participate in it. It's just like batting practice. I've been doing that the past three weeks, so I'm ready for that." 
Here are all the National League participants' chances to win the 2012 Home Run Derby. 
Matt Kemp, 4-1
Kemp is one of the premier power hitters in all of baseball, but he has been hampered by a hamstring injury. 
Before going down, he had 12 bombs in just 36 games. These numbers were in line with his performance last year, when he led the NL with 39 home runs.
Kemp has had plenty of time to focus on the contest as he has not been playing, and this may even give him an advantage over the other players. 
His talent is undeniable, and if he is not bothered by his injury, he is clearly one of the favorites to win the event.
Giancarlo Stanton, 5-1
Stanton is young and has plenty of potential. At 6'5" and nearly 250 pounds, he packs plenty of power into his hits. 
If scientists constructed a power hitter in a lab, they would likely produce something that looked remarkably similar to Stanton.
This massive outfielder has mashed 19 homers this season.
His inexperience might cause some jitters, as he is just 22 years old and competing in his first derby. But if he can fall into a groove, there won't be another contestant who can beat him.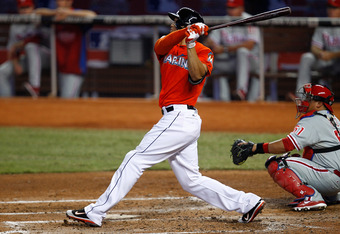 Sarah Glenn/Getty Images
Carlos Beltran, 8-1
The St. Louis Cardinals outfielder is second in the NL with 20 home runs this year and he has had a fantastic first half of the season. 
After a few lackluster seasons with the New York Mets, Beltran has made a resurgence with St. Louis.
He has been hitting the ball extremely well and will come in to All-Star weekend with loads of confidence.
He has always been a gifted player, and he is in the midst of one of the seasons where he is playing up to his potential. If he gets hot, he will win the derby.
Carlos Gonzalez, 18-1
Gonzalez does have 17 home runs this season, but he also has the advantage of playing in a hitter's ballpark with the Colorado Rockies. 
This total is also less than every other participant besides Kemp and Prince Fielder. Kemp has been injured, and Fielder, despite underwhelming home run numbers, has the advantage of having won a Home Run Derby before. 
Gonzalez is a solid hitter with plenty of power, but he is going up against the premier long-ball threats in the game. 
He is out of his league here and likely will not make it out of the first round.