MLB Trade Rumors: Why Atlanta Braves Need Zack Greinke
July 3, 2012

Mike McGinnis/Getty Images
The Atlanta Braves need Zack Greinke, and according to MLBTradeRumors.com, they have shown interest in acquiring the services of the Milwaukee Brewers' right-handed ace.
MLB Insider Ken Rosenthal confirmed the rumor Monday via twitter:
To add to reports of #Braves scouting Greinke. They have definite interest. And as I reported Sat., they are willing to trade young arms.

— Ken Rosenthal (@Ken_Rosenthal) July 3, 2012
But why do the Braves need Greinke?
Brandon Beachy
The young right-hander was having a phenomenal 2012 season before being lost to Tommy John surgery in mid-June. The partial tear of the ulnar collateral ligament in Beachy's right elbow will keep him on the shelf for the remainder of this season and possibly into the 2013 season.
On Sunday, the Braves signed veteran Ben Sheets to a minor-league contract.
That is not a long-term solution to the Beachy problem and may not even see dividends this season. Sheets is a walking disaster when it comes to injuries, and he hasn't pitched in the majors since 2010 when he was with the Oakland A's. Sheets posted a 4-9 record that year with a 4.53 ERA in 20 starts.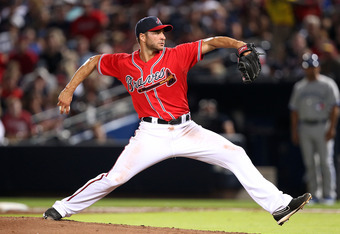 Mike Zarrilli/Getty Images
Greinke, however, would step into the role of "staff ace" that Beachy leaves vacant and provide some much-needed innings for the starting rotation.
The 28-year-old is ninth in the NL with 108.0 innings pitched so far, posting a 9-2 record with a 3.08 ERA in 17 starts. Both his wins and ERA would be tops on the team, minus Beachy.
Success vs. NL East
In 11 total games (nine starts) against the Braves' four divisional rivals, Greinke has a career 6-2 record with a 3.63 ERA, 8.42 K/9IP and 1.89 BB/9IP.
The sample size is not huge—only 62.0 IP—but the success is there.
Here are the career stats against Greinke for some notable hitters within the division:
Giancarlo Stanton: 0-for-6 with two K's and three BB
David Wright: 2-for-2 with a 2B (Hey, he hits everyone)
Jimmy Rollins: 1-for-4 with a 2B
Adam LaRoche: 3-for-3 with one run scored
I have no explanation for LaRoche's success against Greinke but to say that sometimes a hitter just has a pitcher's number.
Keeping Pace
The Washington Nationals are trying to run away with the NL East this season. They have a 3.5-game lead over the New York Mets and a 5.0-game lead over the Braves.
And they're doing it with the majors' best pitching staff.
Washington's starters have a combined 32-22 record with a major league-leading 3.27 ERA. The entire staff—starters and relievers—boasts an MLB-leading 3.19 ERA as of Monday, and they are third in the NL with 641 strikeouts.
Greinke would bring his high heater and ridiculous slider to the NL East and help Atlanta keep pace as the season wears on.
Conclusion
The Atlanta Braves need Zack Greinke to help them keep pace in the NL East.
He has had success against everyone within the division, he would fill in perfectly for the injured Brandon Beachy and when Beachy returns next season, Atlanta would field one of the best rotations in the National League.
The Braves want in, but likely only if they can strike a long-term deal with Greinke, per David O'Brien:
If closer to $15M than $20M, I could see #Braves involved RT @Skidlee23: @ajcbravesI don't see a team willing to give Greinke 20 mill a yr

— David O'Brien (@ajcbraves) July 1, 2012