Auburn Football 2012: 7 Things That Will Be Different from Last Year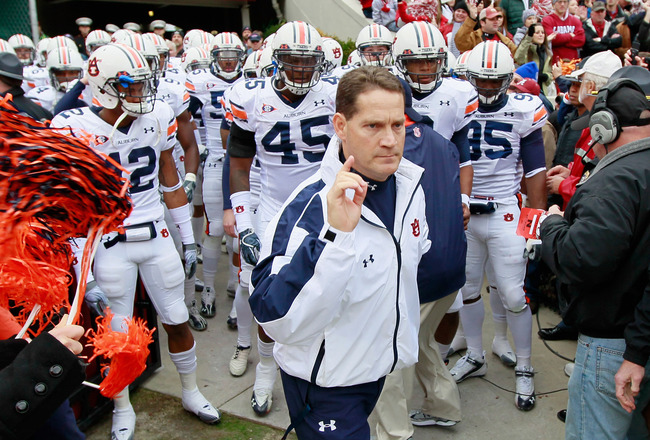 Will Gene Chizik have Auburn ready to compete in the ultra-tough SEC West in 2012?
Kevin C. Cox/Getty Images
Talk about coming back down to earth in a hurry.
One minute, Auburn was on top of the college football world, celebrating a BCS championship. Then, in almost a blink of an eye, the Tigers were back to being just another SEC also-ran, as they watched West Division counterparts LSU and Alabama hog up all the glory in 2011.
Given all the talent that Auburn lost after its national championship season in 2010, obviously, a dropoff was to be expected last year. However, that still didn't make it easier for fans to watch the young and inexperienced squad struggle.
Ultimately, though, last season's 8-5 campaign may prove to be simply a transition year if all those young starters from 2011 can grow up and become valuable contributors in 2012.
The Tigers return 15 starters from last year's squad, and with the way that coach Gene Chizik has recruited in recent years, there's plenty of talented pieces to assemble a contender.
The key this offseason will be how Auburn adapts to the many changes that have taken place over the last few months.
There are definitely going to be a lot of differences between the 2012 season and the 2011 season, and here's a look at a few of the main ones to expect.
1. Kiehl Frazier Will Get to Prove Himself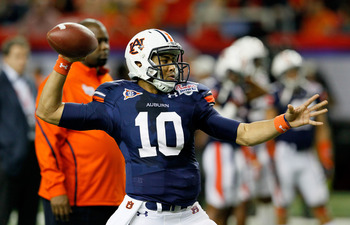 Kiehl Frazier
Kevin C. Cox/Getty Images
Auburn went from having one of the most exciting players in college football history, 2010 Heisman winner Cam Newton, as its quarterback to having Barrett Trotter, a marginally talented glorified backup, running the show in 2011.
The inconsistent play behind center was one of the main reasons why the Tigers struggled so much during their title defense campaign.
With Trotter gone, the battle for this year's starting job will come down to either Kiehl Frazier or Clint Moseley, with Frazier the likely favorite going into camp.
The former 4-star recruit didn't get the chance to prove his worth as a freshman in 2011, as he only threw 12 passes, but if he wins the job as expected, he'll finally get to show that he can successfully lead an SEC offense.
Frazier is a great athlete, but he's still got a long way to go before he can be considered a great quarterback.
Still, with new offensive coordinator Scot Loeffler tutoring him, Frazier's got the chance to develop into a true impact player for Auburn in the years to come.
2. The Road Schedule Isn't Overwhelming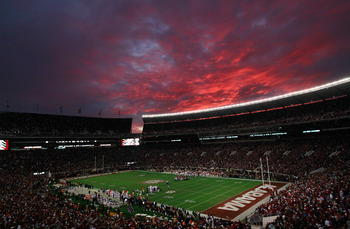 Bryant-Denny Stadium
Kevin C. Cox/Getty Images
Auburn went just 1-4 on the road last season.
To put that record into proper perspective, though, you have to look at the teams the Tigers had to visit in 2011.
Last year, they had to make trips to Clemson, South Carolina, Arkansas, LSU and Georgia—five teams that ended up in the final top 25.
Luckily, the Tigers' 2012 road slate is shaping up to be much more manageable.
Yes, Auburn will have to make the trip to Tuscaloosa to play archrival Alabama in the Iron Bowl season-finale, but there are only three other true road games on the schedule.
Heading to Mississippi State in Week 2 presents a tough challenge, but the Tigers should prevail in their other two stops at Ole Miss and at Vanderbilt in mid-October.
The neutral site game against Clemson in Atlanta will likely be split fairly evenly in terms of fan support, so that can't be really counted as a road trip.
All in all, the Tigers have a great shot to win at least three out of their four road games in 2012.
3. Onterio McCalebb Will Be One of the SEC's Most Dangerous Playmakers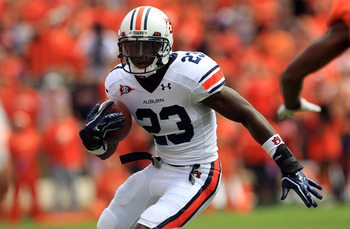 Onterio McCalebb
Streeter Lecka/Getty Images
The transfer of budding star running back Michael Dyer is something that is certainly going to hurt Auburn's ground attack, given the fact that Dyer was a back who rushed for 2,200 yards and 15 touchdowns in his two seasons with the Tigers.
Still, even though Dyer will definitely be missed in the backfield, his absence will give explosive senior speedster Onterio McCalebb the chance to finally prove just how dangerous of a playmaker he really is.
McCalebb has been forced to live in Dyer's shadow for the past two years, but when he did have his number called, he made the most of it, as he totaled 985 yards of offense and scored seven touchdowns in 2011.
The 5'11'', 168-pound senior may not have the bulk or the strong build to be a true workhorse back like Dyer was, but he's the type of versatile and dynamic home-run threat that should cause a lot of trouble for opposing defenses this season.
4. The Defensive Line Will Be More Mature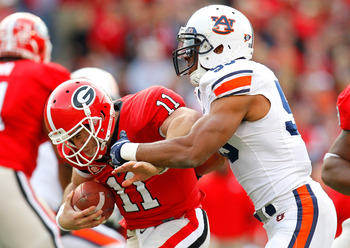 Corey Lemonier
Kevin C. Cox/Getty Images
Auburn's defensive line was full of inexperience last season, as the Tigers had to break in three new starters up front in 2011.
The good news is, that year of experience will prove to be invaluable for a defensive line which will now feature four junior returning starters—ends Corey Lemonier and Nosa Eguae and tackles Kenneth Carter and Jeffrey Whitaker.
Lemonier, a potential All-American pass-rusher, is the must-watch player of the group.
The 6'4'', 240-pound physical freak racked up 9.5 sacks, 15 quarterback hurries and four tackles for loss in 2011.
The Auburn defensive line was forced to grow up in a hurry last season, but now that all four members have a year of experience and have a feel for what it's like to go up against SEC competition, the Tigers' front-four has the chance to be one of college football's strongest units in 2012.
5. There Will Be a New Offensive Philosophy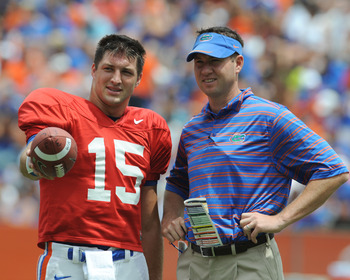 Scot Loeffler
Al Messerschmidt/Getty Images
Auburn will have a new coordinator leading the way on both offense and defense this season, as Scot Loeffler will take over the offense while Brian VanGorder will take control of the defense.
The defensive system likely won't change dramatically under VanGorder, but the offense will definitely have a new look with Loeffler at the helm instead of former coordinator Guz Malzahn.
The former Temple offensive coordinator and Florida and Michigan assistant has worked with notable quarterbacks such as Tom Brady, Tim Tebow and Chad Henne, and it should be interesting to see what type of game plans he can come up with to test SEC defenses this year.
Loeffler will run a more conventional-style attack than Malzahn did, but if he gains enough trust in new starting quarterback Kiehl Frazier, he won't be afraid to air it out and try to work the ball down the field in 2012.
6. The Secondary Will Be Stronger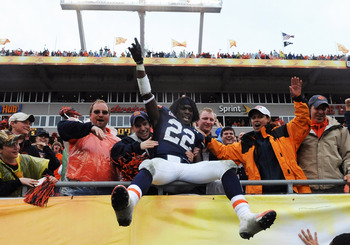 T'Sharvan Bell
Al Messerschmidt/Getty Images
Last year, Auburn ranked last in the SEC in pass defense, giving up an average of 218 yards through the air per game. This year, however, Auburn returns three starters from that unit, including potential All-SEC candidates such as CB T'Sharvan Bell and S Demetuce McNeal.
Auburn will be looking to pick off more than 11 passes this season, and it will be up to ball-hawks like Bell and McNeal to make it happen.
With a more consistent pass-rush expected out of the defensive line this year, the Tigers' back four should benefit from not having to stick with receivers for as long as they had to last season, which means Auburn's overall pass defense numbers should definitely improve in 2012.
7. Auburn Will Win More Than Eight Games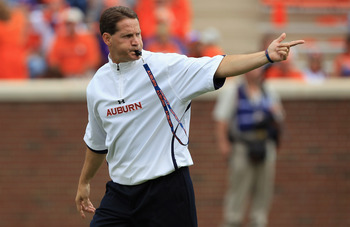 Gene Chizik
Streeter Lecka/Getty Images
Auburn only has three teams on its schedule that it's guaranteed to beat: Louisiana-Monroe, New Mexico State and Alabama A&M.
Other than that, though, every other game is going to present at least somewhat of a test
Still, a fair goal for this team is to at the very least get to eight wins, since that's how many victories the Tigers have piled up in two out of the three seasons that Gene Chizik has been at Auburn.
Auburn will likely be an underdog in five matchups this season, as Clemson, LSU, Arkansas, Georgia and Alabama all appear to be superior teams on paper. However, this is a team that has the type of talent on defense and the playmakers on offense to pull off at least one or two big upsets this year.
Auburn will likely fall in at least two out of the three games against the SEC West's big three teams—LSU, Arkansas and Alabama. Nevertheless, if the Tigers can pull off a few big upsets along the way and win all the games that they're supposed to, including a bowl game, nine or possibly even 10 wins could be within reach in 2012.
Keep Reading

Auburn Football: Like this team?