MLB All-Star Game 2012: Jonathan Broxton Deserves AL's Final Vote
July 3, 2012

Bob Levey/Getty Images
Only one spot remains on the American League roster for the 2012 MLB All-Star Game, and five players currently serve as candidates for filling that spot.
However, it is the team that is set to host this year's All-Star game that deserves to have another representative at their home park.
In his first season since joining the Kansas City Royals as a free agent, closer Jonathan Broxton currently ranks fourth in the American League with 20 saves in 23 opportunities.
The three players who rank ahead of him in that category—Fernando Rodney, Jim Johnson and Chris Perez—are all headed to the All-Star game.
Not only was Broxton passed over initially for a spot on the American League squad, but he is also currently last in AL Final Vote balloting.
This is Broxton's first season in the American League, after spending the first six seasons of his career in the NL with the Los Angeles Dodgers.  While with the Dodgers, Broxton was an All-Star in 2009 and 2010.  2009 saw him finish with the sixth-highest save total in the NL with 36.
Broxton has also already pitched in twice as many games as he did last season.
After missing 132 games with an elbow injury last season, Broxton signed a one-year deal during the offseason with the Royals as he attempted to bounce back from a season that saw his highest ERA since the 2005 season.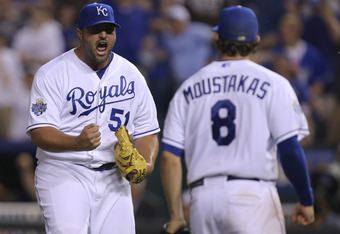 Ed Zurga/Getty Images
But what makes his performances this season even more impressive is the fact that he wasn't brought to Kansas City to close games.
With Joakim Soria, the Royals have a closer who also has two All-Star trips to his name and who has finished in the top-10 in the AL in saves in each of the past four seasons.
However, after Soria underwent Tommy John surgery prior to the start of the season, the Royals' closer role fell to the newly acquired Broxton.
Although he's been racking up saves the hard way, Broxton has pitched his way into contention for another All-Star selection.
In an article by Vinnie Duber that appeared on the Royals' website last month, reliever Greg Holland explained the impact that Broxton has had on the team this season.
"We couldn't have asked for anything else," fellow reliever Greg Holland said.  "[Broxton] is one of those guys that knows how to make big pitches in big situations, doesn't get flustered.  He just goes about his business day in and day out, much the same as Soria did, preparing himself and getting his mind set.  [He's] mentally and physically ready to [pitch] day in and day out and get the job done.  He just kind of leads by example.  And it's been real big for us knowing that if we can just get the ball to the ninth, we've got a good chance of winning."
Prior to his most recent outing against the Minnesota Twins, Broxton had an ERA of 1.52.  For the month of May, Broxton posted a 1.50 ERA while allowing two earned runs in 12 innings and collecting eight saves.
Of course, he has also seemingly had a knack for the dramatics.
As Duber's article touches on, ninth innings with Broxton rarely involve getting three quick outs. 
In 30 appearances, Broxton hasn't allowed a runner to reach base only six times.
However, he has also posted a 2.05 ERA while holding right-handed batters to a .218 average.  He has also held opponents to a .176 batting average with runners in scoring position.
Not bad for a pitcher who signed on to be a set-up man after pitching in just 14 games last season.
But, although Broxton is deserving of an All-Star nod this season, the team he is pitching for also has a case for sending multiple players to the game.
For one, Kauffman Stadium is the site of this year's All-Star game, yet the Royals are currently only sending DH Billy Butler as a representative.
Furthermore, although they are currently 5.5 games back in the AL Central, this season is the fewest games out of first place that the Royals have been on July 3rd since the 2003 season, when they were in first place.
On this date in 2006, the Royals sat 28 games back of first place.
Additionally, no team that is hosting the All-Star game has ever had a player win the Final Vote.
Not only have the Royals bounced back this season and remain in contention for one of the American League's two wild card spots, but their unexpected closer has also had a bounce back season through the first half.
All five candidates for the AL's Final Vote have great cases for the final spot in this year's All-Star game, but only one has filled a role that was unexpected on a team that has continued to improve since winning just six games through the first month of the season.
With the All-Star game set to be held in Kansas City, the Royals deserve to have at least one more representative at the game.
And, fortunately, they have an opportunity with Broxton and the Final Vote.