Liverpool Transfer Rumors: Strikers Who Could Ease Their Goal-Scoring Woes
July 3, 2012

Michael Steele/Getty Images
Liverpool's abysmal record of 47 goals in the 2011-2012 Premier League season is not going to cut it if it has real aspirations of reclaiming a Top Four spot.
Prior to his departure from the club, director of football Damien Comolli, made some questionable signings that have left Liverpool to pay the price (literally). 
£20 million for Stewart Downing, who had no goals and no assists despite partaking in a majority of Liverpool's 38 fixtures.
£35 million for Andy Carroll, whose goal return was nowhere near good enough, scoring only nine goals in all competitions (five of which came in the FA Cup or League Cup).
And £20 million for Jordan Henderson, who, while certainly a player for the future, made little impact in his first season at Anfield and looked indecisive while going forward.
In all, Comolli spent around £120 million, and for what? An eighth-place league finish and a Carling Cup.
The start of the 2012-2013 Premier League season is looming large, and for Liverpool, signing a proven striker should be first on its to-do list.
Here is a look at a few of the possibilities.
Klaas-Jan Huntelaar
Schalke's talisman has shown at times this season why he is one of the most feared strikers in all of Europe.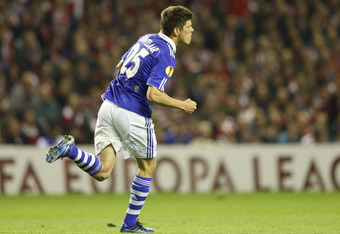 Angel Martinez/Getty Images
His impressive scoring rate of 29 goals in 32 matches was enough to propel him to the top of the Bundesliga charts (he beat out Bayern Munich's Mario Gomez by three goals).
"The Hunter," as he is referred to in his native Holland, is a classic goal poacher who works well in and around the box.
He is commanding in the air and can spring up with goals from practically any angle.
If reports of Luis Suarez departing this summer are to be believed, signing another world-class striker could go a long way to fill the void.
The price for Huntelaar is thought to be somewhere around of £16 million.
Demba Ba
The Newcastle front-man could be available for as little as £7 million this summer because of a clause in his current contract.
After making the move to Tyneside from West Ham last year, he became an instant sensation, scoring 16 goals in 32 appearances.
At the age of 27, Ba is likely entering his prime and Liverpool could really use a striker with his type of power and presence.
Newcastle will surely be reluctant to let him go, but for the right price, another move could be on the cards.