Charlotte Bobcats: Gordon, Kidd-Gilchrist, and Taylor's Impact in 2012
July 3, 2012
Elsa/Getty Images
The Charlotte Bobcats have undergone a major change in philosophy this summer, and Ben Gordon, Michael Kidd-Gilchrist and Jeff Taylor all fit that philosophy.
No, they are not the new Oklahoma City Thunder (shame on whoever made that comparison), but they are taking the necessary steps in rehabbing an organization that hit rock bottom in 2011.
As opposed to throwing a uniform on whoever would wear one, sophomore GM Rich Cho has begun a recovery program that Charlotte has never seen before. Cho is actually taking "chemistry" into consideration.
It's revolutionary, at least in Michael Jordan's eyes. 
See, back when MJ was playing, he didn't exactly need what we like to call "teammates." No matter the pieces placed beside him, the Bulls could win games.
Breaking news: Charlotte doesn't have a Michael Jordan—let alone a Vlade Divac.
Without one of the league's premiere talents, the Bobcats have to rely on a structured composition to be successful. 
Look at the Indiana Pacers. None of those guys are All-Stars, but they have a balanced attack centered on youth and defense.
Gordon, Kidd-Gilchrist and Taylor bring that same style to the Charlotte Bobcats.
Many disagreed with the hiring of new coach Mike Dunlap, but why would Cho bring in a guy like Jerry Sloan?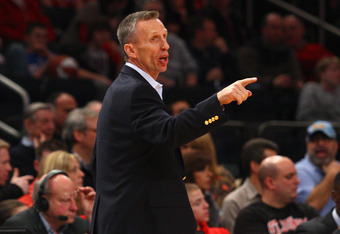 Chris Chambers/Getty Images
Sloan is a fantastic coach, don't get me wrong, but he won using the Western Conference approach: we can allow more than 100 points as long as we score more than the other team.
Charlotte can easily give up the hundred points, we know that, but it's the latter part of that idea that doesn't seem to work. With or without Sloan, the Bobcats lack the offensive skills necessary to play that style of basketball.
Instead, the Bobcats are creating a winning formula around their sub-par talent level, and Mike Dunlap's new "up-tempo" philosophy. Second overall pick Michael Kidd-Gilchrist should be a perfect player to throw into Dunlap's mix.  
NBA analysts Bill Simmons and Chad Ford agree that MKG is the hardest working player in the 2012 draft class. Kidd-Gilchrist's effort will be contagious, especially when players see that the most intense player on their team is the one of the youngest players in the NBA.  
If anything, MKG's emergence on this roster serves as a change in the Bobcats' culture. It's time to forget the lackluster play of Boris Diaw and move past 2011's 7-59 record.
People will criticize Kidd-Gilchrist's ability to shoot the ball, but as president of basketball operations Rod Higgins told Sporting News, "If you want to become a better perimeter shooter, you will."
In the meantime, Charlotte's other new acquisitions will fill the scoring void.
In a trade that sent Corey Maggette to the Detroit Pistons, the Bobcats received 29-year-old three-point specialist Ben Gordon.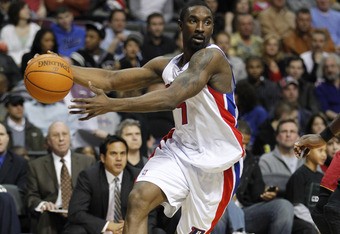 Gregory Shamus/Getty Images
Gordon currently has the 12th highest (40.6 percent) three-point percentage among active NBA players. And with Charlotte ranked last in the NBA in the category (29.5 percent), USA Today reports Mike Dunlap mandated a threat behind the arc.
"The ability to make the three is important because it allows you to play inside the three-point line. A defense collapses and it gets crowded in there."
The Bobcats will also be able to spread the floor with their second-round draft pick in 6'7'' forward Jeffrey Taylor. 
Taylor has significantly improved his jump shot over the past couple years. In his freshman and sophomore years at Vanderbilt, Taylor shot 22 percent and nine percent, respectively, from three-point range. As a junior, however, he shot 34 percent, moving that figure all the way up to 42 percent by his senior year. 
Taylor ranks second on Vanderbilt's all-time scoring list.
Despite being labeled as more of a catch-and-shoot player, selecting Taylor with the 31st pick in the draft was definitely a steal for the Bobcats. Taylor is already a two-way player, also highly recognized as one of the most athletic and gifted defenders in this year's class. Throw in his ability to finish at the rim, and he adds some much needed depth at the small forward position.
The Charlotte Bobcats are doing everything in their power to avoid repeating the miseries of 2011. They have a new coach, three new players, and they even designed new jerseys as a last move of desperation.  
Kidd-Gilchrist, Gordon, and Taylor are great additions to Charlotte's roster, but remember, these things take time. The Bobcats will most likely miss the playoffs this year, and they might not even win 30 games. But at the very least, the dunce cap will finally be removed from their heads.
While Michael Jordan's front-office of old would've just sprayed Febreze on the pile of dirty laundry, Rich Cho and Rod Higgins have pulled the problem up by its roots. They have drastically changed the environment in Charlotte, and that is a great start in bringing a little pride back in the Charlotte Bobcats' name.