Green Bay Packers: Upside Overrides Risk with Graham Harrell as Backup
July 3, 2012
Joe Robbins/Getty Images
There was an interesting debate on Twitter last night between Bleacher Report writers Aaron Nagler and Jeff Roemer (or as I like to call it, "staff-on-staff crime") regarding the decision the Packers made this offseason to roll with unseasoned quarterback Graham Harrell as the primary backup to Aaron Rodgers.
Roemer thought it was insanity—you don't protect yourself and your Super Bowl aspirations with an unproven quarterback behind your starter. Kyle Orton, Jason Campbell and Chad Henne are all experienced backups who are safer bets to protect a Super Bowl run.
Nagler (shockingly) disagreed and said that you are sacrificing the development of your backup for very little gain, and also that Ted Thompson and company know what they're doing.
Which is it? Should Packers fans be worried? Should the team have signed a vet?
Let's take a look at it and find out.
It's understandable if you are concerned about Graham Harrell's lack of experience. I am. It's reasonable, especially considering the debacle we witnessed right here in the NFC North, when Bears quarterback Jay Cutler went down on a playoff-bound team and was replaced by a cavalcade of mediocrity.
The Packers are Super Bowl contenders. Anyone who tells you different isn't paying attention.
There are plenty of things that could derail that—certainly an injury to Rodgers is one of them.
So let's start there.
You aren't replacing Rodgers. Physically, yes, you are, but you aren't really going to get the same value from his backup. No matter who that is—Graham Harrell, Kyle Orton, one of the zombies from the Walking Dead—no backup is going to give you the same production as Rodgers.
Sure, Matt Flynn torched the Lions last year. However, the Lions secondary played horrifically (the whole defense struggled), and while Flynn appears to be good, one game does not a career make.
Over the course of the season, with tape of previous games to watch and the dings and scrapes a quarterback accrues over a year, the long-term result might be different.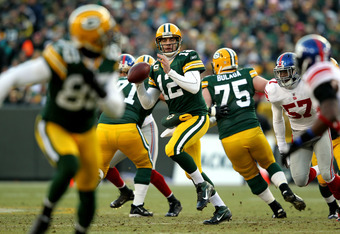 Jamie Squire/Getty Images
Rodgers is special, in the way Drew Brees, Tom Brady and Peyton Manning are special—one good game by Flynn isn't convincing me that Flynn or anyone else can magically step into the Packers offense and do what Rodgers does.
So let's agree that regardless of who replaces him in the unlikely event Rodgers—one of the most durable and tough quarterbacks in the league—goes down isn't likely to replace his production.
Carry this a bit further—who backs up Brees and Brady? Wily vets with tons of experience?
No.
Chase Daniel and Brian Hoyer, guys who have between them a grand total of 51 pass attempts. Most of those are Hoyer's, too—Daniel, who stands to be the replacement for Drew Brees if his hold-out lasts into the season, has all of eight pass attempts.
Where's the outcry there?
There is none, because ultimately the teams have faith in their coaches and players that these players have developed enough to hold down the fort if the starter goes down due to injury (or in Bress' case, contract frustration).
They aren't much more experienced than Harrell. They have a couple of years over Harrell and what amounts to a handful of snaps more, and all three were undrafted free agents, so none of these guys were prospects anyone besides the teams who signed them believed in.
Again, there is a reason this is the case—all three teams have seen enough from their backups in practice to warrant faith.
The staff watches these guys day in and day out, sees their development and knows what they can and can't do.
Is there risk inherent in this approach, in this faith in an unproven backup?
Yes, it does have a bit of a gamble to it.
The question that needs to be asked, though, is would a free-agent backup be appreciably better?
We're now going to get into a murky area, because beauty is in the eye of the beholder. Of the free agents mentioned in the Twitter discussion last night, only one is—in my mind—someone who gives a team a better chance of surviving and perhaps winning a championship.
Maybe—maybe—Jason Campbell might be able to hold serve on a season. He's been at times good and mediocre, but a lot of his supporting cast has been subpar. I do like his ability, and he's got a good amount of experience. he's not afraid to go deep and challenge a defense, and he has been able to come from behind when the pressure is on.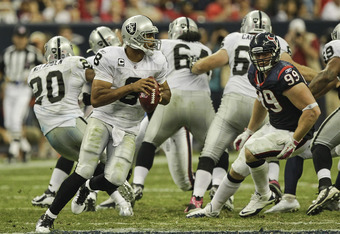 Bob Levey/Getty Images
With Greg Jennings and company, he could look good. However, how long would it take him to learn the system?
That's the question for any backup coming in cold. Graham Harrell (or Hoyer or Daniel) have time in their systems, know the plays, know the players. That's something that takes time to achieve.
We know how important chemistry is.
Again, of the group, Campbell had the best chance to fit in and achieve (I won't even deign to bring Henne into the conversation. I watched too much Dolphin football to do it).
Meanwhile, Kyle Orton was so good as a starter that he couldn't get anyone to trade for him last year and couldn't win a starting job this year. He's backing up Tony Romo now, and that's where he best serves—as a backup.
That said, I don't think the Cowboys really have a great chance of success if Romo goes down and Orton takes over—even with Miles Austin, Jay Witten and Dez Bryant.
While Orton had some success as a starter, as teams got to know him, he got less effective.
Also, he can't finish a drive.
Ask any Denver beat writer and you'll hear the same thing—Orton is OK between the 20s, but once he hits the red zone, all bets are off.
Doug Pensinger/Getty Images
Orton is the king of the short or underneath route, which would mean guys like Jennings and Jordy Nelson might be bored for long stretches. Orton's career yards per attempt is 6.6 and isn't going to see a bump anytime soon at this point in his career.
He's had a 58.3-percent completion rate in his career and does not look downfield nearly enough. Sure, his TD:INT ratio is 80:57, but when everything you do is short, that looks a lot less impressive.
Looking back at his last two years as starter, Orton had a penchant for the three-and-out. It's a big factor in why he was benched for Tim Tebow. Say what you will about Tebow, but he actually created drives that lasted more than one set of downs—giving both the defense a rest and wearing down the opposition.
From a pure experience standpoint, yes Orton (or Campbell) have it over Graham. Ultimately, though, I don't believe in Kyle Orton. I've seen enough of him to say he's not going to be better than average and he's not going to win a championship for Green Bay.
That's the ultimate argument people have for replacing Graham with a veteran backup, right? If you're going for the Super Bowl, you need a veteran to hold things together if the starter goes down.
Orton isn't a guy for whom I am willing to sacrifice the development of Graham. He's not special—he's average. Given how durable Rodgers has been, I can totally understand the decision to roll the dice on having an inexperienced player with upside as the second quarterback—just as I can see it in New England or New Orleans.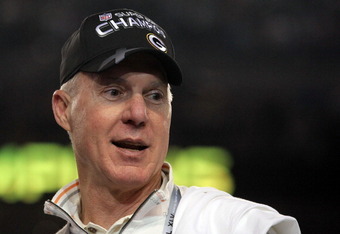 Ronald Martinez/Getty Images
Mike McCarthy and Ted Thompson have a decent (albeit not perfect) track record in developing backups. While I don't give them carte blanche in their decisions, this is one I can get behind.
Adding a veteran backup isn't an automatic lock to stay a contender. It's a cautious, conservative move which isn't the wrong one—but also not the only one as well.
Certainly you can point to times when shaky backups have spelled doom for a team (2011 Bears) and didn't (2011 Texans). There is no one right answer to it.
It's something that Packers fans shouldn't waste much time worrying about, though.
Check out the B/R NFC North Facebook page—like us and keep up with everything NFC North on Bleacher Report!