How Steve Nash Would Change Culture of Toronto Raptors
July 3, 2012
Christian Petersen/Getty Images
The reported three-year, $36 million offer that the Toronto Raptors have out to point guard Steve Nash will accomplish two things.
For one, adding a two-time MVP naturally improves the Raptors team, but more importantly adding a player with the pedigree of Nash will go a long way to changing the losing culture in Toronto.
Throughout their 18-year history, the Raptors have had some good players come to Canada, including Tracy McGrady and Vince Carter in their primes and Chris Bosh through the beginning of his career.
But they've never had a leader like Nash.
Sure they've had some guys that can score the ball, but adding a true floor general that is a two-time MVP, well that's a culture changer right there.
The Raptors need that guy that won't accept losing, and for them, that's Nash.
The 38-year-old Nash has a few years left in his career and even if he doesn't win a ring in Toronto (if he signs) the impact he could have on a young Toronto roster will be invaluable.
Leadership goes a long way and Nash would bring that and an unselfish style to the Raptors.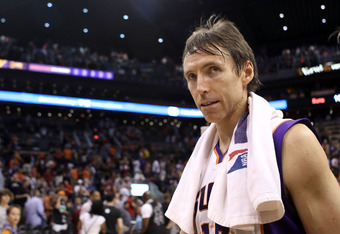 Christian Petersen/Getty Images
Young guys like Terrance Ross, DeMar DeRozan and others would be able to soak in how Nash is a professional both on and off the court. In essence, Nash could groom future team leaders, which has been a problem in Toronto.
On the court, Toronto gets better by adding a veteran point guard still playing at a high level.
You just don't wake up one day and start winning. 
A young team such as the Raptors has to learn how to win together and that starts by changing the losing culture that has plagued this franchise.
Signing a guy like Nash accomplishes that, even if they overpay for him.
In addition, a Canadian hero playing in his home country has to be a positive for attendance. Nash gives the fan base something to get excited about and should create a buzz in the community.
There are so many positives that go beyond wins and losses to the Raptors signing Nash.
They need a culture changer and Nash could be that guy.