Wimbledon 2012: Why Andy Murray Will Win His First Major and Become a Legend
July 3, 2012

Paul Gilham/Getty Images
The bracket has set up perfectly for Andy Murray and this will be the year he finally breaks through at Wimbledon to earn his first major title.
Murray has more pressure on him than any other athlete in the world—now that LeBron has his ring. All of the eyes in England are upon him as he attempts to become the first Brit to win at Wimbledon since Fred Perry in 1936.
That's a 76-year drought for the British at their own tournament, and all of the burden is on Murray to break the streak.
He took a big step in completing that goal today. He reached the quarterfinals by defeating Marin Cilic 7-6, 6-2, 6-3, in quick and efficient fashion.
This sets him up with a matchup in the round of eight with David Ferrer, a top Spanish pro who knocked Murray out of the French.
However, Ferrer's best surface is the red clay at Roland Garros, which also happens to be Murray's weakest. This time Ferrer will face off with Murray on grass, Murray's best surface.
Murray has reached the last three semifinals at Wimbledon, and he has shown great form early on. In the quarters, his motivation and high level of play will be too much for Ferrer.
This is where the bracket gets interesting. When the draw was released it looked as if Murray would run up against Rafael Nadal in the semis.
It looks as if luck was on his side though. He caught a major break when Nadal was upset in the second round.
Now instead of Nadal, he will most likely come up against Jo-Wilfried Tsonga.
While Tsonga is will be no walk in the park—he's the sixth ranked player in the world—he is certainly no Nadal.
With Murray's skill on grass, he will move on against the heavy-serving Tsonga.
This sets up a likely showdown with the world's top-ranked player, Novak Djokovic.
Djokovic is the best player in the world and has cruised through Wimbledon thus far. His serve has been on point and he has been hitting the ball beautifully while playing controlled but aggressive tennis, which is essential on grass.
However, Murray will find a way to beat him.
It would take Murray's best match, but if he serves well and remains aggressive—instead of becoming overly defensive like he tends to do against highly skilled opponents—he can pull the upset.
And honestly, he has to find a way to do so.
All of the pressure on the world is on his shoulders. Wherever he goes, he's asked about ending England's drought at their championship, and whether he's capable of doing it.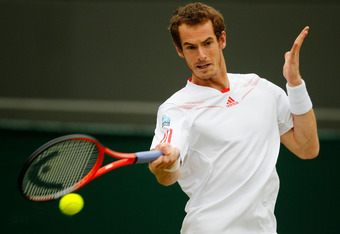 Paul Gilham/Getty Images
That's a lot to put on the shoulders of a player who has yet to break through at a major.
This bracket sets up about as well as it can for Murray. If he can't win at the All England Club this year, he might never beat the likes of Djokovic, Nadal and Roger Federer at a major.
However, if he can find a way to claw his way to victory, he would become a legend.
He would become England's greatest pro and the country's biggest star, ahead of even the likes of Wayne Rooney and David Beckham.
Murray's name would go down in English history and better yet, the win would give him the boost of confidence to win even more majors.
All he has to do is win his first at Wimbledon this year—no easy task, but the great British hope will get it done.