NBA Trade Rumors: Why Brooklyn Nets Are the Best Fit for Dwight Howard
July 3, 2012

Sam Greenwood/Getty Images
The Brooklyn Nets are actively trying to acquire Dwight Howard from the Orlando Magic, and it is clear they are the best fit.
The latest iteration of a deal, according to CBSSports, has the Nets trading Brook Lopez, Kris Humphries, MarShon Brooks and multiple first-round picks to Orlando. The Magic would send back Howard and likely one of either Hedo Turkoglu or Jason Richardson.
For that deal to work, the Nets would have to engage a third team to take on the contract of Humphries (h/t Adrian Wojnarowski of Yahoo! Sports).
However a potential deal works out, it's clear the Nets want Howard badly. They have a good trading chip in Brook Lopez. They're also working from a position of strength; Howard has expressed an interest in joining the Nets (h/t AP, via SI.com). 
There are other teams interested in Howard, including the Lakers, Rockets and Warriors. 
The Nets, having just acquired Joe Johnson, are the best fit for Howard. Here's why.
Deron Williams
Assuming Williams re-signs, he and Howard would team up to create a dangerous duo. Williams would make life easier for Howard. He would find Howard for easy dunks and lobs.
Williams is an elite player and will be the best player Howard has played with. That means Howard won't have to do it by himself anymore.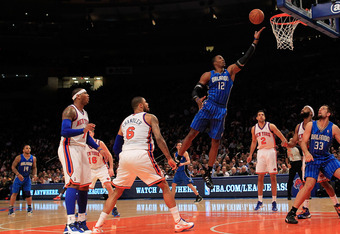 Chris Trotman/Getty Images
Having Williams on board will make Howard even more dangerous, if that's even possible.
Big Three
The Nets would have a Big Three of their own—Howard, Williams and Joe Johnson. Combine that with newly re-signed Gerald Wallace, and the Nets have the making of a contender.
Acquiring Johnson and Howard will gut their roster, but they can do much like the Miami Heat did—fill in with players looking to win championships.
The Heat were able to sign Mike Miller and Shane Battier, and the Nets could do something similar. 
Appeal of Brooklyn

The Nets are moving to Brooklyn, and Howard would instantly become the biggest star in the borough since Jay-Z. This would lead to numerous marketing deals, making Howard an even bigger star than he is now.
With Howard in New York, marketers will go crazy. He'll be on every billboard in Brooklyn and New York City. He'll be famous the world over.
And, of course, this will make Howard a very, very rich man.
Final Say

Howard seems to want to be in Brooklyn, and the Nets are doing what they can to make it happen. With the presence of Deron Williams, the creation of a Big Three, as well as the endless marketing opportunities of Howard, it is beyond clear that the Nets are the best choice for the star center.