Home Run Derby 2012: Breaking Down Favorites from Robinson Cano's AL Squad
July 3, 2012

Christian Petersen/Getty Images
When New York Yankees second baseman Robinson Cano was handed the keys to selecting the American League Home Run Derby team, it didn't take long for him to go shopping for the biggest, baddest bombers on the market.
With his first pick, the 2011 Home Run Derby winner took the shiniest toy on the lot: Toronto Blue Jays right fielder Jose Bautista.
The former journeyman-turned-bonafide superstar has experienced a 59-point dip in his batting average from last year, but his signature sweet power stroke remains the best in the game.
Toronto's lone All-Star leads the majors with 27 home runs, leaving him on pace to break last year's total of 43.
Despite possessing just adequate size, Bautista is perhaps the game's best power hitter, averaging a home run every 10.8 at-bats in 2012.
Although he was eliminated after the first round in last year's derby, his 124 bombs in his last 390 regular season games is unmatched.
Look for Bautista to improve on last year's total of four homers and advance past the first round.
If you're looking for a sleeper on the AL squad, look no further than Los Angeles Angels outfielder Mark Trumbo.
The 6'4", 220-pounder took the league by storm as a rookie in 2011, launching 29 homers while driving in 87 runs. Although he ultimately finished behind Tampa Bay Rays pitcher Jeremy Hellickson in Rookie of the Year voting, Trumbo definitely made his presence known.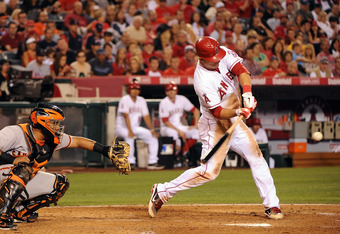 Lisa Blumenfeld/Getty Images
With Albert Pujols looking like a shell of himself for much of the first half, Trumbo picked up the slack for the Angels.
The burly 26-year-old has been one of the best all-around hitters in the majors, posting a cool .308 average while jacking 20 homers, driving in 55 runs and increasing his on-base percentage from .291 to .360.
Although it would have been exciting to see his superstar rookie teammate Mike Trout in the derby, Trumbo is a solid consolation prize for fans.
With no prior derby experience, it'll be interesting to see whether the big guy has the stamina to last multiple rounds.
When it comes to favorites, though, my money is on the team captain, who just happens to be last year's winner and perhaps the best second baseman in the game.
Playing in the hitter-friendly confines of Yankee Stadium, Cano has quietly developed into a remarkably consistent offensive force.
After a down year in 2008, in which he hit just .271 with 14 homers, the 29-year-old has strung together three and a half incredible seasons for an aging Yankees team.
From 2009-2011, Cano averaged 27 home runs, 104 RBI, 45 doubles and 103 runs scored while hitting about .314.
New York's star hitter put on a show in last year's derby, breaking the final round record with 12 home runs.
With 20 big flies already, the Dominican Republic native is mashing the ball at a career-best rate and has to be considered a heavy favorite to repeat.
The final member of Cano's handpicked squad just happens to be one of the most prolific sluggers in league history.
Built like a giant fire hydrant, Detroit Tigers first baseman Prince Fielder may not scare you with his 12 first-half home runs, but the son of former slugger Cecil Fielder is no rookie when it comes to the derby.
Just three years ago, the four-time All-Star beat Texas Rangers slugger Nelson Cruz to win the contest.
Although he's not exactly built for any endurance-based activity, you can't count out a guy with 242 career long balls.
With a cast of mashers, Cano has managed to put together a squad that matches up well against the the National League's quartet of Matt Kemp, Carlos Gonzalez, Carlos Beltran and Giancarlo Stanton
By this time next week, look for Cano to add another derby title to his trophy case.