Dwight Howard to Brooklyn Would Make Nets Best Team in New York
July 3, 2012

Mike Ehrmann/Getty Images
New York Knicks fans, who entered the offseason worried about how they'd match up with Eastern Conference rivals such as the Boston Celtics, Miami Heat and Philadelphia 76ers, are about to receive a wake-up call. 
When the 2012-13 season tips-off, the Knicks won't be the best team team in the Eastern Conference, and they may not even be the best team in New York City. 
In one summer, without so much as one game being played in the new Barclay's Center, the Nets appear poised to surpass the Knicks in stars, star-power, and preseason power rankings.
On Monday the Nets and Atlanta Hawks agreed to a multi-player trade. The deal rids the Nets of numerous soon-to-be expiring contracts, and rids the Hawks of the cumbersome Joe Johnson deal that Atlanta signed-off on in the summer of 2010. 
Now the Nets appear to be on the cusp of finally acquiring Dwight Howard.
The proposed deal is a very bold move for Brooklyn. In addition to shipping Brook Lopez, Kris Humphries and MarShon Brooks off to Orlando, the deal would also send, not one, not two, but three, first-round draft picks to Orlando.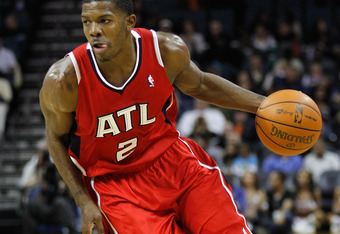 Streeter Lecka/Getty Images
The Nets might be mortgaging the future for the present. The "present" could be pretty good though. 
NBA Finals good? Probably not, but "best team in NYC," good? Yes, without question. 
The sad fact for New York Knicks fans is that while this deal may eventually haunt the Nets, short-term it makes them the best team in New York City. 
The Knicks might be able to bring back players like Jeremy Lin and Steve Novak. They already have Carmelo Anthony, Amar'e Stoudemire and Tyson Chandler. It's solid core, and the when you add Iman Shumpert and his eventual return into the mix, the Knicks will be a good team next season.
Not as good as the Brooklyn Nets though.
Consider what the Nets will have should they acquire Howard.
The starting five will be Howard, Joe Johnson, Gerald Wallace, and one would have to assume, Deron Williams.
The fifth starter? That's to be determined, but the core of Johnson, Williams, Howard and Wallace is enough to make the Nets a serious playoff team. More serious than their inner-city rivals, who play in an arena dubbed "The World's Most Famous."
The combination is simply more lethal, and in addition it makes sense. It's a well conceived collaboration of four very good NBA players. 
Deron Williams is a top point guard, but he's not the same type of athlete that Russell Westbrook and Derrick Rose are. He can shoot, pass and play defense.
Joe Johnson is a shooting guard who has been longing for an experienced point guard to play alongside.
Johnson isn't great at creating scoring opportunities for himself without the ball in hands. As is the case with most shooting guards, he's also not great at creating shots for others when the ball is in his hands.
In this scenario Johnson would get the ball in prime position to score, that's what a point guard like Williams brings to the court every night.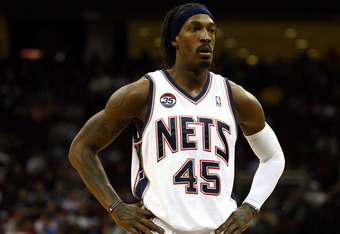 Chris Chambers/Getty Images
Gerald Wallace is a fantastic athlete, who is at his best capitalizing on an opposing teams' defensive lapses. He has trouble creating his own offensive opportunities. If he's able to crash the boards, and put-back missed shots, or cut to the basket when his man leaves him to double another player he can get plenty of points. On a Deron Williams led offense he'll also get a few easy baskets when the ball delivered perfectly to him.
Then there's Dwight Howard. Howard is a center who has put up impressive numbers without having the benefit of playing alongside other great players. In this scenario he'd be playing next to two of them in Johnson and Williams, and another in Wallace who is above average.
When Howard was in Orlando the Magic never felt that Jameer Nelson could create scoring opportunities for Howard. Rather than running the offense through the point guard, they ran it through Howard, who would continuously have the ball thrown to him in the low-post, and then distribute it to which ever teammate was left open beyond the three-point arc.
The simplistic offensive scheme would work, but only when the three-point shots were falling.
That won't be the case in Brooklyn. With Williams and Johnson on offense, Howard will get the ball in prime scoring position. He can get the ball off dribble penetration, off of double teams on the perimeter, and of course on fast breaks as well.
Those breaks will be more frequent with Williams, who rebounds well for a point guard, and Wallace, who tends to grab more rebounds when he's not the primary rebounder on his chosen team.
The offense will be good, better than the Knicks, who will return next season with a center who averages under 10 points per game for his career, as well as two players, in Carmelo Anthony and Amar'e Stoudemire who have nearly identical offensive needs.
On defense the advantage actually goes to New Jersey as well, at least until Iman Shumpert returns. Williams is a better defender than Jeremy Lin. Even if Lin does develop into a solid and dependable point guard he's never going to much better than slightly below average defensively. He's not physically strong or quick enough to handle the top point guards in the league.
Carmelo Anthony and Amar'e Stoudemire are defensive liabilities. Carmelo showed improvement under Woodson, but he's not going to become a great defensive player, and Stoudemire has never been a good defensive basketball player. His advanced age and back issues won't help either.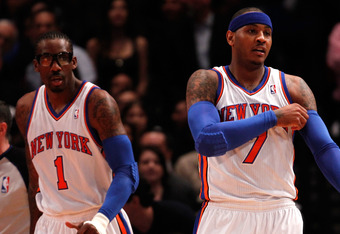 Jeff Zelevansky/Getty Images
Tyson Chandler is certainly a great defensive basketball player, but it's not like he's any better than Howard. Chandler's defense is a product of discipline and footwork. Howard's size and athleticism allow him to recover on defense and gain position or block shots effectively. If you're making a list of top defensive centers in the NBA, then your top two are named Chandler and Howard.
Yes, Brooklyn would still need to find a way to build some sort of team around those four players. The model has already been drawn up for them in Miami. The Heat had to fashion a team comprised mainly of their own "Big Three" in LeBron James, Chris Bosh and Dwyane Wade and a collection of league-minimum types of players. The fourth best player in the World Champion Heat is not as good as Gerald Wallace.
Maybe it takes the Nets time to get the chemistry just right? Maybe the first season is one with growing pains, and some inconsistent play—after all, that's what happened in Miami. Miami also won 58 games that season.
The 2012-13 New York Knicks stand little chance of winning 58 games. The Brooklyn Nets may not reach that plateau either. If they acquire Dwight Howard they've got a much better chance than the Knicks do.
A Knicks team that wanted to compete for the Atlantic Division title next season may have to worry about the title of "Best Basketball Team in New York City" as well.