Nonito Donaire vs. Jeffrey Mathebula: Fight Time, Live Stream, TV Info & More
July 3, 2012

South African Jeffrey Mathebula's height and reach present a new challenge for Nonito Donaire, but the "Filipino Flash" is one of the sport's truly special performers. This WBO-IBF super bantamweight unification clash will be yet another opportunity for Donaire to exhibit his brilliance.
Mathebula is 5'10", and his length will be the biggest obstacle for Donaire to overcome. Mathebula is a 33-year-old veteran who has demonstrated the ability to utilize his jab as a primary weapon.
Against the speedy Donaire, this will be a must. Donaire's combination of speed and power makes him pound-for-pound perhaps the most dangerous fighter in the world.
Many boxing fans don't pay enough attention to the smaller weight classes. That tendency could have them miss out on a spectacular fighter like Donaire, and this battle with Mathebula should be a competitive one.
The fight is the main event of a HBO doubleheader that also features former middleweight champion Kelly Pavlik in action
Here are the specifics for what will be a very interesting bout.
Fight Time: 10 p.m. ET; Home Depot Center, Carson, California
TV Coverage: HBO
Live Stream: HBO Go (Paid Service)
Preview:
The Book on Donaire
Donaire stands just over 5'5", and like another great Filipino fighter (Manny Pacquiao), he has climbed in weight, experiencing little to no fall-off in performance. He began his career at 115 pounds. He will be at 122 pounds for this fight, which is not a huge jump, but Donaire could continue to rise.
He is 28-1, and that lone blemish came in his second professional fight.
He has lightning-quick hands, excellent footwork and wonderful mechanics. Donaire is truly one of the best fighters of the last seven years, but he needs a signature win to validate that. Take a look at this video of Donaire's top eight knockouts and his spectacular KO of Fernando Montiel: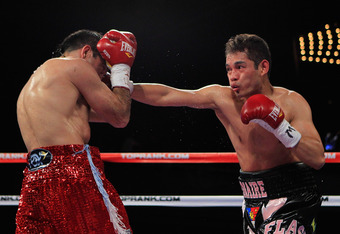 Chris Trotman/Getty Images
Mathebula isn't exactly that type of opponent, but he should be the final stepping stone to that showcase. One question for Donaire is whether his power will follow him to the higher weight classes.
This will be his third fight at the super bantamweight level, and he didn't score a KO in the previous two fights. In fact, his last fight with the skilled Wilfredo Vazquez, Jr. was a split-decision. I had Donaire winning, but it was his most competitive battle in years.
At 29 years old, Donaire still has plenty left in the tank, but he knew the accolades and big paydays would have to come in the higher weight classes. While he looked virtually unbeatable as a flyweight, things could get presumably tougher at super bantamweight and featherweight if he continues to ascend.
There are a few potentially great fights on the horizon for Donaire. Abner Mares is one potential opponent, and recently I've become intrigued with featherweight phenom Gary Russell, Jr.
Russell, Jr. discusses the prospects of fighting Donaire and a few others after his recent TKO win over Christopher Perez:
Either of those fighters could put on an explosive show with Donaire. But first, he must take on Mathebula, and that will be no simple task.
The Book on Mathebula
The man known as the "Mongoose" is no paper champion. He is the current and newly crowned IBF super bantamweight king. He decisioned Takalani Ndlovu in March to earn the title. You can see that fight here: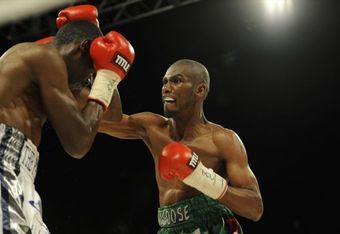 The most unique thing about Mathebula is his considerable length for the low weight-classes. He has the height to be a welterweight or even a middleweight at 5'10". He uses a nice jab, and he throws fairly accurate combinations on the inside.
The great equalizer for speed is an accurate jab, and Mathebula has that. But being accurate with the jab is not as easy when your opponent possesses the lateral movement Donaire has.
Mathebula isn't a big puncher. He has stopped only 14 of his opponents, but he owns a solid 26-3-2 record. One troubling thing about Mathebula and this fight is that this will be his first fight outside of South Africa.
Donaire is obviously the bigger name, and the crowd will certainly be a pro-Donaire bunch. He lives in San Leandro, California, and he's far more acclimated to the environment in which the fight will take place.
Mathebula is experienced, but as much as he'll be battling the formidable skills of Donaire, he'll be battling an environment that isn't best suited for him to win.  
Prediction:
I think this will be a good test for Donaire, but in the end, he has too many tools for Mathebula. The hand speed and foot speed advantage is huge, and Donaire throws punches from almost every angle imaginable.
I'm predicting a seventh- or eighth-round stoppage or KO for Donaire.
Follow Brian Mazique and Franchiseplay.net for reactions, analysis and news from the world of sports and sports video games.
Follow Brian Mazique on Twitter.