LSU Football 2012: 7 Things That Will Be Different from Last Year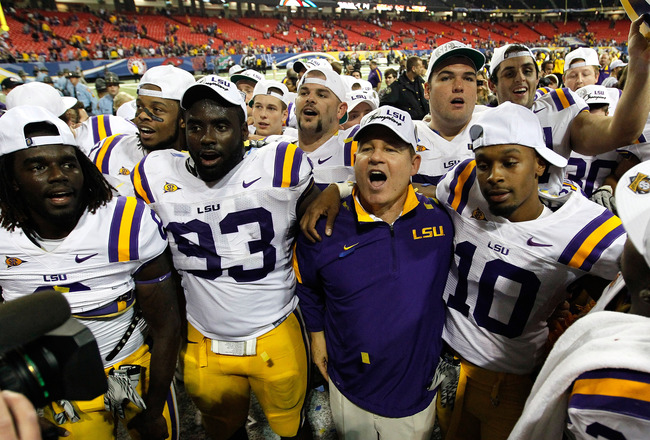 Will Les Miles and the LSU Tigers be able to recover from their BCS championship game meltdown?
Kevin C. Cox/Getty Images
There's really only one thing that LSU would change from the 2011 season, and that's obviously the Tigers' disappointing no-show performance against Alabama in the BCS championship game.
After sprinting through the SEC and finishing the regular season with a 13-0 record, Les Miles' squad laid an egg at the worst possible time, as Miles and the Tigers were flat-out embarrassed by Nick Saban and the Tide down in New Orleans.
That 21-0 defeat in front of a national audience has surely left a bitter taste in the mouths of the players, coaches and fans, but the good news is that there's certainly still enough talent in Baton Rouge to make another run at a BCS title in 2012.
You have to wonder if there will be any type of hangover effect from the BCS championship game, but if there isn't, the SEC better beware, because LSU is loaded once again.
There isn't a lot that the Tigers have to change from last season to challenge for a championship again, but as with every college football team, there are always a few notable differences from year to year.
Here's a look at how LSU's 2012 season will be different from the 2011 season.
1. LSU Will Start the Season Ranked No. 1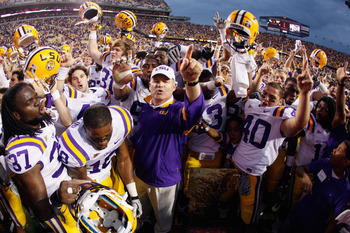 LSU Tigers
Chris Graythen/Getty Images
Last year, it was Alabama that was being touted by many analysts and pollsters as the team to beat in the SEC before the season started. Now, it will be LSU that is put up onto that pedestal.
LSU has the most talent-stocked roster in all of college football, and the Tigers will put a defense out onto the field this season that could be one of the most dominant in college football history.
The big question is, though, will the team be able to handle its No. 1 hype, especially after suffering such a devastating loss at the end of last season?
There haven't been many preseason No. 1-ranked teams that have lived up to expectations in recent years, but LSU is the team that just may break that trend in 2012.
The Tigers didn't seem to have much trouble dealing with the pressure and expectations throughout the regular season last year, and it will be interesting to see if they can recapture that same type of swagger, hunger and intensity once again this season.
2. No Statement Non-Conference Games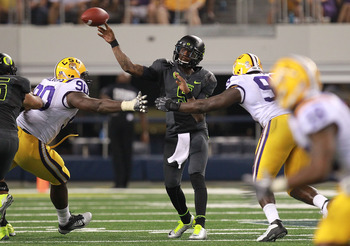 LSU vs. Oregon
Ronald Martinez/Getty Images
Last year, in addition to the grueling SEC schedule that LSU faced, the Tigers also had the chance to prove themselves against highly ranked non-conference foes such as Oregon and West Virginia.
This year, however, with a non-conference slate that includes North Texas, Washington, Idaho and Towson, there really aren't any showcase non-conference opponents.
If QB Keith Price has the type of big season that some are expecting, Washington has a chance to be ranked by the time the season ends, but the Huskies certainly won't be in the top 25 by Week 2.
Nevertheless, given the fact that LSU will likely start the season No. 1 in the preseason polls, the Tigers really don't need any extra statement games to wow voters in 2012.
If they beat Auburn, Florida, South Carolina, Alabama and Arkansas and run through the SEC untouched again, that will speak for itself.
3. The Tigers Have a Quarterback That Can Throw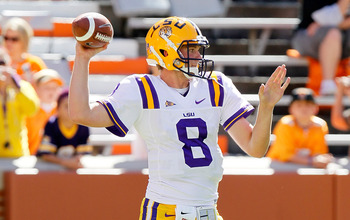 Zach Mettenberger
Kevin C. Cox/Getty Images
The quarterback tandem of Jarrett Lee and Jordan Jefferson helped LSU win 13 games last season, but the reality is, neither could be categorized as great passers.
You could justify using that description for LSU's new starting quarterback, though, as Zach Mettenberger is the type of big-armed pocket-passer that could really add a valuable new dimension to the Tigers offense.
Mettenberger, a former 4-star recruit out of Georgia's Oconee County High School, made stops at both Georgia and Butler Community College, where he led his team to an 11-1 record before arriving in Baton Rouge.
After watching from the sidelines for a season, Mettenberger will finally get to show off his talents on the national stage this year when he leads the No. 1 Tigers into battle.
The 6'5'', 222-pound junior only threw eleven passes last year, but he's got the type of big arm and natural passing talent to come out and really make a name for himself with a breakout performance in 2012.
If Mettenberger can lead LSU to a BCS title and put up solid numbers along the way, he could even end up in the conversation to be a first-round pick in the 2013 NFL draft.
4. Eric Reid Will Be the Most Talked About Defensive Back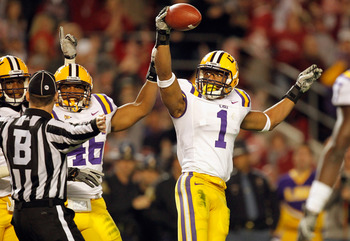 Eric Reid
Streeter Lecka/Getty Images
Last year, the two most talked about players on LSU's defense were All-American cornerbacks Tyrann Mathieu and Morris Claiborne.
Mathieu ended up becoming one of college football's biggest celebrities of the 2011 season after his "Honey Badger" nickname went viral.
Now that Claiborne's moved on to the NFL, Mathieu's sure to be the LSU defender that receives the most attention this offseason.
While the junior corner deserves the recognition he received for his breakout season last year, the fact is, Mathieu isn't even the best defensive back on the LSU defense. That title belongs to safety Eric Reid.
Reid, the son of former LSU All-American hurdler Eric Reid, Sr., is an athletic freak, and he's arguably the top overall safety in college football.
The 6'2'', 208-pound junior tied Mathieu for the team lead with 76 tackles in 2011, and he displayed the type of range, instincts, playmaking ability and physicality of a future first-round NFL draft pick.
While everyone will be hyping up the Honey Badger over the summer, once the fall arrives, Reid will be the LSU defensive back that grabs the most headlines in 2012.
5. Odell Beckham, Jr. Will Be the Team's Go-to Receiver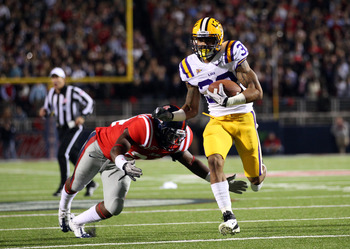 Odell Beckham Jr.
Joe Murphy/Getty Images
For the third year in a row, LSU will have to replace its leading receiver from the season before, since Rueben Randle left school early to enter the NFL.
Randle, who was selected in the second round of this year's draft, led the Tigers with 53 catches for 917 yards and eight touchdowns in 2011.
While he certainly isn't irreplaceable, Randle's presence in the passing game will definitely be missed this season.
Luckily, LSU has three very capable receivers that are returning—Odell Beckham, Jr., Jarvis Landry and Russell Shepard.
Shepard and Landry are both dangerous threats, but the player that's most capable of emerging as the team's No. 1 receiver this year is Beckham.
The 5'11'', 183-pound sophomore enjoyed a terrific introductory campaign last year, catching 41 passes for 475 yards, and it will now be interesting to see what type of rapport he can build with new quarterback Zach Mettenberger for the 2012 season.
6. Kenny Hilliard Will Be a Bigger Factor in the Running Game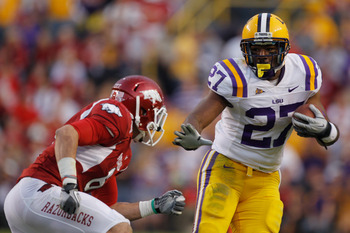 Kenny Hilliard
Chris Graythen/Getty Images
As far as sheer depth and the quantity of overall talent is concerned, there's simply no other backfield in college football that will be able to compare to LSU's this season.
The Tigers have the luxury of having four backs—Spencer Ware, Michael Ford, Kenny Hilliard and Alfred Blue, who would each be primary featured backs for almost any other team in the country.
Last year, it was Ford and Ware who received the most amount of touches, as they combined to rush for 1,463 yards and 15 touchdowns. This season, however, sophomore Kenny Hilliard will likely boost his number of carries after an eye-opening performance in 2011.
Hilliard only ran the ball 62 times last season, but when he did have it in his hands, he certainly made the most of the opportunity, as he averaged 5.4 yards per carry and ran for eight touchdowns.
The 5'11'', 240-pound sophomore is a strong, powerfully-built back who is definitely capable of handling a much bigger workload. Although he'll obviously have to defer carries to his three talented backfield mates, look for Hilliard to play a bigger role in LSU's ground game in 2012.
7. Kevin Minter Is Ready for the Spotlight
Kevin Minter
Kevin C. Cox/Getty Images
Last year, LSU's linebacker corps was considered to be the weakest unit of the team's dominant defense. That will tend to happen, though, when a team has the most talented defensive line and the most talented secondary in the country.
This year, the linebacker corps lost two starters on the outside—Ryan Baker and Stefoin Francois.
Thankfully, the leader of last year's unit, middle 'backer Kevin Minter, is returning to Baton Rouge for the 2012 season.
Minter finished his sophomore campaign with 61 total tackles in 2011, the fifth highest total on the team, and he displayed some great flashes of his enormous potential throughout his first full year as a starter.
The 6'2'', 242-pound junior has the size, strength, recognition skills and instincts that you crave in a run-stuffing middle 'backer, and now that he has a full season's worth of experience as a starter, he could be really ready to shine this year.
While his fellow defenders, such as ends Barkevious Mingo and Sam Montgomery, tackle Bennie Logan, cornerback Tyrann Mathieu and safety Eric Reid will be the ones who receive most of the preseason publicity this summer. Minter will likely end up playing just as big of a role in LSU's defensive success as they will in 2012.
Keep Reading

LSU Football: Like this team?