Star free agent Zach Parise is expected to make his decision about where he will play very soon.
Where will that be?
The suitors: Minnesota, Detroit, New Jersey, Pittsburgh and Chicago.
Parise did not say when his decision will be made, only saying: "I'm getting closer, but I haven't made a decision," Parise told TSN. "I haven't set any deadlines."
We'll break down the contenders and where Parise is most likely to land.
Minnesota
Parise is from Minnesota, and the hometown Wild have made a pitch. Parise recently bought a home in Minnesota, fueling speculation.
The Wild have plenty of cap room to offer Parise a big deal.
They also have a good young roster, featuring players such as Mikko Koivu, Dany Heatley, Devin Setoguchi and Cal Clutterbuck. Parise would make them a playoff team.
They are, however, suspect on defense and in goal, and they are not Cup contenders. After coming so close to winning, it's hard to see Parise joining a team that isn't quite ready.
Detroit
Detroit is looking to be big players in free agency. They are actively going after Parise and Ryan Suter.
The Red Wings are already a great team; adding either Parise or Suter would put them over the top.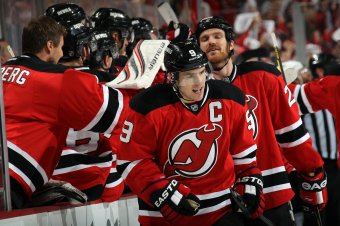 Bruce Bennett/Getty Images
Parise might be attracted to the allure of Hockeytown, as well as a chance to win. Parise would be the missing piece.
With stars like Pavel Datsyuk, Parise would add to an impressive core and make Detroit the team to beat in the Western Conference.
New Jersey
Parise is the captain of the Devils and one of the faces of the franchise. Martin Broduer, who just re-signed with the Devils, said it's tough to leave: [via NY Daily News]
"You let that go and go somewhere else, the responsibility of what you could bring to another team might be different," Brodeur said. "To come back to New Jersey for him is something he takes a lot of pride in and that's why the decision is so hard. I'm sure the offers are coming in left and right, money up front, but it's the rest of your career, not just one or two years. That's why it's a tough decision on him."
It will be very hard for Parise to leave. He's the captain, they are coming off an Eastern Conference championship season and he is on his way to becoming a Devils legend.
Parise might find it hard to leave where it all started. They are one of the favorites.
Pittsburgh
Adding Zach Parise to an already potent offense will make Pittsburgh very dangerous.
Not only do they have the cap room, but Parise and Sidney Crosby are very good friends, having played in prep school together.
A team with Crosby, Parise, James Neal and Evgeni Malkin will be tough to beat. Adding Parise will make the Penguins the favorites in the East.
Chicago
Chicago has made a late push to sign the star winger, according to reports. Captain Jonathan Towes and Parise went to prep school together.
The Blackhawks would have to make a move to free up cap space, and there's no signal that that is imminent.
However, teaming Parise with Towes and Patrick Kane will put the Blackhawks back amongst the elite and into contention.
Final Say
Parise has a tough decision to make. But all signs point to him re-signing with the Devils. After their incredible cup run, it's hard to imagine their captain bolting for greener pastures.
Parise will sign with the Devils and become a franchise legend.