Dion Waiters: How Jim Boeheim Changed His Mindset at Syracuse
July 3, 2012
Jim Rogash/Getty Images
Dion Waiters was a typical college freshman in the fall of 2010. Well, other than on the basketball court where very few freshmen looked like him.
The similar part was the voice in his head that said the old man was crazy. My soon-to-be sophomore in college daughter hears that one constantly.
They know better, these 18-19-year-old geniuses. After all, they've been around the block. The very same block that us old people couldn't find without a GPS. The GPS we'd have to get them to help us with.
There's no use fighting the know-it-all attitude of the young. The only recourse is to grit your teeth, continue to know you're right and wait for them to come around to that realization all on their own.  And watch our hair get even grayer.
Now you know why the old man in this story, Syracuse basketball coach Jim Boeheim, is virtually bald and all gray. As parents we deal with teenage geniuses for a few years. Try the 36 years that Boeheim has "parented" hundreds of these joys.
Dion Waiters verbally committed to Syracuse during his sophomore year in high school. He was very familiar with the Orange program since his cousin Scoop Jardine and good friend Rick Jackson were on the team.
When Dion finally arrived on campus in the fall of 2010, he was brimming with the confidence that comes from being ranked as high as the nation's 15th best basketball player coming out of high school. Pretty heady stuff.
The only relationship that Dion had with the bench was that it was used for resting as the coach talked to you. He didn't consider it a seat for watching the game. He certainly didn't know what it felt like to be sitting on it as the ball was tossed for the opening tip.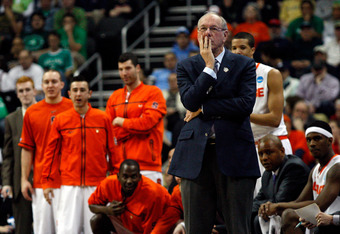 Jared Wickerham/Getty Images
Dion fully expected to be in the starting Orange backcourt with Scoop. He saw no reason he wouldn't be driving to the tin and hitting jumpers, just as he'd always done.
What he didn't expect was to be sitting while sophomore Brandon Triche, the 132nd ranked player in his class, continued to start at shooting guard alongside Scoop.
Triche had started every game the previous season, his freshman year. While he had a nice season, averaging 11.1 points, 2.7 rebounds and 2.9 assists per game, Waiters clearly felt he would do better.
There were a couple of things Waiters didn't realize. Triche's ranking was skewed because he blew his knee out and missed the summer season before his high school junior year, which is an important evaluating time for recruiting. Prior to his freshman season, The Sporting News picked Triche as the freshman not ranked in the top 100 who would have the most impact that year.
The other thing Waiters didn't understand was Boeheim's loyalty to his veterans and disdain for tinkering with the starting lineup.
Dion had a so-so season, averaging 6.6 points, 1.6 rebounds and 1.5 assists per game. But he seemed a bit out of shape and certainly not very interested in the side of the court that didn't involve the Orange having the ball.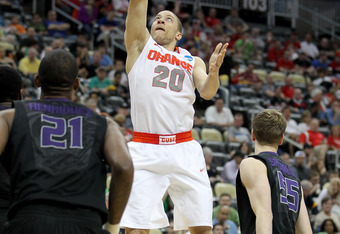 Gregory Shamus/Getty Images
As most 19-year-olds would do, Dion figured the old man was crazy and he knew better. Rumors were rampant that Waiters would be transferring.
At their meeting after the season, Boeheim told Waiters to get used to coming off the bench because Triche would be starting again next year. He told Dion that he needed more of a commitment to defense also. Now that he understood what it would be like if he returned, the transfer decision was up to him.
Here's where Dion Waiters became very unlike a typical college freshman. He stopped thinking the old man was crazy. He listened to him. He went home to Philadelphia and lost about 15 pounds. He worked and worked on his conditioning and his shot.
He came back to Syracuse in the fall of 2011 leaner and no longer caring whether he started or came off the bench. His minutes went up from 16 per game as a freshman to 24 as a sophomore. His points went from 6.6 to 12.6, rebounds from 1.6 to 2.3 and assists from 1.5 to 2.5.
Most importantly his attitude was tremendous. He smiled and he cheered his teammates and had a great time on the court.
On the defensive side he became a fiend, leading the team with 1.8 steals per game. And he realized what so many before him did too. Hustling in that Orange 2-3 zone leads to lots and lots of breakouts and transition dunks. And those are fun.
Boeheim's take on Waiters now?
"He's more ready for the NBA than any other guard I've ever had." Boeheim said of Waiters. "Nobody will be able to guard him one-on-one unless their last name is Westbrook. He'll go by anyone he faces."
Was it a shock that Cleveland took Waiters at four in the recent draft? No. The previous two mock drafts that I'd seen right before the draft had Golden State taking him at seven. And the morning of the draft I heard that Cleveland was considering Waiters at four.
I bet he's glad he overachieved in lessening the time frame it took him to realize the old man was right. I wish he'd talk to my daughter.
Follow me on Twitter@sprtsramblngman