NBA Free Agency 2012: Rockets and Wolves Highlight Awful Offseason Offers
July 3, 2012

Jonathan Daniel/Getty Images
Remember in 2003 when Jermaine O'Neal signed a seven year, $126.6 million contract with the Indiana Pacers?
Or when the Knicks gave Jerome James $30 million over six years? What about Eddy Curry getting $60 million over six years from Isiah Thomas and the Knicks?
And who can forget Brian Grant's seven year, $86 million contract with the Heat?
Sadly, every offseason brings a few head-scratchers. And this free agency period, which officially began July 1, is absolutely no different.
The worst offer so far this summer has got to be from the Houston Rockets, who are trying to lure Omer Asik and his 3.1 points and 3.4 rebounds per game away from the Chicago Bulls for a cool $25.1 million over three years. 
Are you kidding me!?
I understand that with more playing time, he should have more touches and thus score more points and grab more rebounds, or at least with that kind of money that's what will be expected of him.
But for someone who has been in the league for only two seasons, one of which was shortened, it's certainly a leap of faith on the Rockets' part. The guy made $1.8 million last year, which is right around what I'd expect someone to make who plays 14 minutes per game.
Does he have some upside? Absolutely. At 7'0", is he a rare commodity in this league? Asik does all the dirty work and doesn't mind not being the center of attention, no pun intended.
But he'll make $15 million in his third year. LeBron got paid virtually the same over one season with the Heat!
I get that the Rockets are in rebuilding mode. They tried their best to load up in the draft and are clearly trying to invest in the future. I like what they're doing with possibly making Goran Dragic the starting point guard. He's young, has great court vision, can change directions on a dime, super athletic and fearless.
All I can say is the Rockets are taking a gamble that virtually no other team would take, perhaps not even the Bulls if they chose to not retain their big man from Turkey.
With an offer like this, Asik will go down in the books as either one of the best steals or will be forgotten faster than you think, resurfacing only in discussions about worst free agent signings in league history.
But enough about the Rockets. They've clearly made a decision, at least with Asik, to either look like the second-coming of the San Antonio Spurs or the next New York Knicks.
The Minnesota Timberwolves are another team with a questionable move.
Jerry Zgoda of the Boston Herald reported on July 2 that the Wolves are prepared to offer the Portland Trail Blazers swingman Nicolas Batum $50 million over four years.  
Batum made $2.1 million last year. He had a nice season last year with the Blazers, averaging just under 14 points and five rebounds in 30 minutes per game, and shot 45-percent from the field.
I can see why the Wolves would want him. He'd fill their need for two positions, both shooting guard and small-forward and will figure to become a much better scorer playing alongside the great Ricky Rubio.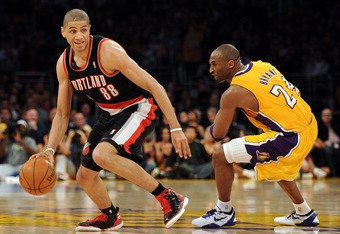 Harry How/Getty Images
Watching Batum last season, it was clear he'd be due for a big pay day. He made the most of his time off the bench and you had to wonder what he'd be capable of if given the opportunity to start on a team in rebuilding mode. The Wolves are without a doubt a good fit for him.
But I think something like a 3-year deal worth $25 million...the kind of money Asik would earn...is more appropriate.
Next we have Eric Gordon of the New Orleans Hornets, who is seeking a max-contract worth $58 million over four years.
Is he going to get it? Probably.
Does he deserve it? Not really.
The Hornets will try to keep him from going to the Phoenix Suns, who are also in talks with the guard.
John Reid of The Times-Picayune reported in June that the Hornets are willing to do whatever it takes to retain Gordon, even if it means offering him up to $80 million over five years.
How this makes sense is beyond me.
For one, Gordon is a one-dimensional scorer. There's not many pure scorers in this league worth of that kind of money.
He averaged a respectable 20 points per game last season for the Hornets, but shot a dismal 25 percent from three. I'm sure the Hornets could go out and find another free agent capable of dropping 20 in a game and doing little else to help his team win for much less than $80 million.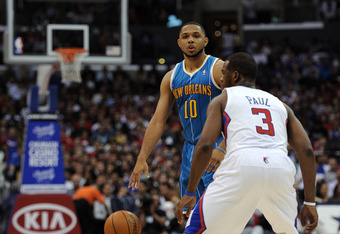 Harry How/Getty Images
Brandon Rush is a restricted free agent with the Golden State Warriors, but could be worth a look if they don't sign him. The Hornets could probably get O.J. Mayo, who arguably has a bigger upside than Gordon, for less than what they're offering.
Lastly, I think the Knicks are in a tough position to give Jeremy Lin as much money as they can or risk losing the support of every fan in the city.
While he was nothing short of spectacular in the 35 games he played for the team last season before going down with season-ending knee surgery, it's a bit of a stretch to think he's worth $20 million.
For one, who knows if that dazzling stretch he had was just a fluke? Can he do that over an 82-game season? For multiple seasons?
Let's assume he is the great player we all thought he'd be. There's still the question of his health. Will his body hold up? We know what he's capable of doing, but will his knees allow him to run the point for 35 minutes a game?
Haven't the Knicks already learned they can't always jump the gun? See my aforementioned on Jerome James, or virtually any signing under the notorious Isiah Thomas.
I hope Gordon, Batum, Lin and Asik pan out and live up to the lofty expectations that have now been placed on them. I'd rather see them silence critics than fall flat. But there's bound to be disappointment next season.
And when it comes, don't act like you didn't see it coming.