5 NFC North Defenders Who Will Take a Step Back in 2012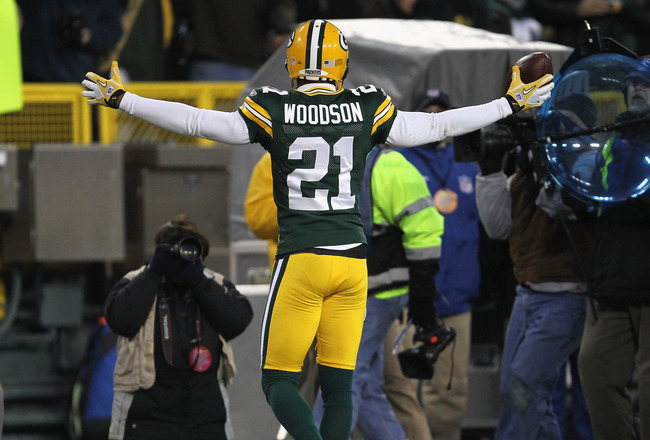 Jonathan Daniel/Getty Images
The NFC North is home to several high-octane offensive attacks.
Packers QB Aaron Rodgers is the reigning MVP, Bears QB Jay Cutler has cemented himself among the league's top 10 quarterbacks and Lions QB Matt Stafford is an up-and-coming star as one-half of the most deadly passing combination in football.
The burden of these prolific passing attacks lies on the shoulders of the NFC North's defenses. There are numerous established veterans on the defensive side of the ball, several of which are past the prime of their career.
Let's take a closer look at five NFC North defenders who will take a step back in 2012.
5. Antoine Winfield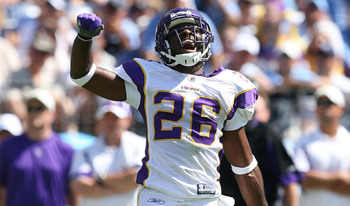 Doug Benc/Getty Images
Winfield graded out as the sixth-best cornerback in the NFL last season according to Pro Football Focus, but he played in just five games and had a much smaller sample size than the five cornerbacks ranked ahead of him.
The top cornerbacks in 2012, Darrelle Revis, followed by Brent Grimes, Cortland Finnegan, Ladarius Webb and Brandon Flowers, played between 706 and 1,142 snaps. Winfield, in comparison, played just 339 snaps—a very small sample size.
Prior to last season, he was PFF's top-rated cornerback in 2010 and the 12th-best in 2009.
Despite being one of the most consistent players in the league at his position, entering his 14th season at age 35, Father Time is bound to catch up with him relatively soon.
Playing in the NFC North, Minnesota plays six games against three teams with explosive air attacks—Green Bay, Chicago and Detroit. As the Vikings' top cover man, a lot is asked of Winfield, and it will be tough for him to live up to those expectations this season.
4. Charles Tillman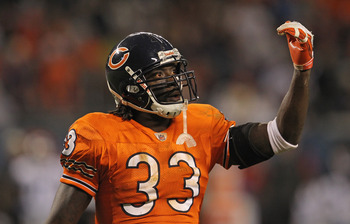 Jonathan Daniel/Getty Images
Tillman is a very instinctive player and a turnover-causing machine; he's been one of the most underrated cornerbacks in the NFL for several seasons now.
However, at age 31, he doesn't possess the same speed or athleticism that he once did, and he may be on the verge of a decline in his performance.
Tillman didn't miss a single game in the past two seasons, and he graded out very favorably both years.
According to Pro Football Focus, Tillman was the 10th-best cornerback in the NFL last season with a plus-9.5 rating. In the 2010 season, in which the Bears made it all the way to the NFC Championship Game, Tillman graded out as the league's 21st-best cornerback with a plus-6.1 overall rating.
The numbers may suggest that Tillman's career is in a good place, but entering his 10th season in a pass-happy division puts him at a bit of a crossroads.
Tillman has always had a respectable style of play; instead of getting involved with extra-curricular trash talking or on-field scuffles, Tillman allows his play between the whistles to speak for itself.
Although he'll surely attempt to prove he "ages like fine wine," the 31-year-old cornerback may not live up to his previous standards in 2012.
3. Charles Woodson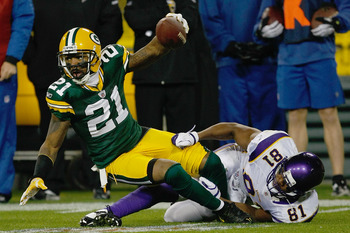 Scott Boehm/Getty Images
Since being named the NFL's Defensive Player of the Year in 2009, Woodson has been steadily declining as a cover man.
In 2009, Woodson's best season as a professional, Pro Football Focus ranked him just ahead of Darrelle Revis as the best cornerback in football, with a plus-31.4 grade. In the 2010 season, Woodson's grade fell from plus-31.4 to minus-1.2—a drastic decline following his stellar 2009 campaign.
Woodson took another step back last season, as his grade depreciated to a minus-5.2, according to Pro Football Focus.
Earlier this month, Packers head coach Mike McCarthy made it pretty clear that Woodson's role this season wouldn't be quite the same as in year's past.
I don't think it's feasible to move Charles around as much as we have in the past … Charles is going to be close to the line of scrimmage; he's going to also be playing in the secondary.
Brian Carriveau at Cheesehead TV gave a tremendous look at what McCarthy's comments could be interpreted as, but one thing is for sure—although Woodson's position is still technically cornerback, he'll very likely not be playing much on the perimeter.
2. Kyle Vanden Bosch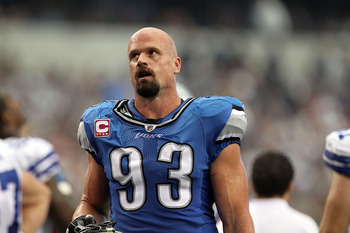 Ronald Martinez/Getty Images
The terms "high-motor" and "hustle player" are used far too often in professional sports, but with Kyle Vanden Bosh, both labels are fitting.
KVB has a motor that never stops, and he's a nightmare for opposing quarterbacks and offensive lines. Since coming out of Nebraska in 2001, he has been one of the most complete and consistent defensive ends in the league.
As far as sacks go, last season's total of eight was Vanden Bosch's highest since 2007 when he recorded 12. Although he'll try to build on an impressive 2011 campaign, he'll have to prove that last season wasn't just a flash in the pan.
As he enters his 12th season in the NFL at age 33, Vanden Bosch is in the midst of the twilight of his professional football career. Playing in the same division as MVP Aaron Rodgers and respected veteran Jay Cutler, pass defense is as vital as any other area of a football team.
Detroit's best pass-rusher, Cliff Avril, has yet to sign his $10.6 million tender as the Lions' franchise player, but both sides are having ongoing negotiations on a long-term deal. Locking up Avril will be key for the Lions' pass rush, as KVB's motor looks like it could be running on empty.
1. A.J. Hawk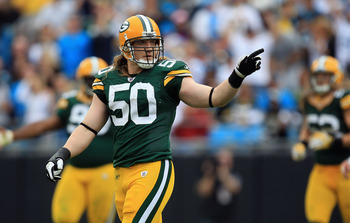 Streeter Lecka/Getty Images
As the fifth overall pick in the 2006 NFL Draft, Hawk looked like a safe bet to be an instant star at the professional level.
In his six-year career, Hawk has missed only two games, both of which were last season. Despite hovering around a respectable 100 tackles per season, Hawk has failed to consistently make eye-opening, impact plays.
Last season may have been Hawk's quietest as a professional. Registering a career-low 84 tackles, Hawk failed to record an interception, and he didn't force a single fumble for the fourth consecutive season.
The former Ohio State standout has been better known for his long hair than his success on the field, and after cutting his lengthy locks this offseason, his snap count may undergo a similar makeover.
In limited action last season, inside linebacker D.J. Smith looked like he could have been a steal as a fifth-round pick in the 2011 NFL Draft. In a recent series from Pro Football Focus called "Secret Superstars," Smith was tabbed as Green Bay's unheralded "superstar."
When Hawk has struggled on the field, the Packers have not hesitated to keep him on the sideline. If he continues to decline in 2012, Packers fans may be seeing even less of Hawk and more of Smith.
Keep Reading