NHL Rumors: Zach Parise Wouldn't Address Chicago Blackhawks' Biggest Weaknesses
July 3, 2012

Paul Bereswill/Getty Images
Despite his undeniable talent, signing Zach Parise would not significantly improve the Chicago Blackhawks. He cannot fix the major weaknesses of the team.
According to Chris Kuc of the Chicago Tribune, the Blackhawks are one team Parise is considering signing with:
Like others, hearing #Blackhawks are among final two teams to possibly land Zach Parise.

—Chris Kuc (@ChrisKuc) July 2, 2012
Parise cannot play between the pipes, nor can he excel as a defenseman, so while he could certainly make the Blackhawks offense better, he won't address the team's two biggest issues: defense and goaltending.
Chicago was fifth in goals scored per game last year, and with offensive stars such as Jonathan Toews, Patrick Kane and Marian Hossa leading the way, scoring isn't a major issue. However, the Blackhawks were 22nd in goals against per game, and they had the second-worst GAA among playoff teams last season.
Corey Crawford and Ray Emery were the worst goaltending duo among playoff teams last year. They clearly aren't a tandem capable of winning multiple rounds in the playoffs.
The team also needs to get stronger on the blue line, but there aren't many quality defensemen left on the free-agent market, unless Chicago wants to give Matt Carle over $5 million.
The signing of Johnny Oduya to a three-year contract at just under $4 million per season with a limited no-trade clause was a terrible move. The Blackhawks have just two quality defensemen in Brent Seabrook and Duncan Keith. You cannot win the Stanley Cup with that amount of talent on the blue line.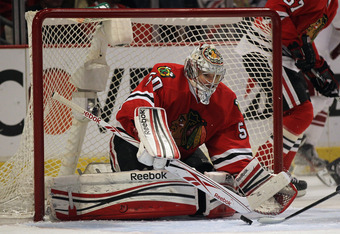 Jonathan Daniel/Getty Images
Signing Parise would almost certainly push the Blackhawks far up against the cap. The salary cap for next season is tentatively $70.2 million, but it could easily drop a bit once the new CBA is agreed upon.
If the Blackhawks signed Parise, one expected move would be to trade defenseman Niklas Hjalmarsson, but his $3.5 million cap hit isn't cheap. Even if he's traded, there wouldn't be enough space left under the cap to improve the blue line or the goaltender position in a meaningful way.
Giving Parise a long-term contract with a large salary cap hit would not bring the Blackhawks much closer to a Stanley Cup title than they are now. The problems on defense and between the pipes would still be major issues.
Chicago is better off passing on Parise and looking at other options to improve the team for next year.