NBA Draft 2012 Grades: Hyped Prospects Who Won't Live Up to Their Billing
Chris Graythen/Getty Images
The 2012 NBA draft class will have its share of studs and duds. Under-the-radar prospects will become better than anyone anticipated, while a few of this year's elite talents will fade faster than expected.
It's hard to judge these types of things in the heat of the moment. Some players just "look" too good to pass up, but their game winds up looking better in college than it ever will at the next level.
Look at the plethora of "bust" prospects over the last few years. Wesley Johnson, Michael Beasley and Adam Morrison all looked like "sure" things coming out of college. Instead, they have toiled away in mediocrity (Morrison was even worse than that).
Let's take a look at three prospects who face high expectations but won't live up to the hype in the NBA.
This all depends on your perspective on Kidd-Gilchrist. In terms of defense, leadership and intangibles he is one of the best college prospects to come along in years. He's an incredibly raw athlete with a motor that never quits.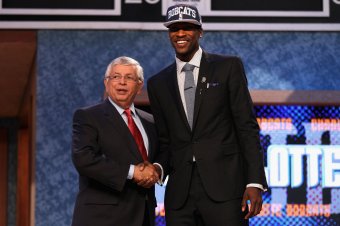 Elsa/Getty Images
Michael Jordan and the Bobcats made the right pick, but I think Kidd-Gilchrist's potential rests heavily on his supporting cast. He isn't going to be a 20-points-per-game scorer; he may not even average 15 points a game. The former Kentucky Wildcat needs players around him who can carry the offensive load and put his defense to use.
I see Kidd-Gilchrist's highest peak as Scottie Pippen, but I could also see him as a Tony Allen/James Posey-type player.
His athleticism allows him to get to the rim, but his shot and ball-handling need a ton of work.
His offense could improve. Kawhi Leonard wasn't a good three-point shooter at San Diego State, but think about how many huge trifectas you saw him knock down for the Spurs last year.
It's hard to showcase intangibles when your team isn't in the playoffs. Kidd-Gilchrist is a winner, but there's only so much he can do in Charlotte. Barring a total rebuilding effort (which Jordan hasn't shown he can put together), this is a terrible situation for MKG.
Rivers just seems like someone who has to be "the guy". With No. 1 overall pick Anthony Davis in town, that isn't going to happen.
Where is Rivers best suited?
His game is definitely more suited for the NBA. He could have a Steph Curry-type impact as an NBA point guard because of his shooting stroke and limited athleticism. His devastating crossover will translate to the next level as well, but he's still undersized (6'4'') for a shooting guard.
I know. I just said he's going to be a point guard, and he will. Just not a very good one. He doesn't play with a pass-first mentality, and that's what New Orleans is going to need.
If they bring Eric Gordon back, he's going to have players around him who should touch the ball. Instead, he will trust his shot too much and be a ball-stopping presence on offense.
Rivers is more suited to play shooting guard, but his size isn't going to allow it. He will be a solid NBA player, but his hype is overplayed from his days at Winter Park High School. It didn't translate to his play at Duke, and we saw the type of player he can be.
I think Rivers' selfish mindset on offense gets in his way. He doesn't have a point guard's mentality, but that's the only position he's fit to play.
Drummond could fall anywhere from Dwight Howard to DeAndre Jordan to Kwame Brown on the NBA big man scale. He's an ultra-athletic player for a guy his size, but you have to want it too.
It doesn't matter how elite your physical tools are. If you don't want to improve every day, you simply aren't going to succeed at the next level. In Drummond's case, that's a shame.
Watching Drummond play at UConn last year was confusing. Some games he looked excellent (20 points and 11 rebounds against West Virginia), but he didn't even show up for others (15 games with 10 points or less).
He's an enigma to say the least.
Offensively, he's incredibly raw. He uses his speed and quickness to blow past slower interior players, but he struggles to find his touch around the rim. He's a ferocious finisher, but he must work on his handle down low.
Defensively, he's NBA-ready. His athleticism makes him a disruptive force each and every time down the floor. He contests every shot and owns the front of the rim.
It's easy to drool over Drummond. He's the youngest player in this NBA draft class, and he has plenty of time to reach his full potential.
Among NBA draft "busts," big men seem to be more plentiful. Michael Olowokandi, Kwame Brown, Jonathan Bender and even Greg Oden (not his fault) were all super prospects entering the NBA. None of these low-post presences amounted to much of anything.
The sky is the limit for Drummond, but his floor is frighteningly low. He was a huge risk, and it isn't going to pay off for Joe Dumars and the Pistons.
This article is
What is the duplicate article?
Why is this article offensive?
Where is this article plagiarized from?
Why is this article poorly edited?