Klitschko vs. Thompson: What American Must Do to Score Massive Upset
July 3, 2012

Al Bello/Getty Images
Tony Thompson was able to hold his own for 11 rounds against heavyweight champion Wladimir Klitschko when they met four years ago. Now he must figure out a way to finish the job when the two veterans have a rematch on Saturday.
Let's examine what the underdog must do to pull off a shocking upset and end Klitschko's reign atop the heavyweight division. He faces an uphill battle but, as he showed in the previous bout, he can hang tough against elite competition.
Counterattacking Strategy
Since losing to Klitschko, Thompson has won five consecutive fights by knockout. Only one of them lasted longer than five rounds. He can't expect things to be that easy this time around, which means using a more conservative strategy would suit him well.
The best way to go after Klitschko is through counterattacks. Of the champion's 57 victories, 50 have come by knockout, so it's clear he likes being the aggressor. Thompson can't match his power. Instead, he needs to use that aggressiveness to his advantage.
To maximize his chances, the 40-year-old American should attempt to put up a defensive wall early in an attempt to frustrate Klitschko. The more chances he starts taking, the more openings there will be for Thompson.
Conserve Energy
In the first bout between the two, Thompson was a game contender for awhile, but really seemed to wear down quickly in the later rounds. That eventually allowed Klitschko to knock him out. Making sure he doesn't follow the same pattern is key for the challenger.
He can conserve energy by not going for too much early in the fight. After all, he's the underdog. The longer he's able to make the fight last, the better his chances of picking up the win become. There's no reason to tire himself out quickly.
A counterattacking approach should help accomplish that goal. Thompson needs to save enough energy for the late stages just in case he does need to start going on the attack in order to win a couple rounds.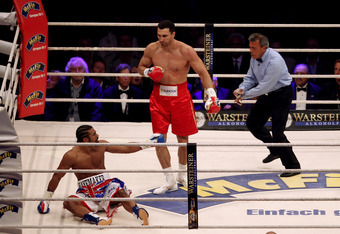 Scott Heavey/Getty Images
Go The Distance
When all else fails, let the judges decide. That should be an underdog's motto, especially after the controversial decision that allowed Timothy Bradley to upset Manny Pacquiao. If Thompson can survive all 12 rounds, he has a chance.
And there's really no reason he can't do it. He lasted nearly the entire fight last time despite having nothing left in the tank for the final couple rounds. A more defensive style should allow him to avoid the KO and make it to the final bell.
It's not a guaranteed path to victory, but it's the best one he's got. While Thompson knows everything would have to fall perfectly for him to win, it's not impossible.