Indianapolis Colts: 5 Reasons Andrew Luck Will Quickly Replace Peyton Manning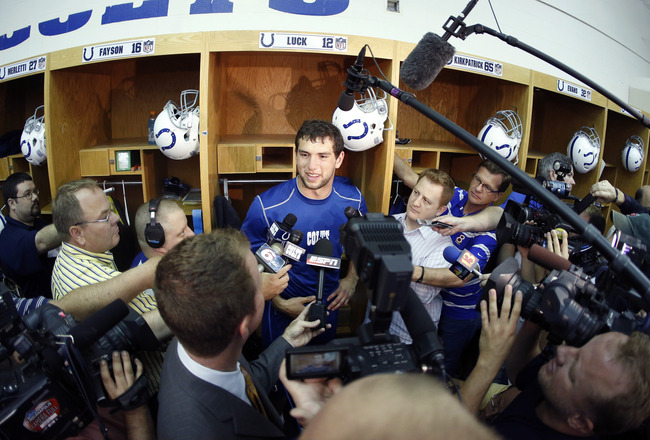 Joe Robbins/Getty Images
Andrew Luck is the new superstar quarterback for the Indianapolis Colts, already on his way to replacing Peyton Manning. Indianapolis will always have a soft spot for their beloved former quarterback. Manning was the face (and the arm) of the franchise.
Manning debuted with the Colts and had been a big part of their history throughout his career with a Super Bowl XLI win and two AFC Championships.
But with Manning's absence last season, his several neck surgeries and his release from the team after 14 years, the Colts are more than ready for a new leader in 2012.
And Luck is just the man for the job.
Here are five reasons that Andrew Luck will quickly replace Peyton Manning.
It's All About Luck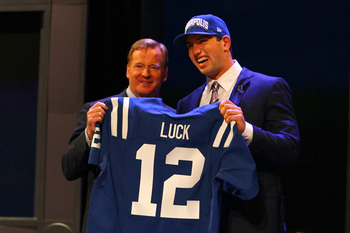 Al Bello/Getty Images
Andrew Luck has already edged Manning out. Even before Manning was released, there was talk and speculation about the Colts having interest in Luck as the No. 1 draft pick. And they followed through.
The Colts picked up Luck and got all the glitz and glory that came along with him. Everyone wanted a piece of Luck, and Colts fans were already picking up his jersey before he even made it to training camp.
As soon as Manning took his exit, Luck stepped into the spotlight. People want to know what Luck can bring to the team. And their curiosity, paired with Luck's impressive numbers, are enough to replace Manning.
Luck Has a Lot to Offer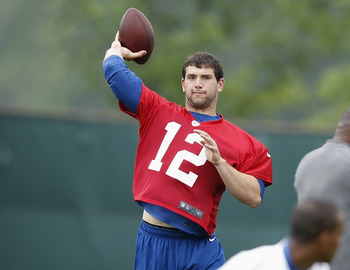 Joe Robbins/Getty Images
Manning has given a lot to the Colts. He's been a consistent leader in stats and performance for the team as well as in the entire league. But since his time with the Colts has ended, what's more interesting is what Luck is bringing to the table.
Luck was the most accurate passer in college football. He was a two-time runner-up for the Heisman Trophy.
And his numbers match his hype. He had a 71.3 completion percentage in 2011 at Stanford University. Luck completed 3516 yards and 37 passing touchdowns.
Luck is smart with the ball in the pocket and displays incredible passing strength and accuracy.


He Is Here to Win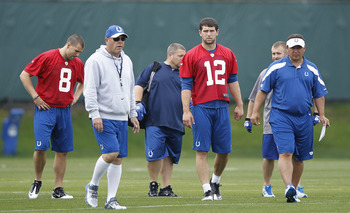 Joe Robbins/Getty Images
Andrew Luck already has winning on the mind. He's come into the beginning of his NFL career and his first NFL team with a winning outlook. Not to be confused with cockiness, Luck is displaying true confidence and expectations for himself and his teammates.
And that's exactly what he should be doing. He is displaying the confidence and hard-work attitude that Manning had while he was the Colts' franchise quarterback.
With Luck now calling the shots, he needs to be sure and collected. When asked about preparation during the offseason, Andrew Luck responded,
"I don't think you prepare to lose by any means. We are preparing to win, you try to win so I don't want to lose and I don't want to be a part of a losing team. I don't think anyone wants to be a part of a losing team. Obviously there will be road blocks and I need to understand the rookie year can be long and strenuous, but I'm trying to approach every game with a winning attitude and I know it's terribly cliché, but you have to do that," (via Ross Bohlin from wlfi.com)
His positive attitude throughout training will carry over to his first start in the NFL, and the Colts will see all that the rookie has to offer.


A Necessary Change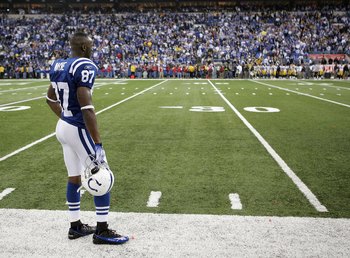 Andy Lyons/Getty Images
The Indianapolis Colts are coming off of a devastating season. In 2011, the Colts were 2-14, finished last in the AFC South and were not even close to qualifying for the playoffs.
Of course the big reason could be that Peyton Manning wasn't there to lead his team for the 14th time. Even though Manning is now recovered and ready to continue his career, a healthier and younger Luck is just what the Colts need to start the 2012 season off fresh.
Manning is in the past and Luck will have a clean state to replace him. Colts fans will see Luck and have high hopes for him. And they should.
Manning won't be forgotten, but he is already being replaced. The Colts are ready for a new season and a new era.


Manning Is Old News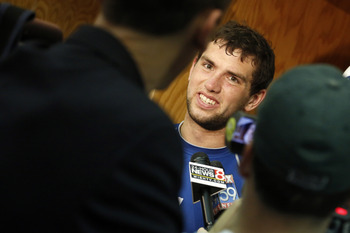 Joe Robbins/Getty Images
Peyton Manning is old news now in Indianapolis. He will be forever remembered in Colts history, but now it's time for a new look. Andrew Luck is younger, faster, healthier and stronger.
The Colts are investing in the rookie quarterback to rebuild the team and perhaps, maybe even be the next Peyton Manning. They need a new quarterback who they can craft and mold into the flawless quarterback machine that Manning once was.
Sure, Luck doesn't have anywhere close to the amount of experience that Manning has. But Luck has the skill set, the field smarts and the leadership. Don't worry, the experience will come.
Manning is out and Luck is in. It's as simple as that.
Luck will quickly replace Manning because he's the new upgrade that you've been wanting. He's the latest model, with a new number and better capabilities.
That's why Luck will replace Manning, because he's the next big thing.




Keep Reading

Indianapolis Colts: Like this team?