4 Media Misconceptions About the 2012 Arizona Cardinals
Use your ← → (arrow) keys to browse more stories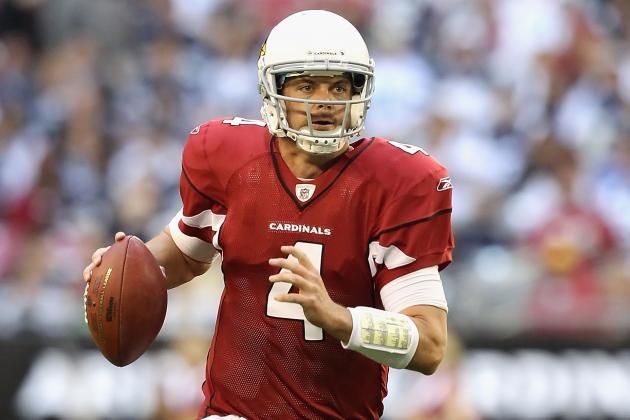 Christian Petersen/Getty Images
Is Kevin Kolb a bust or an unproven commodity?
The Arizona Cardinals have several misconceptions about them in the media and it's time to clear them up with training camp opening later this month.
1. Kevin Kolb is a bust.
It's not quite time to put Kolb in the bust category. In order to be a real bust you need to see Ryan Leaf-caliber numbers. Vernon Gholston also comes to mind as a colossal bust for the Jets.
Kolb is not there yet, so view him as an unproven commodity. He still has yet to play more than nine games in a season. There isn't enough data yet to determine if he has hit bust status.
He's started 16 games—in five seasons.
If he plays the entire season and puts up weak numbers then it might be time to label him a bust. For now, we'll give him the benefit of the doubt.
2. Ken Whisenhunt is not on the hot seat.
Since the Super Bowl season, the Cardinals have put together a 23-25 record over the last three seasons. A record that's under .500 doesn't keep many people employed for long in the NFL.
Whisenhunt's fate is also tied with Kolb as well. That trade will be the defining moment of his time with the Cardinals regardless of the outcome.
Christian Petersen/Getty Images
The seat might be a little warm now, but if the Cards get off to a poor start, look for the heat to go up quickly.
The Cardinals have never had a coach last more than six seasons and Whisenhunt is right at that point now. One can only wonder if the six-year itch will strike and send Arizona on a hunt for a new coach in 2013.
3. Beanie Wells will continue to get a high number of carries in 2012.
Wells is coming off of knee surgery and backup Ryan Williams ruptured his patella tendon in the preseason. Wells carried the ball an unusual 72 percent of the time last season.
Assuming both running backs are healthy, look for the Cardinals to be a running back-by-committee team. Wells would only get around 60 percent of the carries in 2012 but still figures to be the goal-line back.
4. Arizona's bye week comes at a good time.
This is the first time in at least 20 years the Cardinals have a bye more than halfway through the season.
With the bye coming in Week 10, Arizona will not be able to play a few games and then assess where it stands. The Cardinals will have to play through the trade deadline and make key personnel decisions on the fly.
It also takes away the Cardinals' chance to have time away from the game early to make necessary corrections to formations and game plans as well.
Arizona is 10-12 all-time after the bye so the chance to rebuild or maintain momentum is reduced. This puts more pressure on the Cardinals to get off to a good start and be consistent from the first game.