2012 NHL Free Agents: D-Day Will Define Legacy of Chicago Blackhawks Stan Bowman
July 3, 2012

Bruce Bennett/Getty Images
Fair or not, July 3, 2012, will go down as a defining moment in the young career of Blackhawks general manager Stan Bowman. 
As an assistant general manager, Bowman watched his predecessor, Dale Tallon, make a habit of luring high-profile and high-priced free agents to Chicago. 
Both Brian Campbell and Marian Hossa were considered the cream of their respective free agency crops and Tallon convinced them both to turn down other offers and commit to the Indian. Of course, both then went on to be key contributors to the 2010 Stanley Cup championship team.
In his two offseasons at the helm, Bowman has taken a decidedly different approach. 
Both at the trade deadline and in free agency, Bowman has remained on the sideline during negotiations for the services of the league's marquee players.  Instead, Bowman has elected to count on the Blackhawks' young core of impact players to progress while adding reasonably priced veterans to fill holes.
In fairness, Bowman dealt with significant salary cap restrictions in his first off-season.  In reality, he demonstrated limited creativity in working around those restrictions.
The fact of the matter is, the Hawks have regressed badly since Bowman took the helm.  Going from the Western Conference finals in 2009, to Stanley Cup champions in 2010 to first-round exits in 2011 and 2012 is alarming.  The 'Hawks core is too good to let this window of opportunity close without competing for championships on a yearly basis.   
To his credit, Bowman was general manager when the 'Hawks won in 2010, but even the organization that demoted Tallon in July 2009 was wise enough to reward him by engraving his name on the Stanley Cup.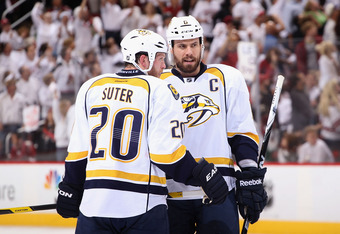 Christian Petersen/Getty Images
Without question, Tallon built that team.
According to various reports both Zach Parise and Ryan Suter will decide today where they will spend the remainder of the prime of their careers. 
It's no secret that the Blackhawks have courted both superstars, making competitive offers to each of them.  While signing both would put the Hawks over the salary cap limit, the Blackhawks would without question take both and deal with shedding salary later. 
Having also made an offer to Hall of Fame goalie Martin Brodeur over the weekend, Bowman has certainly put his cards on the table this year.  Unfortunately, he's learning that making the offers is only half the battle.
Again, whether it's fair or not, coming up 0 for 3 on the free agency front will not sit well with die-hard Blackhawk fans. 
Bowman had plenty to sell, especially to Madison native Ryan Suter.  No franchise in the league offers a chance for Suter to play as close to his family than Chicago.  Suter has played at the United Center plenty of times; he's heard Jim Cornelison's stirring rendition of the National Anthem and knows there won't be an empty seat on West Madison St. all season long. 
Suter's smart enough to recognize what playing alongside a physical defenseman with a strong right-handed shot did for his career in Nashville.  To ease Suter's concerns about leaving Shea Weber, Bowman should supply Suter with a copy of "Brent Seabrook's Greatest Hits." 
Instead, it looks more like after striking out with Suter, the 'Hawks have made a last-minute effort to snag Zach Parise.  
Bowman is without question an incredibly intelligent man.  With degrees in both finance and computer applications, he has all the desired credentials for a modern-day general manager.  Unfortunately, a quick scan of the Notre Dame College of Business course catalog showed no offering on "How to Channel Your Inner Don Draper." 
Bowman has had his opportunity to make his presentations.   Plenty of financial flexibility and a wildly successful Original Six franchise that is capable of contending immediately are great things to pitch. 
Now—like the rest of us—he awaits the verdict.  Tomorrow will offer no middle ground.  Either pull off a major coup or walk away from a weekend full of negotiations and bold offers with Sheldon Brookbank to show for it.
Stan Bowman has had to live with comparisons to his father, Scotty, his entire life.  For the last three seasons, he's had to endure several lifetimes worth of comparisons to Dale Tallon. 
It may not be fair, it may not be right, but tomorrow is an opportunity for Stan Bowman to break free of those comparisons and write his own legacy in Chicago.