Explosions of Choice: 4th of July Firework Selections for Some of CFB's Finest
July 3, 2012

Bob Levey/Getty Images
The Fourth of July is a joyous day. However, it's not quite as joyous in 2012 because it falls on a nonsensical Wednesday (damn you, day jobs) but it's still a summer tradition that gives us a time to reflect on our country with the help of friends, family, food (hopefully some sort of smothered meat) and fireworks. Oh, and beer, or whatever your drink o' choice might be in amounts that would make your mother cringe.
It's the fireworks, though, that we gravitate toward, and the emergency rooms situated around this country are put on high alert because of it. There's just something about bright, flashing lights and explosions that sit well with all of us, unless, of course, your house or hands are involved.
You can tell a lot about a person based off what fireworks they stock up on for this big day. Do they go big? Do they do it simple? Are they strictly a "let's just do it so we can say we did it" kind of individual? The various ways to create a decorative bang are telling to say the least. 
What will college football teams be shooting on the Fourth, you ask? Assuming that you asked, and I see no reason why you wouldn't, I have answers based off both recent and historical trends. 
Enjoy, and as always, God Bless America.
Oklahoma
Firework Selection: Bottle Rockets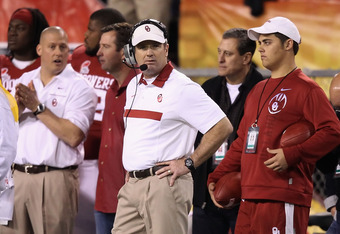 Christian Petersen/Getty Images
Bottle rockets are always impressive and certainly well known to anyone that has participated in Fourth of July festivities.
At some point, however, they will undoubtedly malfunction or be misused, but you can never be certain when or where this shocking turn for the worst will take place. One minute you're blowing out Texas, the next you're in the ER trying to explain how you still won the "bottle rocket war" despite having one currently lodged in your left eye socket.
Alabama
Firework Selection: Roman Candles 
Outside of heavy explosives, these fireball tossers are perhaps the biggest backyard danger. On the surface they may look somewhat harmless, but the next thing you know, you're yelling, "YOU CAN'T SHOOT THEM INSIDE!" while a future arsonist is wielding double-RCs, chasing house guests around a scattered lawn.
They have tremendous firepower, perhaps too much of it at times.
ROLL—OH GOD, THE NEIGHBOR'S ROOF IS ON FIRE!
Boise State
Firework Selection: Pop-Its
The cheapest firework on the market is proof you can irritate your entire neighborhood for under $10. You don't need a lighter, they don't look like much, but somehow Pop-Its serve as more than just an adequate firework fill-in. The gentleman set to blow up his yard won't give them a fair shake, but they rarely fail.
They don't work nearly as well when you kick them, though.
Notre Dame 
Firework Selection: Fountain
Ezra Shaw/Getty Images
This is your grandmother's favorite firework—colorful sparks with enough changes in patterns and height to keep her entertained and repeating "look how pretty it is!"
They may not appeal to everyone, but a good chunk of this country will gladly enjoy a fountain or two on their back deck. It'll attempt to dazzle with colors, but you'll usually be left wanting more.
Still, many will talk about just how great it is because it's the only firework they have ever known. 
Maryland
Firework Selection: Smoke Bombs
The best way to clear out a backyard is to place a few of these down right after all your "A" fireworks have been shot off. The green smoke is incredibly bright, and it will likely gain the attention of guests in attendance until they realize all it does is smoke.
Soon enough all the smoke will become a nuisance and members of your party will eat a burger and a brat and exit early.
Miami
Firework Selection: Sparklers
Sparklers are a nationally recognized Fourth of July staple, and one that has garnered plenty of respect over time. Still, sparklers have seemingly been swallowed up by the passionate, deep-pocketed males willing to spend $7,000 a year on high-tech explosives.
You'll always remember the good times you had, but damn have they lost some luster. Sparklers will never go away, but they will never have the same entertainment value as they once did during your childhood.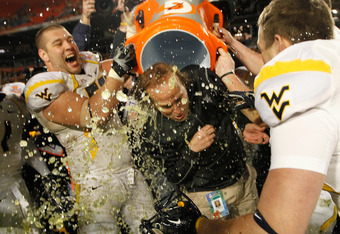 Streeter Lecka/Getty Images
West Virginia
Firework Selection: Dynamite
Moderation? Why yes, I think we read about it in a book once.
There is no bigger boom than dynamite, which also adds destruction into the equation. It's not for everyone, but you reach a certain point of firework expectations where this is the only meaningful satisfaction.
Morgantown, W. Va.,  knows this status well, and rampant couch fires are a weekly (sometimes daily) celebration of this great country.
Well, at least we believe it is.