NBA Free Agency 2012: 10 Players New Orleans Hornets Should Target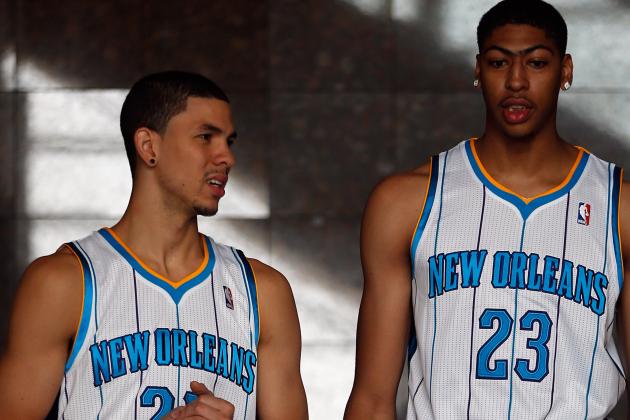 Chris Graythen/Getty Images

The Hornets are well on their way to being contenders in the near future. With rookies Anthony Davis and Austin Rivers and the potential re-signing of guard Eric Gordon, the Hornets have a solid young nucleus to build upon.
With a significant amount of cap room, the Hornets figure to be players in the free agency over the next few summers. Their main priority this season will be retaining Gordon while looking ahead to a more star-studded cast of free agents next year.
That doesn't mean the team couldn't benefit from taking a look at this year's crop of free agents in the hopes of supporting its young core.
The Hornets could use some upgrades at small forward and center, where Al-Farouq Aminu and Jason Smith are the incumbent starters, respectively. As a young team with a young head coach in Monty Williams, New Orleans could also use an infusion of veteran leadership to keep the kids from running amok.
I've pinpointed 10 players the team should take an interest in to help bolster a team that has a decent shot of returning to the playoffs this upcoming season. These 10 guys aren't household names like Deron Williams or Steve Nash, but they could have an impact on a Hornets team loaded with opportunities.
Here are the 10 players GM Dell Demps and the New Orleans Hornets should take a serious look at this summer.
Begin Slideshow

»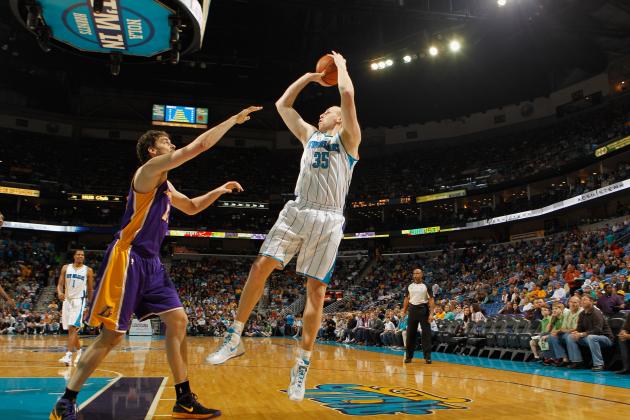 Chris Graythen/Getty Images

Position: Center
Age: 30
2011-12 Statistics: 13.1 points, 7.8 rebounds, 1.6 blocks per game
The Hornets need a go-to guy in the paint that can get them easy buckets on the offensive end. Anthony Davis will eventually be that guy, but his offensive game is still a work in progress.
Chris Kaman, however, could be that guy. Kaman played in 47 games for the Hornets, starting 32 of them, after coming over from Los Angeles in the Chris Paul trade. He spent much of his time in New Orleans on the trading block, which makes him a long shot to return.
However, while centers like Kaman are always in demand, the former Clipper big man will find there aren't many teams that can offer him the minutes New Orleans can. Omer Asik signed a three-year offer sheet with the Rockets. Roy Hibbert got a max deal from Portland. The Dwight Howard saga is in full force. JaVale McGee is still out there.
Until those situations are resolved, Kaman is going to have to wait his turn. So, why not sign a one-year deal with the Hornets and give it another go next summer when Andrew Bynum would be his main competition?
Another year in New Orleans would give Kaman a better chance to improve his stock, as his value diminished from spending so much time on the block and in a suit on the bench. If he continues to produce on both ends of the court, it will only benefit him next summer while giving the Hornets a stop-gap before inevitably turning their interior offense to "The Unibrow."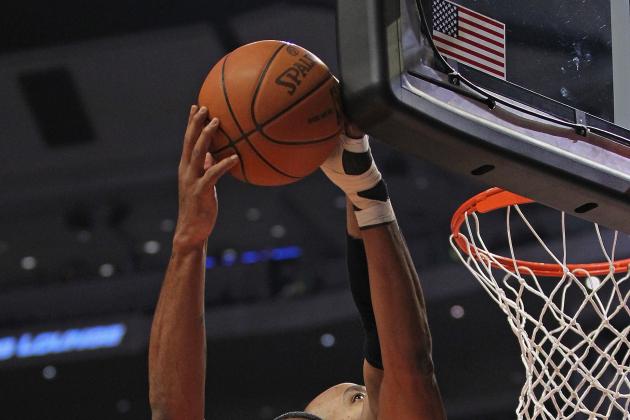 Jonathan Daniel/Getty Images

Position: Center
Age: 38
2011-12 Statistics: 4.9 points, 9 rebounds, 1.4 blocks per game
The guy Anthony Davis has drawn the most comparisons to is long-time NBA center Marcus Camby.
So, who better to mentor the future face of the franchise than...Marcus Camby?
According to ProBasketballTalk's Kurt Helin, Camby has narrowed his choices down to six teams. Needless to say, New Orleans isn't among the final six.
That's to be expected. Camby is in the twilight of his career and it's only right he spends his final days chasing that elusive ring with San Antonio, Boston or Miami.
The Hornets should still make a play for Camby anyway. He not only would be a good influence for Davis but can be a veteran leader in the locker room for a team lacking veteran leaders. Sure, it's not the allure of playing in the Finals, but it also allows a cagey veteran a chance to something less demoralizing than sitting at the end of the bench and waving a towel.
In New Orleans, Camby can get some playing time and would give the Hornets another defensive presence inside while also helping them out tremendously on the boards. The Hornets can't sell Camby on championship aspirations, but they can sell him on pride.
If Camby could be the voice that helps a young team mature into greater things, that would speak a lot more for his career than being LeBron's tallest cheerleader in Miami.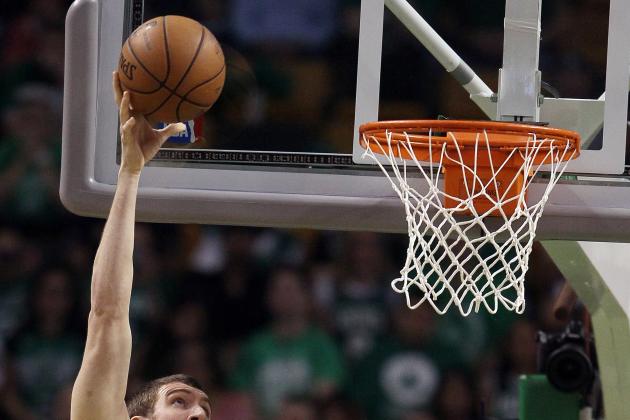 Elsa/Getty Images

Position: Center
Age: 24
2011-12 Statistics: 9.6 points, 7.3 rebounds, 1.3 blocks per game
Spencer Hawes flew under the radar up until this past season's playoffs, but he showed some potential during Philadelphia's postseason run.
In New Orleans, he would fill two needs. He's the center the team desperately needs and he's young enough to be a valuable piece of the Hornets' rebuilding project. He's a capable scorer who also possess the ability to crash the boards and block shots.
He averaged double digits in points his final two seasons in Sacramento and came close to those numbers once he went to the Sixers. With so much of Philly's cap tied up in guys like Elton Brand and Andre Iguodala, the Sixers might not be able to bring back their up-and-coming big man.
That would only benefit New Orleans, which has the cap room to give Hawes a substantial payday. Hawes is coming off an injury-plagued season, so there are durability concerns. However, Hawes played at least 70 games the previous four seasons and would be worth the gamble if he turns out to be the dependable center this team needs alongside Anthony Davis.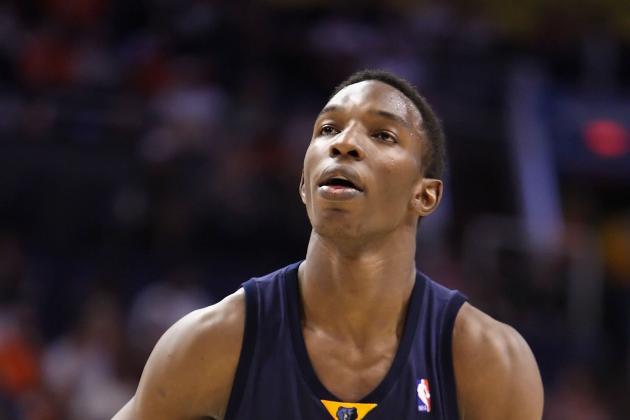 Christian Petersen/Getty Images

Position: Center
Age: 25
2011-12 Statistics: 1.8 points, 2.1 rebounds per game
I know what you're thinking. Hasheem Thabeet is a bust who has flamed out for three teams already in his short career.
You would be correct.
My counterpoint is this would be a low-risk/high-reward signing for the Hornets. If Thabeet continues to be a bust, the most New Orleans loses is a couple bucks taking a flier on a kid with some potential. However, if Thabeet lives up to his billing and becomes the shot-blocking interior force that made him the No. 2 overall pick in 2009, that would be a huge bargain for the Hornets.
The odds of that happening are long, but remember that Thabeet is still young and, really, he can't get any worse. Sometimes it takes big men time to figure it out. Tyson Chandler struggled early on in Chicago but eventually put it all together when he got to New Orleans. Now, he's the defending Defensive Player of the Year.
The same could happen here. New Orleans has nothing to lose. It needs a young big man and, at the end of the day, Thabeet is 7'3" with the ability to block shots. He could live up to the hype or he could continue to flop. Either way, it's worth a gamble.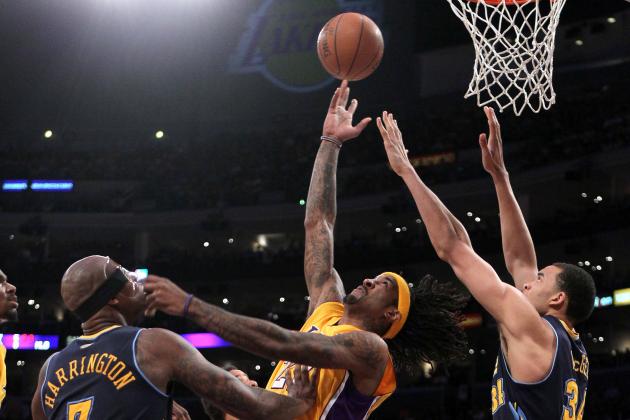 Jeff Gross/Getty Images

Position: Center
Age: 24 (will be 25 at the end of this month)
2011-12 Statistics: 5 points, 4.8 rebounds a game
Jordan Hill could one day be a quality center—he just needs the opportunity to showcase his talents. He never got it in New York with the Knicks. The same for his stint in Houston. It wasn't until he got to Los Angeles that we got glimpses of his potential while with the Lakers.
Even those moments were few and far between.
With Andrew Bynum and Pau Gasol still entrenched in the Lakers' lineup, Hill is unlikely to get the chance to make his mark unless L.A. makes some moves. When he's on the floor, he's an athletic big man who likes to bang inside and get physical with opponents.
If teamed up with Anthony Davis in New Orleans, the Hornets would have an interior duo that would contest shots, go hard after loose balls and batter opponents in the paint. Hill deserves a shot to be an NBA starter and New Orleans would be a good spot to show what he can do.
He had respectable numbers in the postseason for the Lakers, scoring 5.4 points a game while averaging a little over seven rebounds. Those numbers can only improve if given the opportunity to start elsewhere.
Just weeks away from his 25th birthday and with a resume that isn't very extensive, Hill could be a low-cost signing that could eventually become a steal if given the opportunity to build on the potential he showed in the playoffs.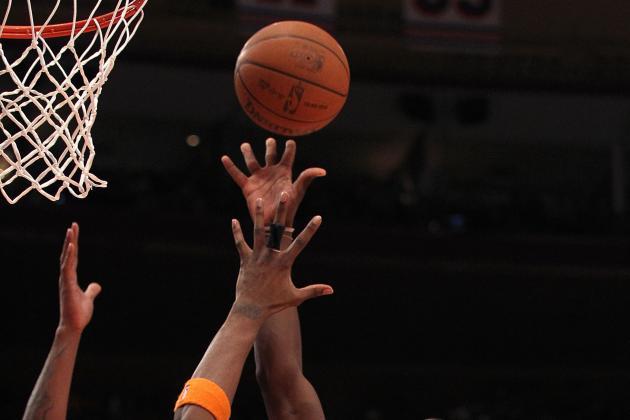 Nick Laham/Getty Images

Position: Small Forward
Age: 25 (will be 26 in August)
2011-12 Statistics: Missed season due to heart surgery
A serious heart ailment potentially derailed the career of the once-promising Jeff Green. With a full season off to rest, Green is ready to make a comeback.
Green is a versatile forward who can play the three or the four. He has a solid offensive game, which has led to a career scoring average of 13.3 points per game and he's an above-average defender. While Boston will look to bring Green back in an effort to infuse its aging lineup with some youth, Green's handlers seem poised to test the open market.
According to SI.com's Sam Amick, Green's agent David Falk claims to have had discussions with "12 to 14" teams. The Celtics are in no position to get into a bidding war over a guy coming off heart surgery. For New Orleans, though, Green could be worth the risk.
Like with the other candidates on this list, New Orleans presents opportunity because the roster lacks proven stars. If Green is healthy, he could beat out or, at worst, split time with Al-Farouq Aminu at small forward while also spelling Anthony Davis at power forward.
The Hornets could benefit from a young, determined forward like Green, and New Orleans has enough bodies to keep Green from getting worn down as he attempts to ease back into the NBA. He's the type of comeback story you root for and he'd fit right in on an underdog team like the Hornets.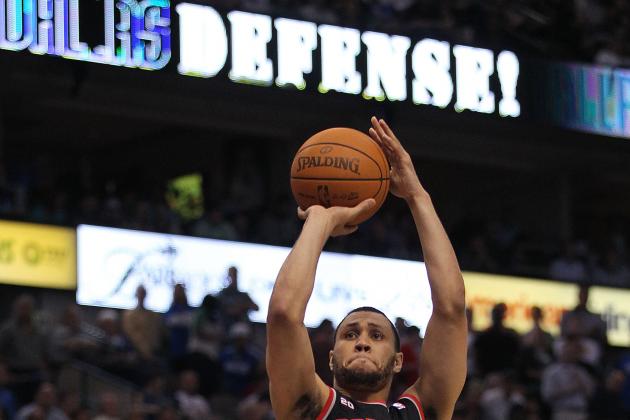 Ronald Martinez/Getty Images

Position: Guard/Forward
Age: 27
2011-12 Statistics: Retired due to knee injuries
Speaking of comebacks, Brandon Roy is ready to make his. According to Yahoo!, Roy has narrowed his list of teams down to five. As expected, the Hornets aren't on that list. The five teams Roy is considering are Dallas, Chicago, Indiana, Minnesota and Golden State.
All but the final two were playoff teams last year, and Dallas and Chicago are perennial championship contenders. The same can't be said about New Orleans, but the Hornets should at least kick the tires on the former Rookie of the Year.
While teams are clearly interested to see if Roy still has it, contenders might be scared off by Roy's weary knees. It's why teams like the Timberwolves are only offering the former All-Star a two-year deal.
The presence of Roy on a team with solid scoring guards like Eric Gordon, Austin Rivers and Jarrett Jack would only make the Hornets' offense more potent. Roy could get minutes anywhere from point guard to small forward and could make the Hornets a sneaky dark horse if his wheels still have some tread on them.
Roy knows head coach Monty Williams from their time together in Portland, when Williams was an assistant. Like with Jeff Green, Brandon Roy's comeback is a feel-good story, as is the return of Hornets' basketball to national relevance. Roy could be a piece of a Hornets team that's only a few players way from being a contender.
It might not have the immediate championship allure of Dallas or Chicago, but it's an intriguing option.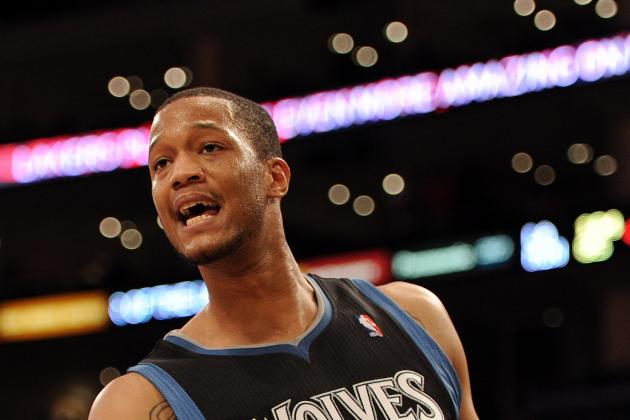 Harry How/Getty Images

Position: Forward
Age: 22 (turns 23 in a couple weeks)
2011-12 Statistics: 7.4 points, 3.6 rebounds, 1 block per game
Anthony Randolph has shown that with consistent minutes he could be a solid player in this league. In the two seasons he's averaged more than 20 minutes a game ('09-'10 with Golden State, '10-'11 with Minnesota), Randolph has averaged double digits in scoring.
He's not the greatest of shooters and he doesn't rebound nearly as well as he should for a guy with his size and athleticism. Those are the negatives. The positives are that he's a solid shot-blocker and, even with his shooting limitations, he knows how to score.
Another plus for New Orleans is Randolph's familiarity with the area from his college days at LSU. Randolph is a 'tweener and that will make it difficult for him to crack the starting lineup, but he brings enough to the table to be a viable sixth man.
The team could move Anthony Davis to center and play Randolph at power forward to give the team two proven shot-blockers on the floor or it can give him minutes at small forward to provide some offense. Randolph is still young enough that, on the right team, he could live up to his potential.
His jump shot needs work and he'll need to add bulk to his frame, but he's worth a flier as another talented young athlete who can provide size and defense for New Orleans.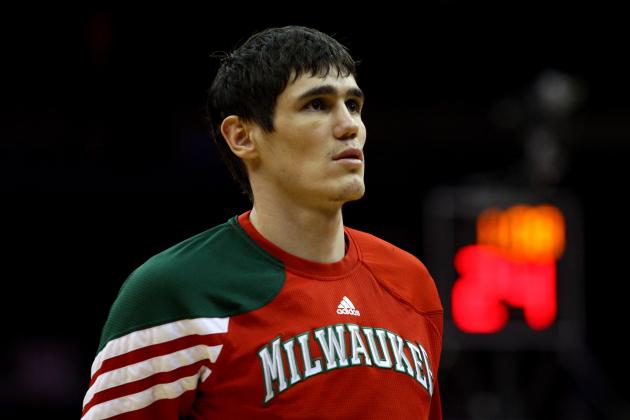 Chris Chambers/Getty Images

Position: Forward
Age: 25
2011-12 Statistics: 13 points, 8.8 rebounds per game.
Ersan Ilyasova is your prototypical European "stretch" forward who has the size to mix it up inside and crash the boards but also the soft touch to score from the outside. He's one of the most underrated free agents available on the market and he could be a poor-man's version of what the Hornets had in Peja Stojakovic.
Ilyasova can play either forward position but he may be better suited at power forward where his outside shooting forces opponents to step away from the basket to defend him. Obviously, the power forward spot is being held down by Anthony Davis, but the Hornets could find ways to play Davis and Ilyasova together.
Ilyasova gives the team a reliable scorer on the inside while also providing the Hornets with another capable shooter from behind the arc. Ilyasova shot 45 percent from three last season with the Bucks. With Milwaukee stacked at forward, Ilyasova will probably be playing elsewhere.
At the right price, he could be a valuable asset for the Hornets, who could use Ilyasova's shooting to keep the paint open for Davis to roam.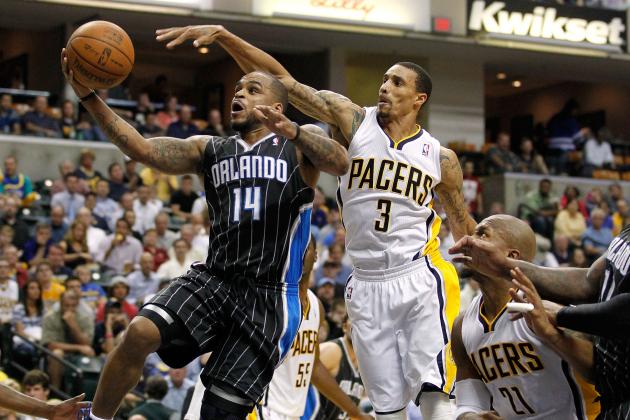 Gregory Shamus/Getty Images

Position: Point Guard
Age: 30
2011-12 Statistics: 11.9 points, 5.7 assists per game
Much like Chris Kaman, Nelson finds himself in a waiting game as bigger names at his position are still available. Nelson is a Plan B for teams that can't snag a Deron Williams or a Steve Nash or a Goran Dragic. He may even be behind guys like Raymond Felton and D.J. Augustin.
That doesn't mean Nelson isn't a viable option. He has been one of the most underrated point guards in the league and doesn't get enough credit for Orlando's success over the years. Nelson is more of a score-first point guard than someone who looks to make his teammates better. At 30 with an extensive injury history, teams are going to be hesitant to give Nelson the long-term deal he covets.
While the Hornets may have their point guard of the future in Austin Rivers, it still remains to be see whether he can handle that position after playing off the ball at Duke. Nelson would provide stability and would be an upgrade over Jarrett Jack.
Is he a big flashy name like Darren Collison or Stephen Curry, both free agents next year that New Orleans might covet? Of course not, but he's a steady point guard with postseason experience. He can provide a spark offensively while also allowing Jack to play the backup role that he's better suited for. Obviously, Nelson isn't the long-term answer at point guard, but he can be a stop-gap until Rivers is ready.
Nelson may want a long-term deal and more security but that might be tough given the free-agent class at his position this summer and the next. On a young up-and-coming team like the Hornets, Nelson could be a nice fit as a veteran leader and reliable starting option.