Wimbledon 2012 TV Schedule: Must-See Matches for Tuesday
July 3, 2012
Paul Gilham/Getty Images
The beginning of week two saw the first significant rainfall. The rains came late in the afternoon and washed away about half of Monday's schedule.
The second Monday is the biggest day at Wimbledon. Frequently called moving day, both the gentlemen's and ladies' fourth round are played. A total of 32 matches are played with most of the biggest stars in the sport competing. 
As a result of the significant washout, a large portion of the schedule had to be pushed back to Tuesday. Tuesday was supposed to be reserved for the ladies' quarterfinals, but now it will contain many of the men playing their fourth round matches as well. 
The rain has also altered the TV schedule. It was originally supposed be covered by ESPN, live from 8am-1pm Eastern, and on ESPN2 from 7am until 4pm Eastern time on Tuesday. WatchESPN.com and Wimbledon.Com also have the featured matches archived and available to watch on demand. As always, ESPN's Court Cast will have the action from every court. 
The revised schedule will have ESPN live from 7am until 1pm and ESPN2 live until 4pm. SportsCenter is slated to follow the Tennis on the mothership until 3pm Eastern. With two hours of SportsCenter scheduled before their afternoon programing, It's likely ESPN will stay with any dramatic matches. 
ESPN2 has poker following tennis. The same would likely go for ESPN2. London is five hours ahead of the East Coast. When ESPN signs off at 4pm, that is 10pm in London. The Wimbledon curfew is supposed to be 11pm. The time was bent on Saturday to allow Andy Murray and Marcos Baghdatis to finish their match.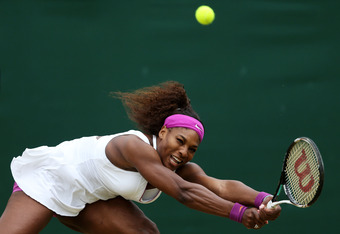 Julian Finney/Getty Images
Three unfinished gentlemen's fourth round matches will begin the day at 5:30 am Eastern. Andy Murray takes to Court 1 against Marin Cilic of Croatia with a 7-5, 3-1 lead. 10th seeded American Mardy Fish leads the fifth seed Jo-Wilfried Tsonga of France 6-4, 1-1. They will play on Court 2. Court 3 will resume the match between Florian Mayer of France and Richard Gasquet. Mayer holds a 6-3, 2-1 lead. 
Centre Court and Court 1 will commence play with their standard starting times at Noon (British Summer time). Centre Court will have David Ferrer against Juan Martin Del Potro, Serena Williams and Petra Kvitova and Sabine Lisicki against Angelique Kerber. 
The first two matches have been eagerly anticipated. Ferrer and Del Potro is a matchup of top-10 seeds that doesn't always come to fruition in a grand slam. Kvitova is the defending champion, facing off against the most dominant player in this generation. 
The Kerber-Lisicki match is a surprise from both players.
A Lisicki win would give her a second straight appearance in the Wimbledon semifinals. She had to avenge her loss to  Maria Sharapova in last year's semis to return to the quarterfinals. Her compatriot Kerber upset Kim Clijsters in the fourth round to advance. Even if the seeds say Kerber should have won, most tennis followers were surprised by her win. 
After Murray and Cilic conclude their match, the ladies' quarter finals will take place. Third seeded Agnieszka Radwanska of Poland will face 17th seed Maria Kirilenko of Russia. Radwanska has seemingly flown under the radar through the first four rounds. She has only dropped 16 games and has yet to lose a set. Unseeded Tamira Paszek of Austria will face second seed Victoria Azarenka of Russia in the final match on Court 1. 
Other matches of note involve the ladies' doubles. Serena and Venus Williams will conclude their second round match knotted at one set apiece against Kirilenko and Nadia Petrova. Radwanska will play her third round doubles match with her sister Urszala against French Open Champions Sara Errani and Roberta Vinci of Italy. 
When ESPN's coverage concludes when the matches are complete, the Tennis Channel will air Wimbledon Tonight, a show that wraps up the day in tennis, at 5pm Eastern to highlight what should be an another incredible day of tennis. They will have extended highlights, significant portions of matches and analysis and interviews.